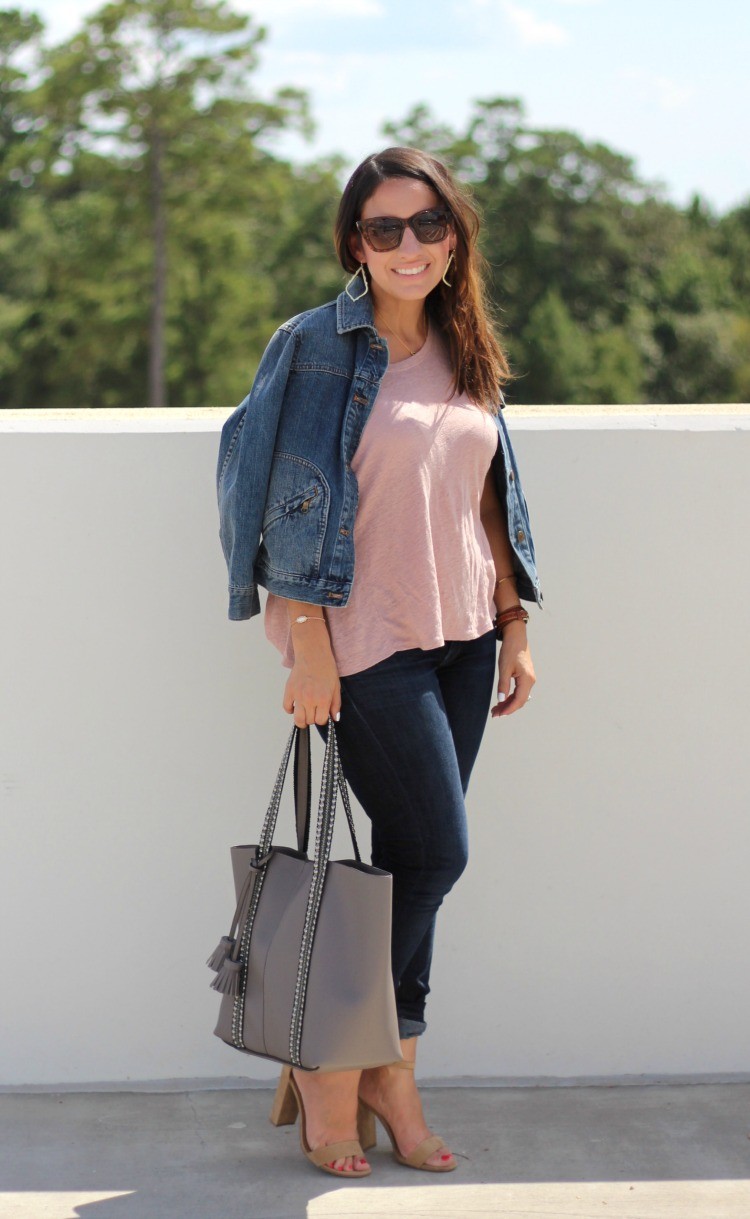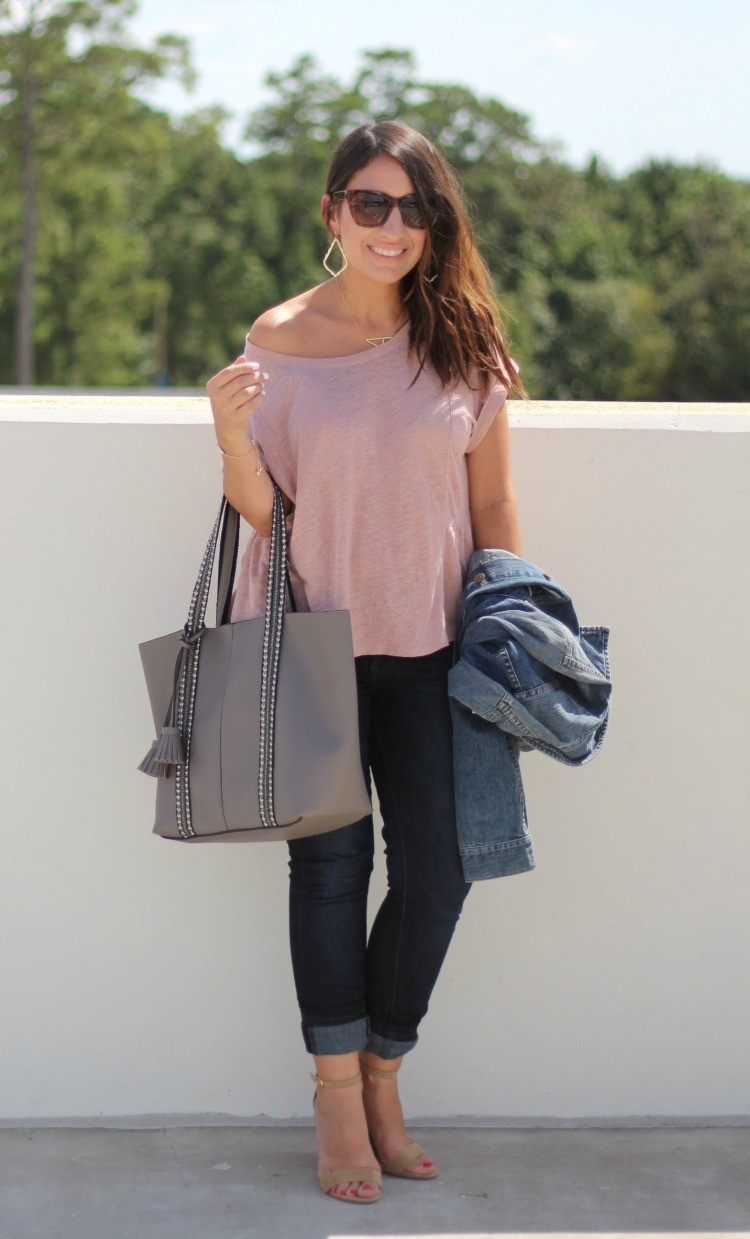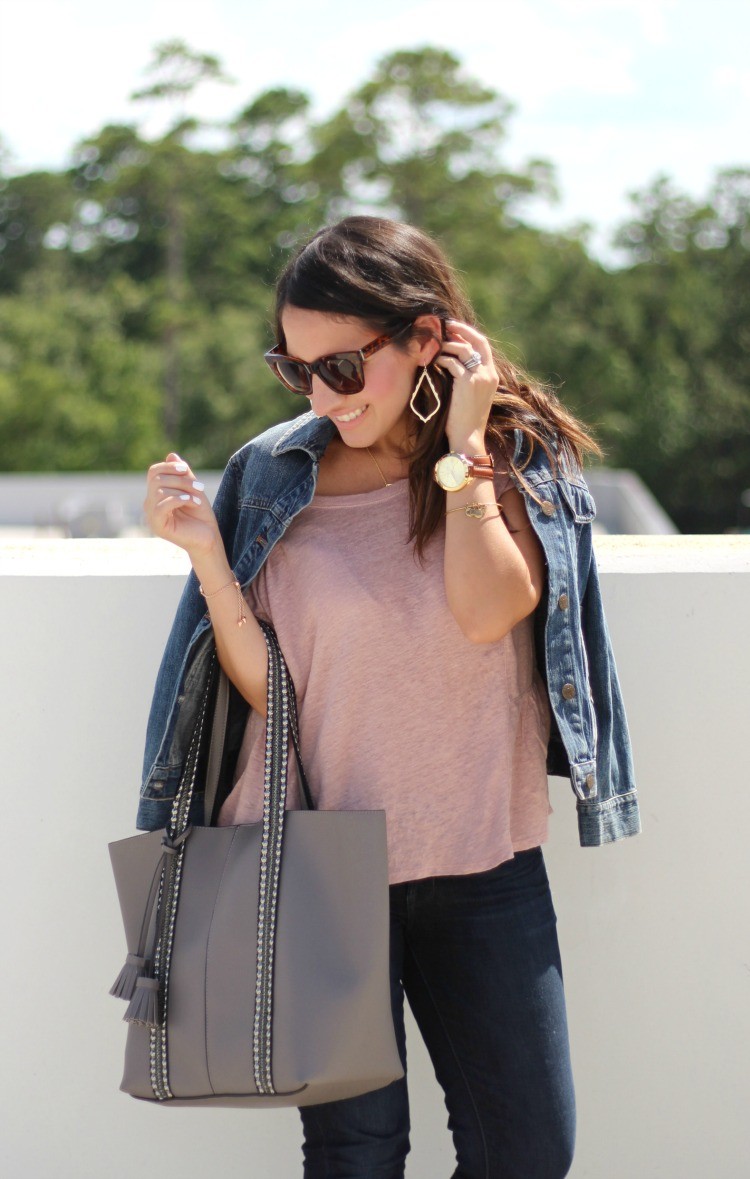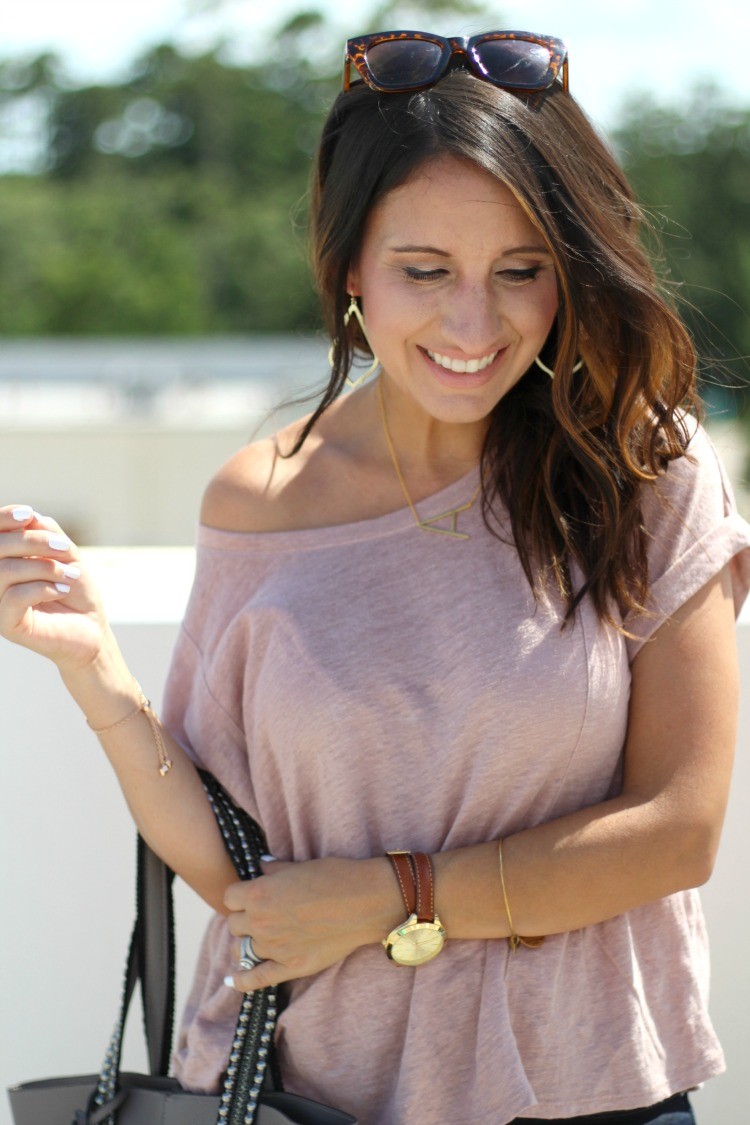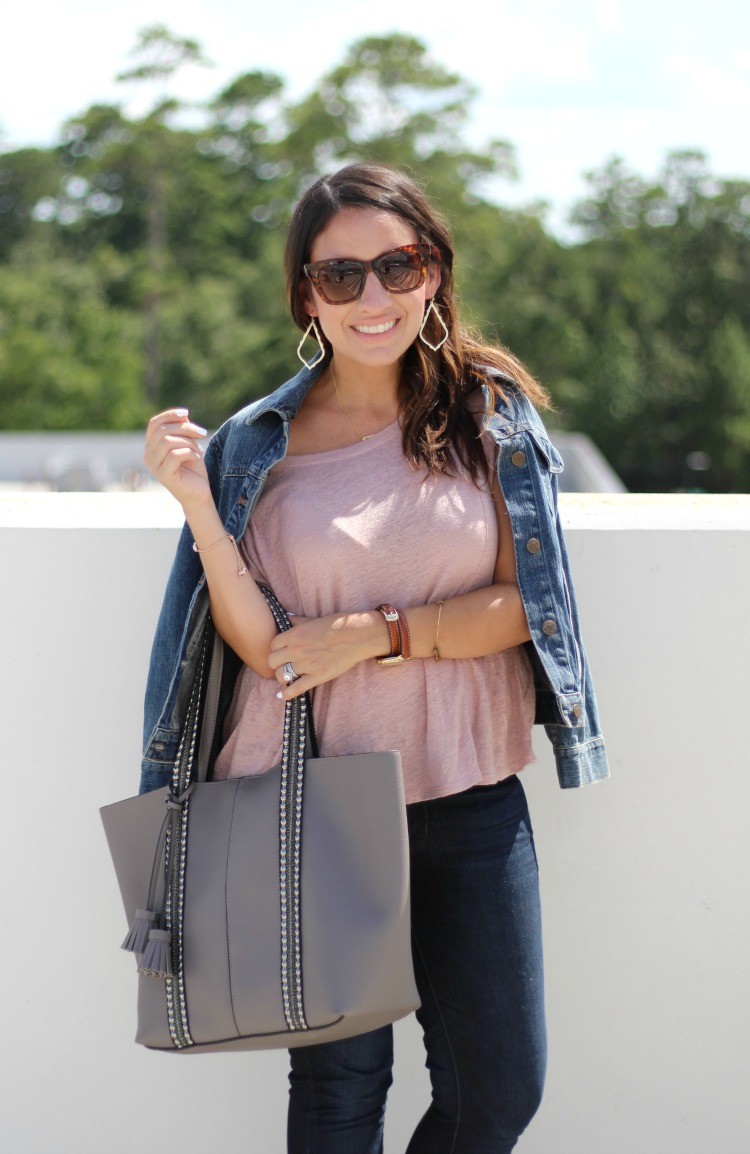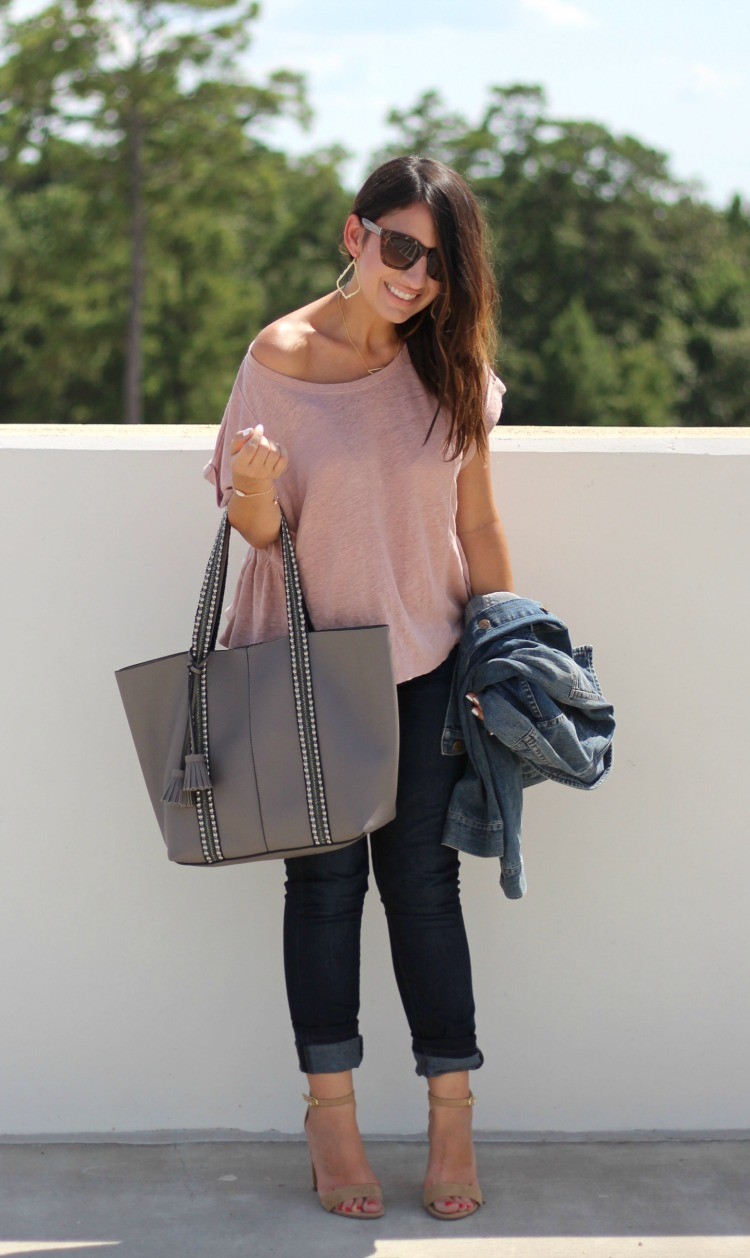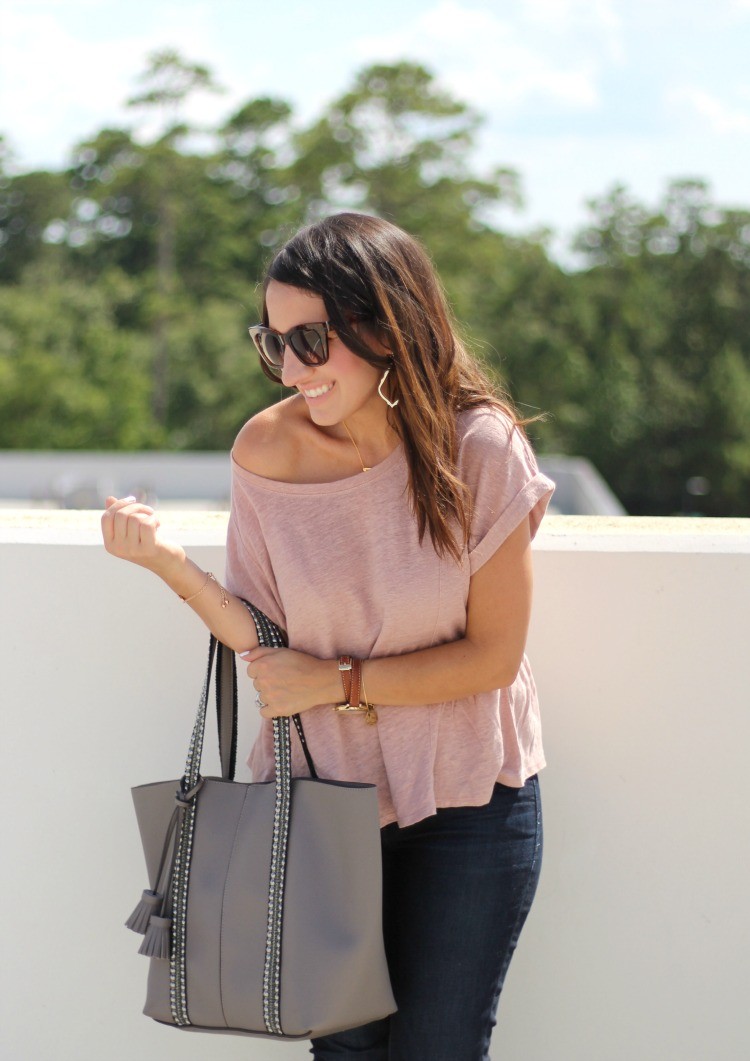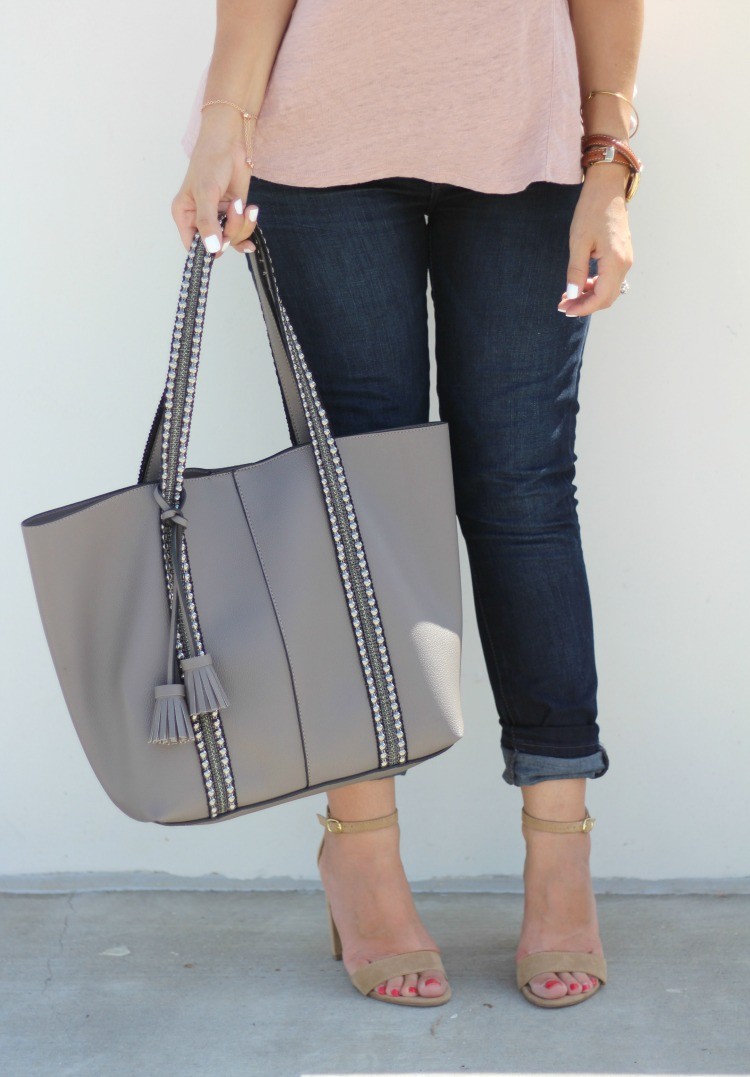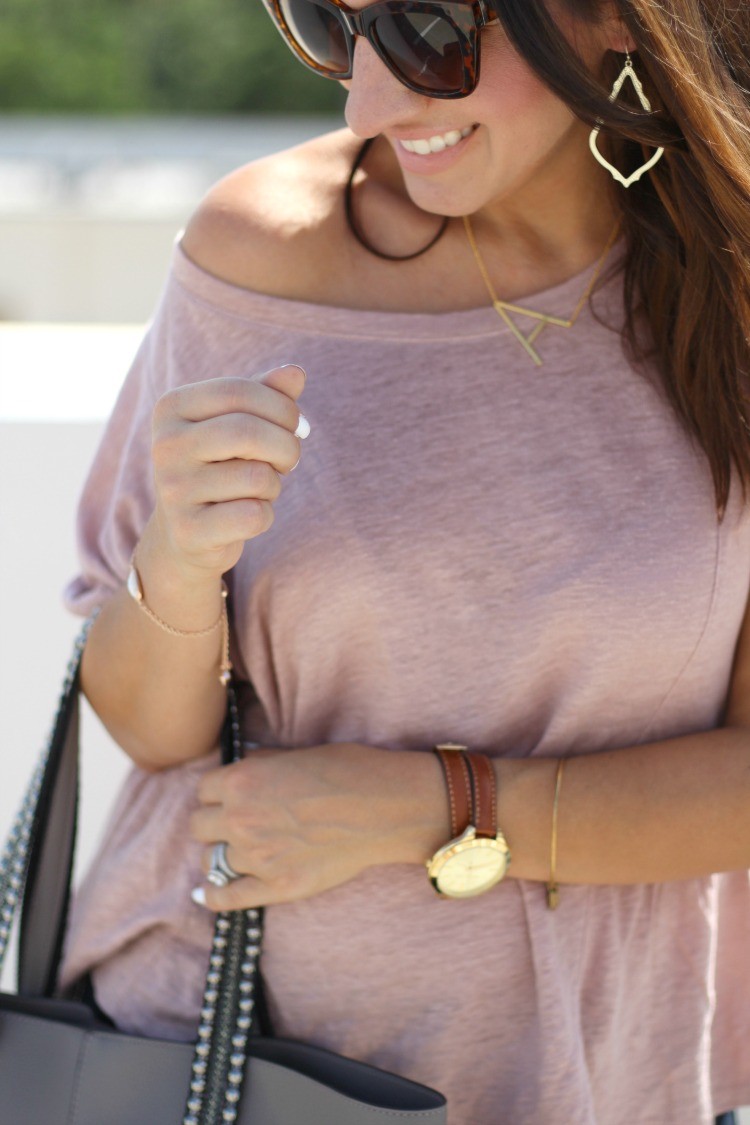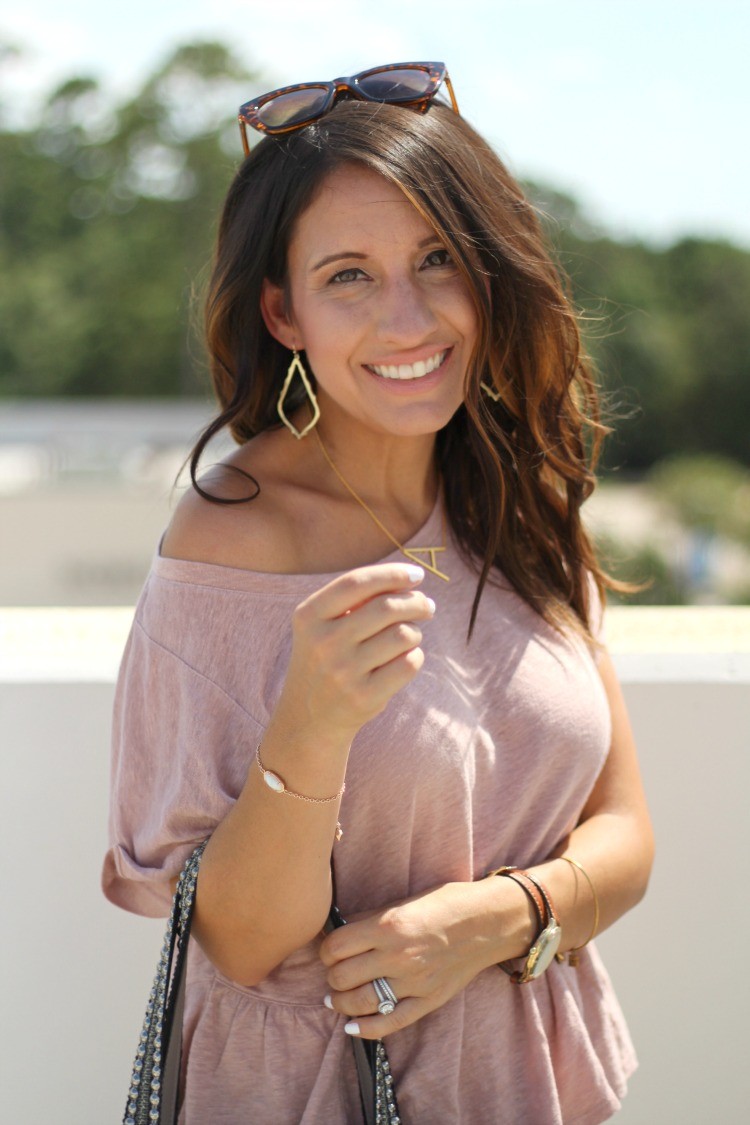 Top:Nordstrom (Only $38!! Part of the Anniversary Sale!!) | Denim:Lucky Brand | Shoes:Target ( Under $30 available in 3 colors!!) | Handbag:Urban Expressions c/o (It's $90 and comes in 5 colors!!) | Earrings:Kendra Scott c/o | Necklace:Anthropologie | Bracelet:Kendra Scott c/o, Alex and Ani | Watch:Michael Kors sold out (similar style)| Lips:Nude Pink Beige, Creme Brulle 
This weekend has gone by way too quick. I had to break out one of my favorite new tops from the Nordstrom Anniversary Sale. This cute top top was part of my Nordstrom try on session. It has the cutest peek-a-boo shoulder detail, ya'll. I have basically been living in this top all weekend. Technically, I didn't wear it all weekend because I went to Pinterest workshop over the weekend. I'll share more about that at another time. I just have to say it was a great class that totally refueled my battery, so to speak. I love being around like minded goal oriented people.
This top is one of my new favorites. It has the cutest peplum detail on the sides, and back. It's so figure flattering. I styled it with one shoulder peeking out, and loved that it gave a little flirty feel to it. Yep this momma is rocking a little flirty shoulder fun. I can't wait to style this top for end of summer get togethers with shorts, or white jeans. Oh and it would be perfect in the fall with a grey comfy sweater like this one. This top runs true to size. I'm wearing a small because I wanted it to be a little bigger so I could show a little shoulder.
Thanks so much for stopping by, and showing my bloggity blog a little love. Have a great week!!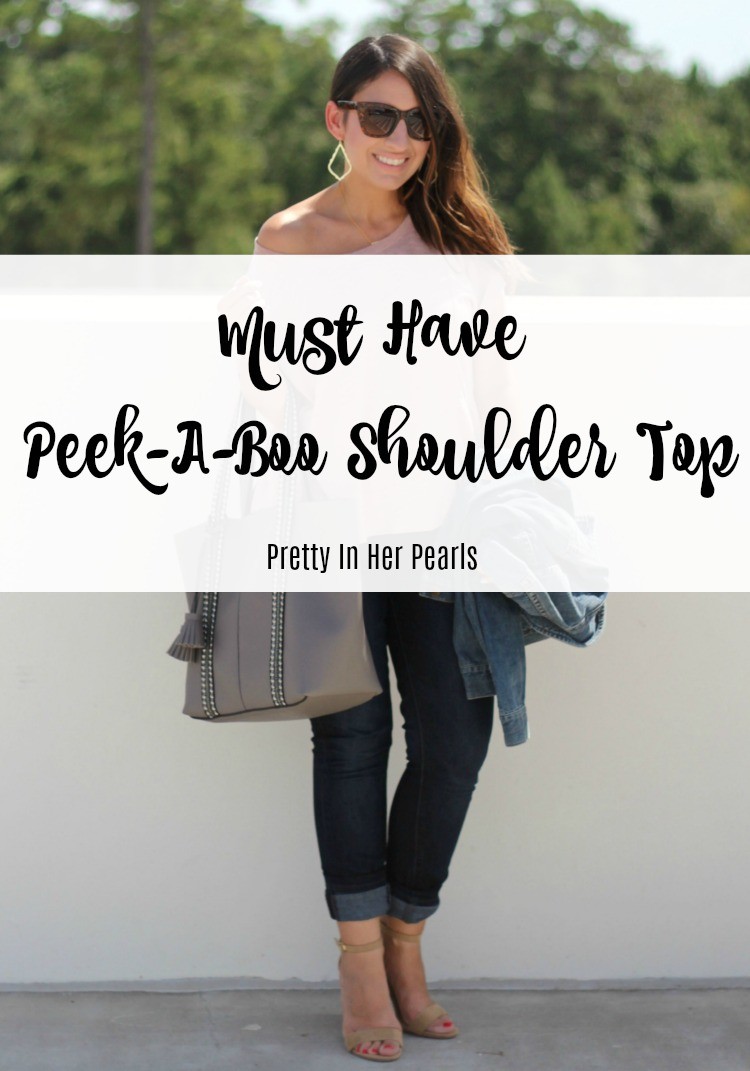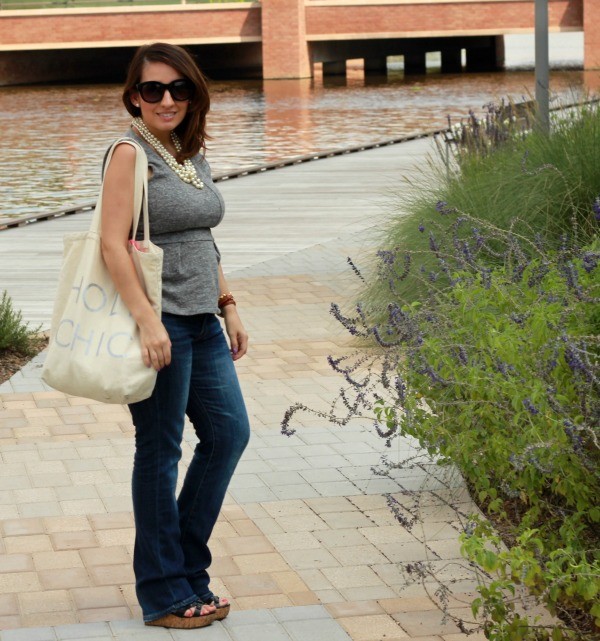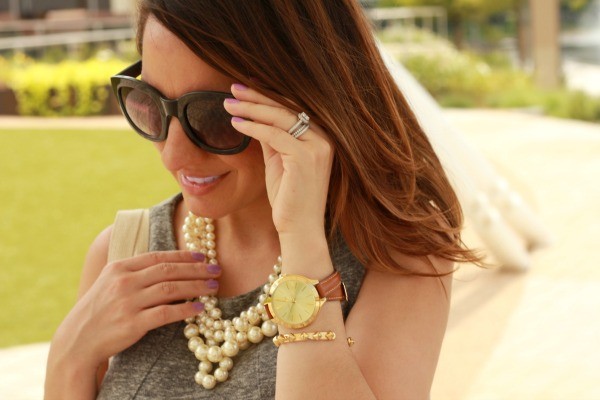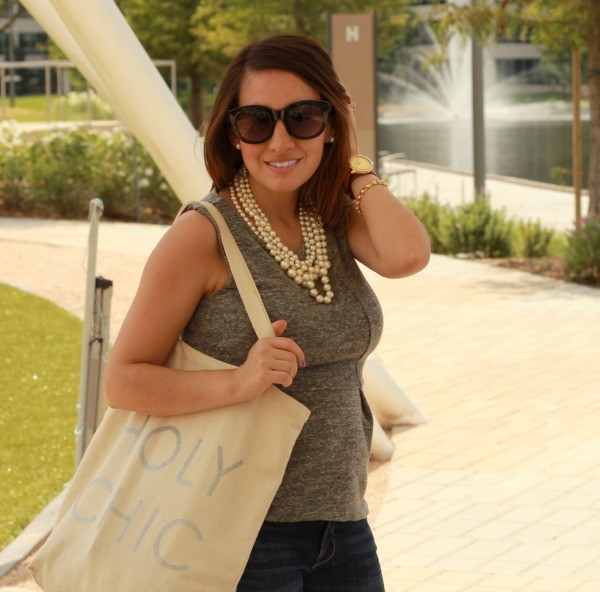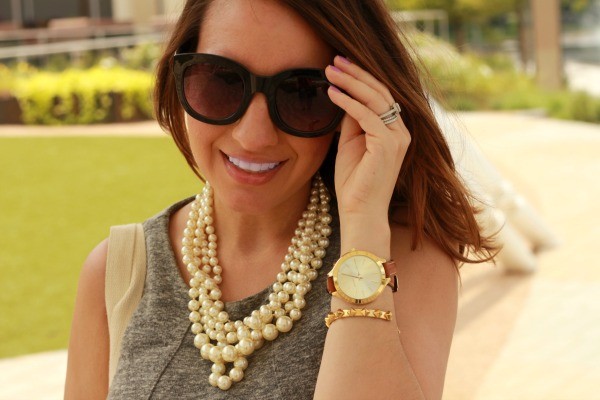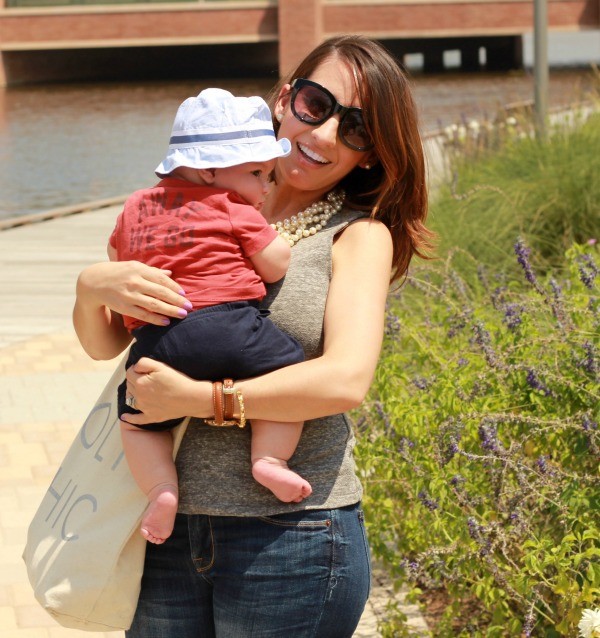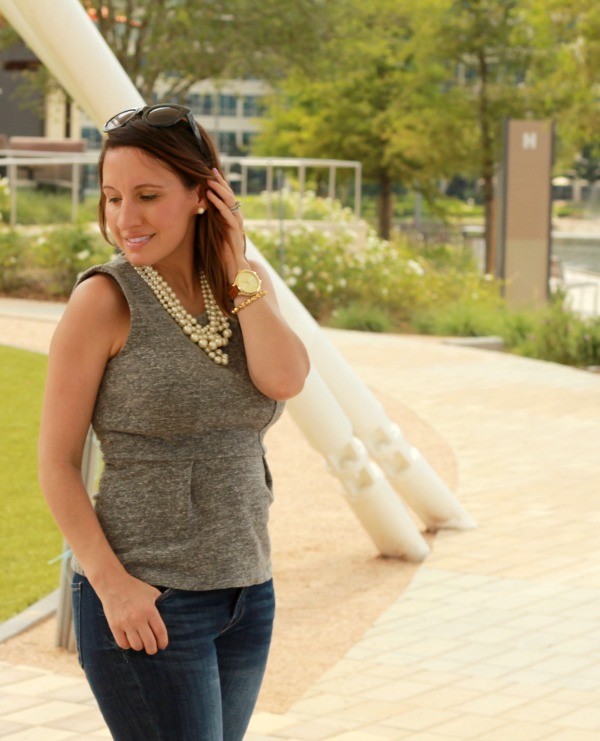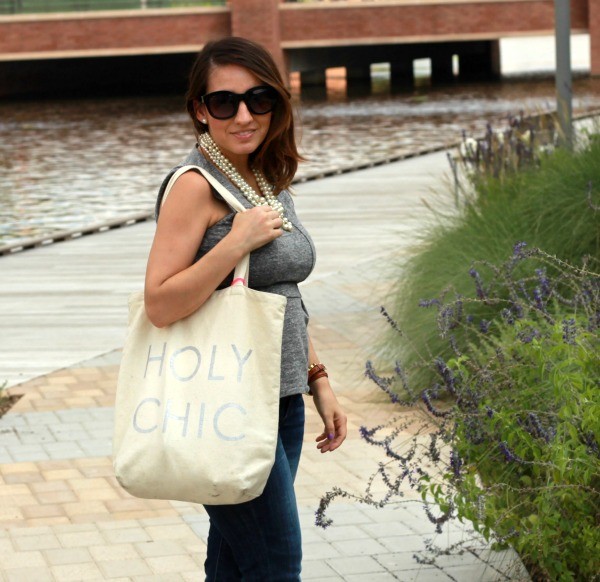 Top:Madewell Old (Similar style) | Denim:Lucky Brand |  Shoes:Old (Similar style) | Bag:Old Navy Old (Similar style) | Earrings:Gift (Similar style) | Necklace:J.Crew | Bracelet:Stella and Dot | Watch:Michael Kors c/o | Sunglasses:Forever 21 sold out (similar and super cute!!) | Lips:Creme Cup by MAC
Manny jr.'s outfit: Top:Gap Kids old (similar style) | Shorts:Gap Kids | Hat:Gap Kids old (similar style)
A week or so ago I went on a girls lunch at Local Pour with one of my favorite stylists Lisa from Style Point in The Woodlands/Houston area. If you live close by I definitely suggest you check it out. Manny jr. went with us for our girls lunch, and he was so good. He kept us company before our food arrived, and napped after our food came. Talk about my little guy having perfect timing!!  It was so nice to have a little girl time, and adult conversation. I've been getting out a lot more since he's had a few rounds of his shots, and outfits like this are one of my favorites. Since it wasn't too hot it was fun to take a few pictures of my little guy in his summer outfit. I love shopping for my little guy, and he's beginning to have more clothes than me. He looks so cute in them I just can't say no!! Thanks for stopping by!!!

Dress:Madewell old (similar style) | Jacket:Bebe old (similar style,similar style) | Shoes:Shoemint old (similar style) | Purse:Louis Vuitton (similar style) | Scarf:Target sold out (similar style love this!) | Earrings:Bauble Bar | Bracelets:Accessory Concierge, Kate Spade sold out (similar style), Stella and Dot | Watch:Michael Kors | Sunglasses:Forever 21 | Lips:MAC Candy Yum-Yum
Yesterday was a little chilly so I decided to wear this Diamond Jacquard dress that I'm a little embarrassed to admit has been hanging in my closet for way too long. I have this problem of thinking that I need the perfect occasion to wear certain things in my closet. It's an ongoing challenge that I have been reminding myself that if I wait for just the right occasion; I may never wear the clothes in my closet. With that being said I am trying to start embracing the mantra that I am the occasion, and reason to wear something in my closet. Since I am an accessories gal I had to add my new Accessory Concierge cuff that just came in the mail. It has an extra special meaning to me because my mother-in-law is a Breast Cancer Survivor, and part of the proceeds from each cuff sold goes to the Breast Cancer Fund. In the spirit of my new bracelet; I added a fun pink lipstick into the mix. I hope you all have a great weekend, and thanks so much for stopping by! I really appreciate y'all!