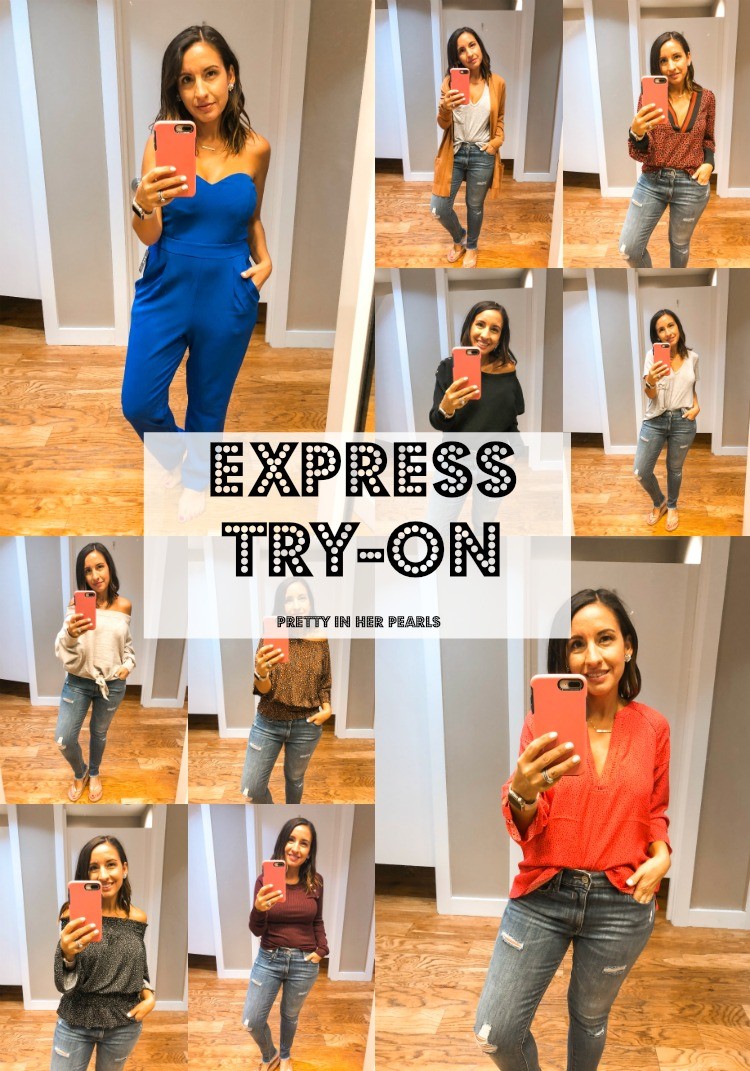 Hey guys! Good morning! Last week I had a little time to myself and stopped into a store I hadn't shopped in since having babies. Well, let me just say Express did not disappoint. I found some really cute date night outfits and some really great everyday pieces that I can't wait to work in as soon as the temps are crazy hot. So since I found so much good stuff I thought it was the perfect time to do an Express try-on session for Y'all. So here it is.
If you are new here my try-on sessions always have a dedicated Instagram highlight for that try-on session. This one will be under Express Try-On in my highlights. I'll go over the fit, share a shoppable image, and of course direct you right back here. This is the best place to get all the deets. So grab a coffee or wine depending on what you have going on. Let's do some shopping.

Shop The Post Early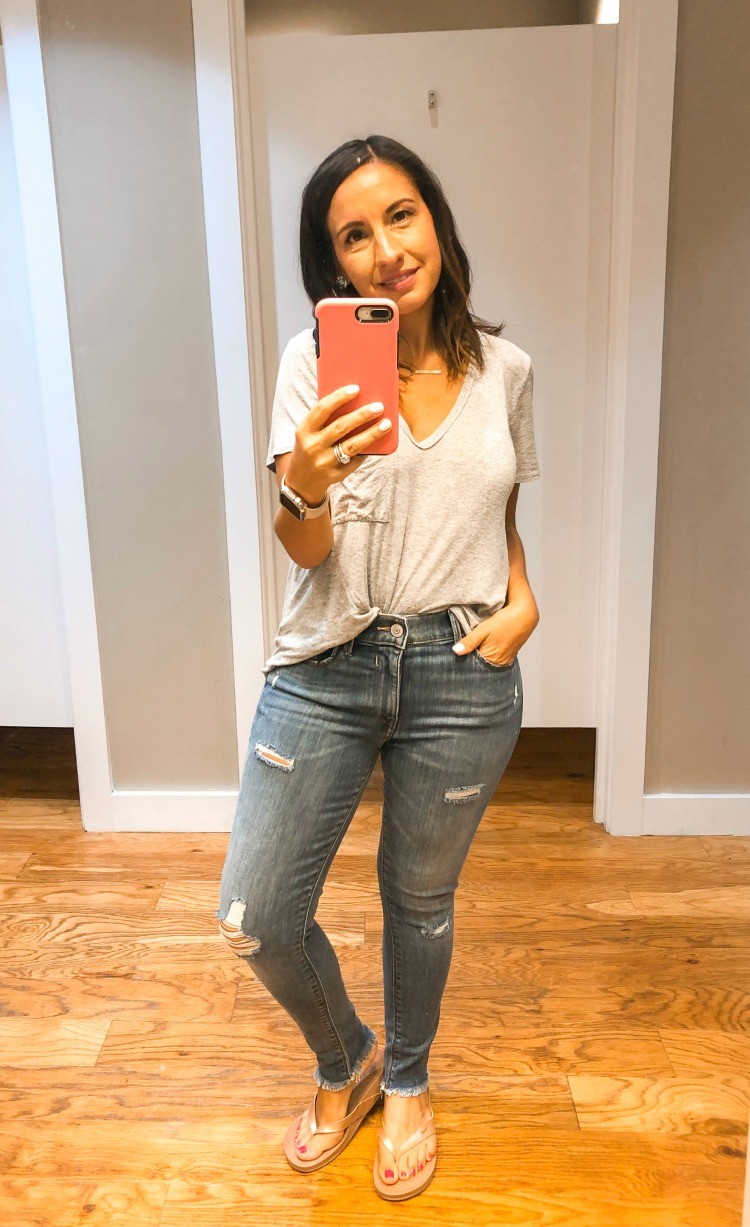 Distressed Jeans: These cute jeans are really figure flattering and I love the raw hem. I have a hard time finding distressed jeans that I think will last. I can't tell you how many have turned into shorts because of an accidental foot going into the ripped knee detail. I really like the amount of distressing is such a happy medium. They run tts and are under $80. Express is running a really good sale on these jeans. It buy one pair get the second for $20. I'm wearing a size 4.
Oh and fyi these are the jeans I am going to wear during this try-on session.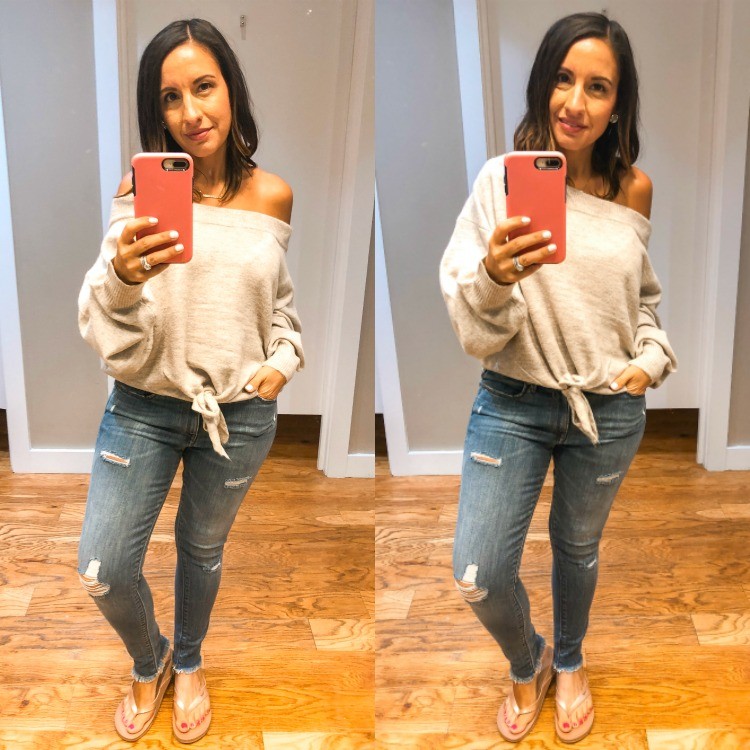 Tie Front Off The Shoulder Sweater: This is one of those sweaters that can either be worn off the shoulder or with one shoulder peeking out. I love a sweater that can be worn two different ways. They didn't have my size so I tried on the medium and actually really like the fit. If you want it to feel a little oversized go up on size. Otherwise go with your regular size. I was on the fence at first but looking at the pictures from the try-on session at home I just love this fit even more. It comes in two other colors.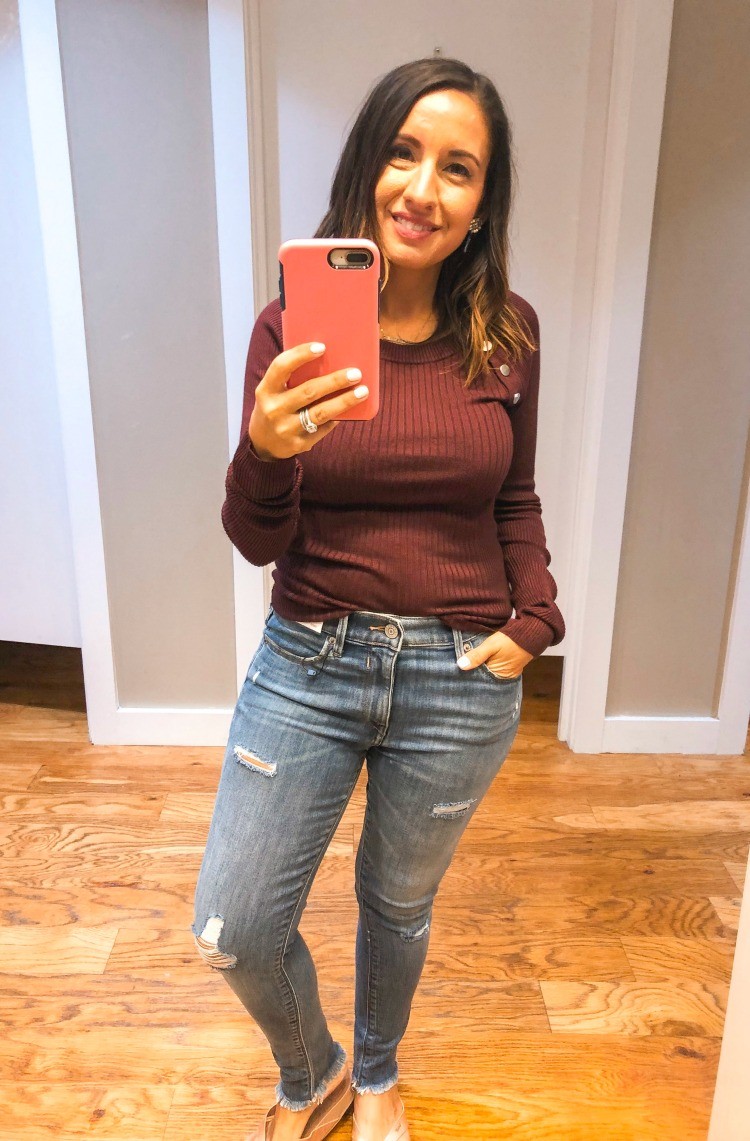 Ribbed Button Sleeve Sweater: This sweater would be a great one for all my ladies that work in a professional environment. It could be easily worn with dress pants or a skirt and look really nice. I went with my regular size and think it runs pretty tts. I will say if you are in between sizes I would size up since it is ribbed.  It comes in a few more colors.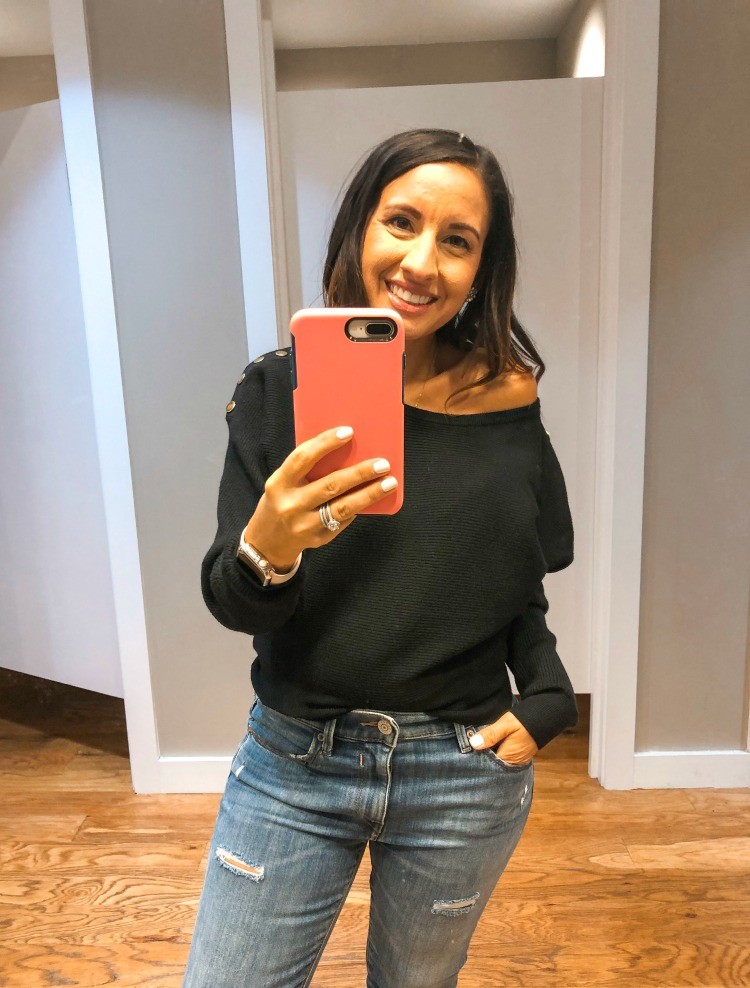 Bandeau Sweater: This sweater is so cute that is evidently sold out. I found a really cute similar option that is $49 and comes in a deep berry color and a really pretty neutral white.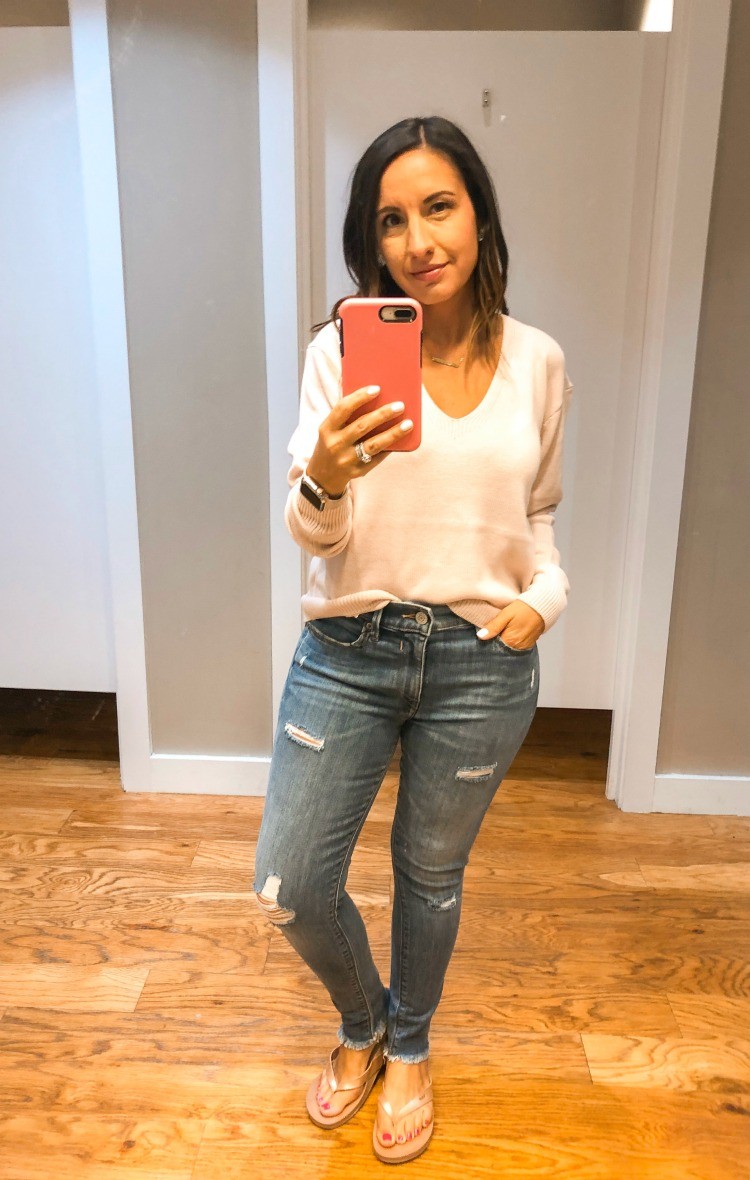 Relaxed V-Neck Sweater: This sweater is such a good staple piece. It isn't too heavy and bulky so it's perfect to transition into fall with. Especially if you live somewhere where it gets chilly at night time. I went down a size because I wanted it to fit more like a tee. If you want it to fit more like a sweater go with your regular size. It comes in a few other colors and it's under $60.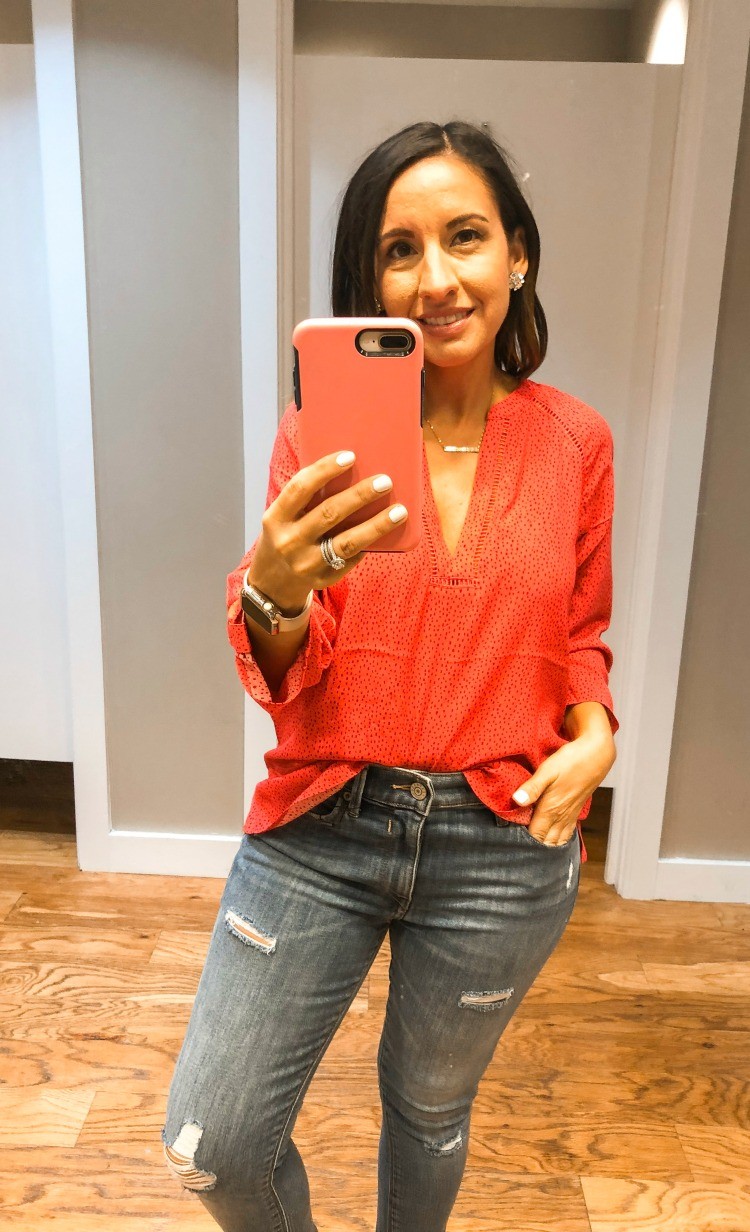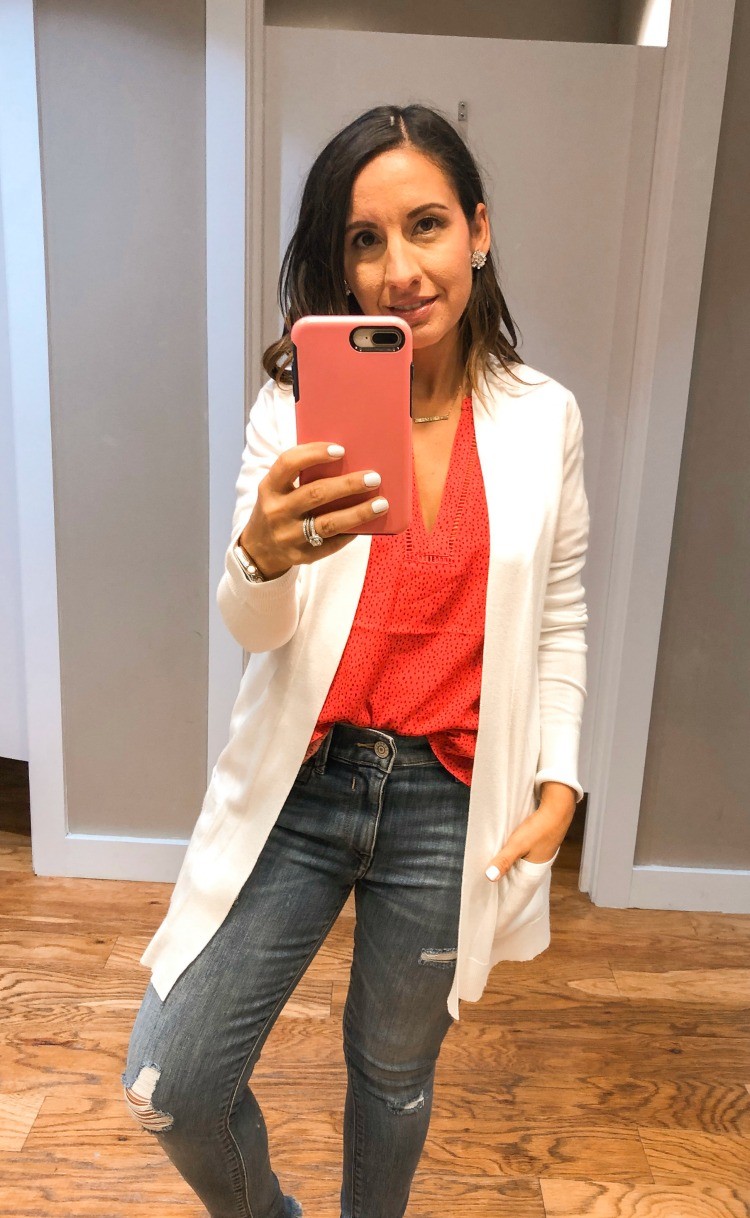 V-Neck Eyelet Trim Popover: This top is one of those staple pieces I feel like we all need. I love the bright shade of corally red that this one is. Fyi this top plus a couple other colors are on sale. Like under $30 bucks each. They are really good quality and remind me of the Lush tops like this that have a cult following. This top runs tts.
Cardigan: This cardigan is really good basic. It comes in lots of colors and seems like it would be good for my short girls as well as for my tall girls too.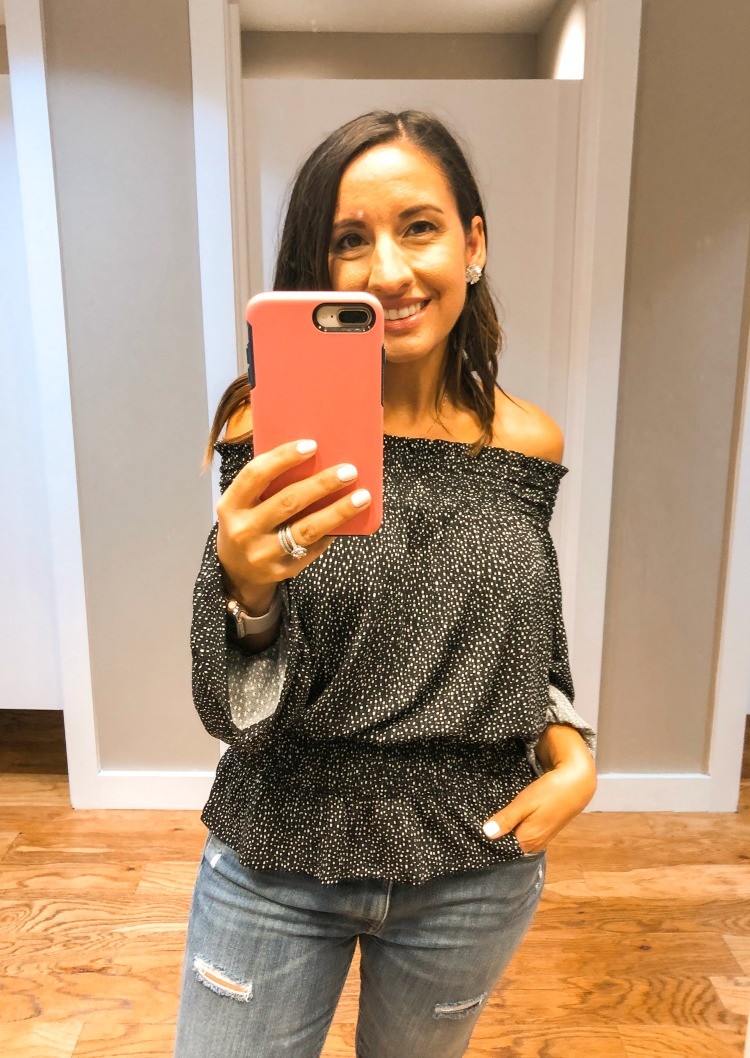 Off The Shoulder Smocked Top: This sweet little smocked number is so precious. It's off the shoulder and smocked which basically makes it flattering on everyone. I love tops that cinch in the waist but still are forgiving to all my problem areas. I can't wait to wear this with my new booties.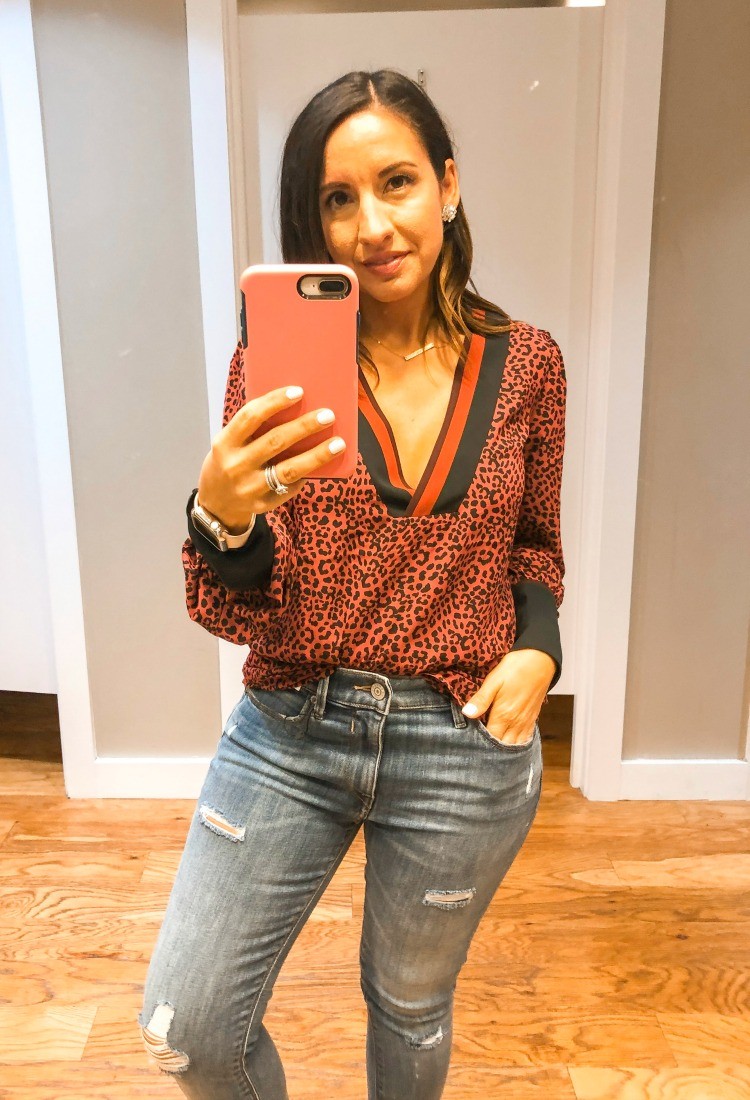 Leopard Color Block V-Neck Top: This blouse is one those pieces that I was interested in as soon as I saw it on the hanger. Leopard is one of my favorite prints and it has the cutest v-neck neckline. It runs tts and is one of those great tops that makes such a strong statement.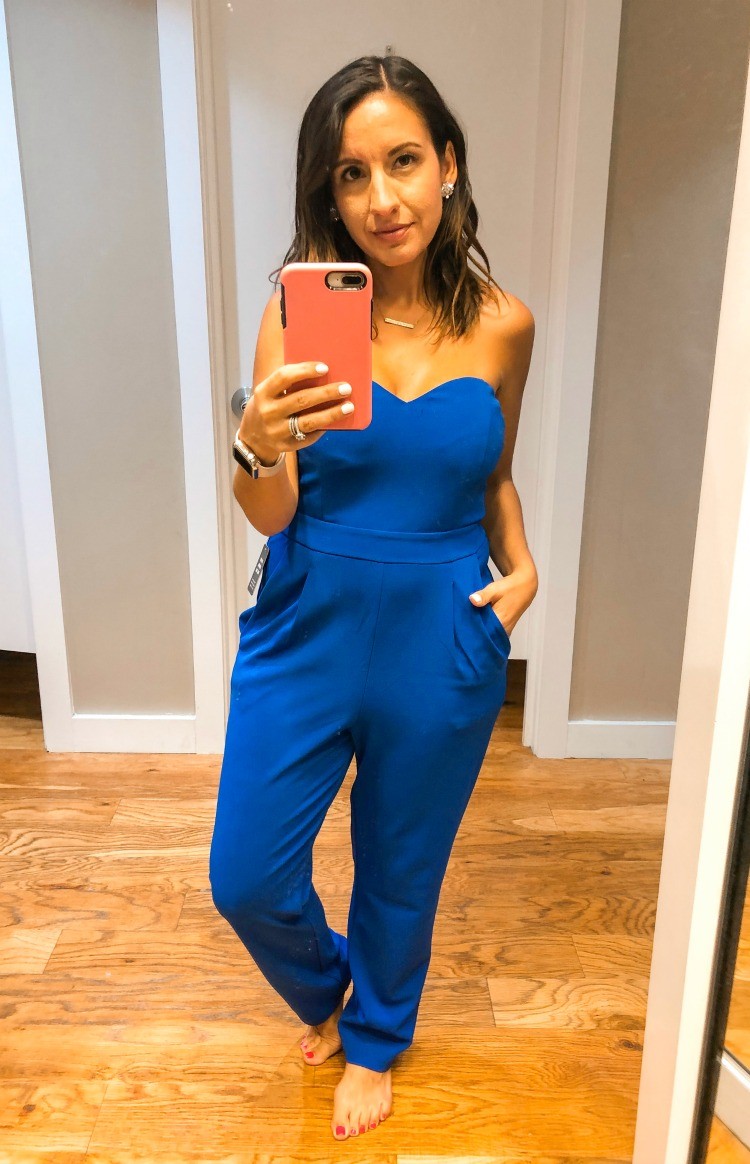 Strapless Sweetheart Neckline Jumpsuit: This jumpsuit is so darn cute. I absolutely love the sweetheart neckline and the placement of the pleats. Did I mention it has pockets? It will be really great for so many occasions. I plan on wearing it for a date night since holiday parties are still a few months out. It would be really cute with a belt too. It runs tts and comes in petite sizing too. They didn't have it in petite sizing at the Express I went to but I love it.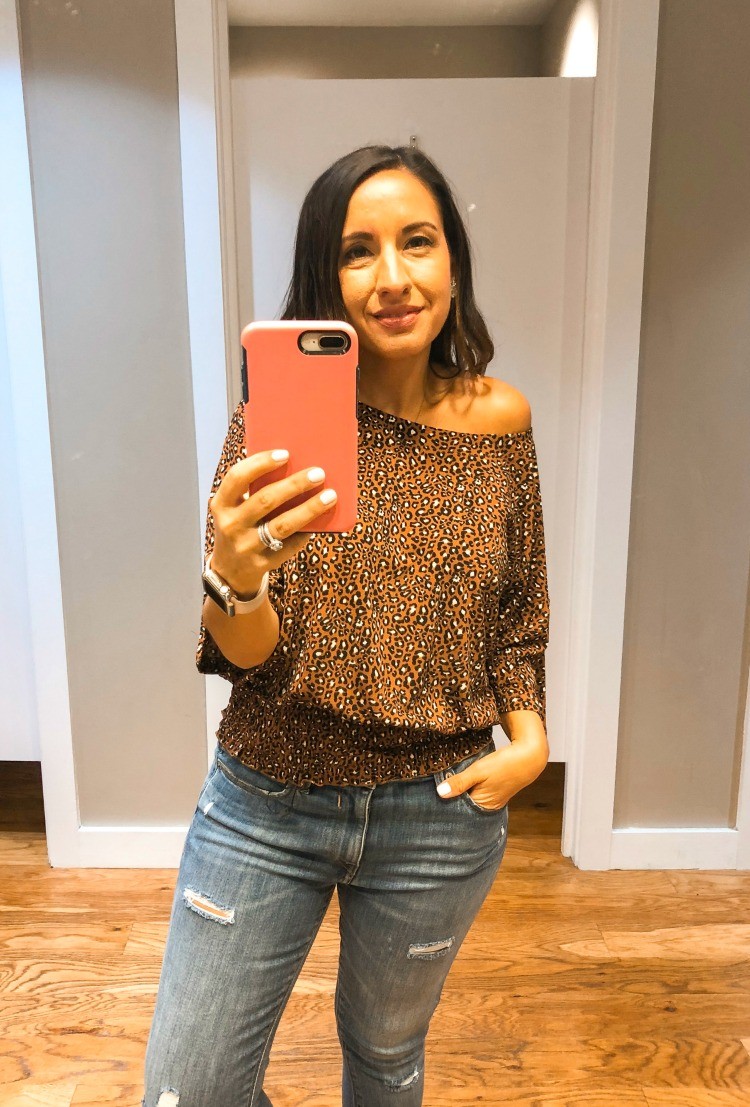 Leopard Smocked Flutter-Sleeve Top: Give me all the leopard sleeve tops, please! I love this top.  I really like the smocked detail so much. It's one of those trends I am really glad has come back. It runs tts and is one I can't wait to wear on repeat. Fyi it's on sale and under $20 right now. Such a steal.
Thank you so much for hanging out with me. Have a good weekend!