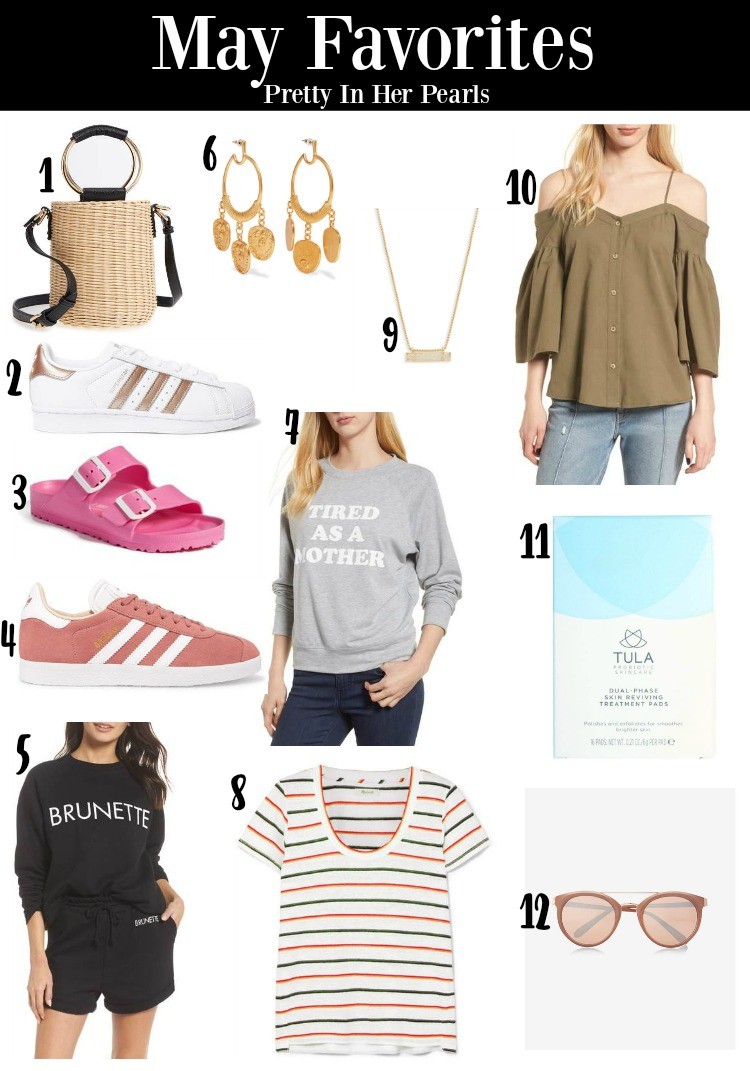 Good morning Y'all!! It's time to share another monthly favorites post and I could not be more excited. These favorites are items I have either bought or still have in my online shopping cart. I love the online shopping cart it really lets me take my time deciding. Something I need because I can be a little indecisive at times.
Without further wait let's talk May favorites!!
1. Let me first say straw bags are huge this season!! Like they are a very big deal and this straw bag  (sold out similar style) is so cute. I love the metal detail and the unique shape. It's so chic!!
2. You can't go wrong with a cute pair of super classic Adidas. I love the white and gold combo for summer time.
3. I had a pair of Birks in high school and they were so comfy. I love these bright pink Birks. They totally make me think of jelly shoes for adults. I'm totally dating myself a little but jelly shoes were the bomb back in the day. These are under $40.
4. I really want these adidas in pink and since I can't decide between white or pink I had to include both. They are so cute!!
5. I am absolutely loving all the cute sweatshirts with all the cute sayings. I love that this sweatshirt is simple and to the point. I love the font and that it says brunette of course since I'm a brunette.
6. These earrings have such a pretty Grecian feel. I love them and think they would be perfect for summertime.
7. This sweatshirt seriously needs to be in my closet. There are certain days where there isn't enough coffee out there. I love this sweatshirt. I tried it on and it is so soft.
8. Tops that have stripes have a soft spot in my heart. I love this red, blue, and white tee. Madewell tees are really well made and super soft.
9. This Kendra Scott necklace feels like a dressier version of the bar necklace, and I love it. If my hubby is reading this don't walk run to Kendra Scott and get it. It comes in a few different colors too.
10. This top is one of my favorites. I have the blue version of it and love the fit and quality of the fabric. My detail is probably the adjustable straps because I have little kid shoulder and most things fall off. It's on sale at the moment and under $30!
11. Tula products are amazing. I have heard really good things about this Tula product from all my friends that have tried it.
12. Sunglasses are a must-have in my book. I might not really need 10 pairs but this brown and gold pair are so cute that they are definitely a need.
Thanks so much for stopping by!! I hope you're having a great week!!