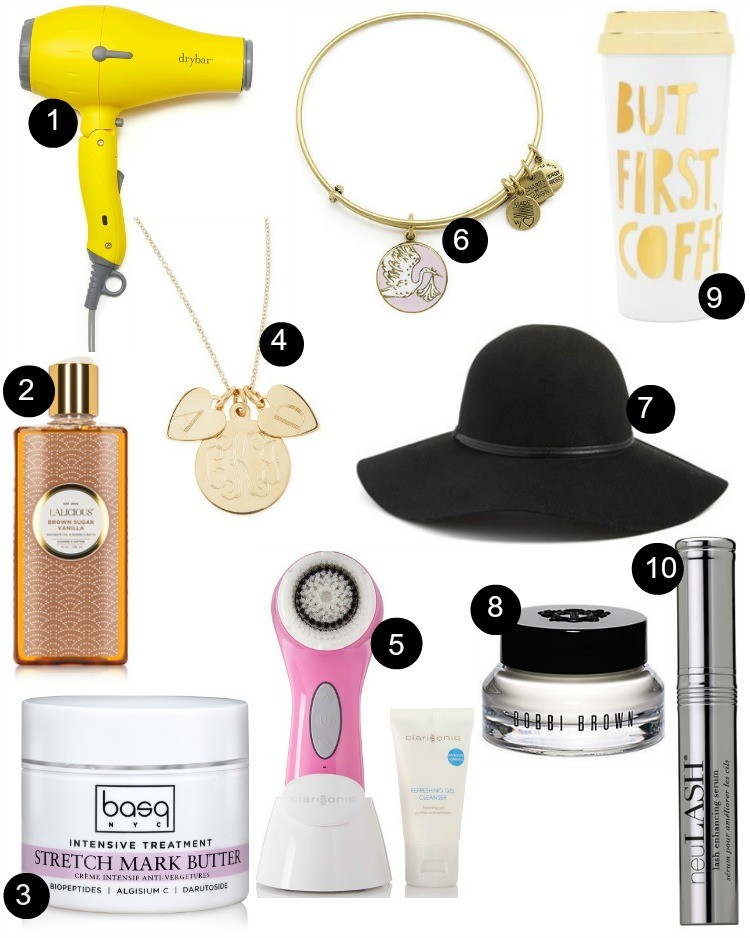 Thanksgiving is next week, and the perfect time to take advantage of all the good Black Friday Sales. With baby Sofia coming, I thought it made perfect sense to share gift ideas for all the new mommas out there. One of the things I love about all these gifts is that they are all only for momma, and not to help with whatever new tasks that new momma has. So let's have a little impromtu Treat Yo Self gift from either family or to gifted to yourself.
1.DryBar Baby Buttercup Blow Dryer
DryBar blow outs are one of my favorite splurges. Since ducking out for a quick blow out isn't easy with a new baby having a salon quality blow dryer in your home gets close to the next best thing.
2.Brown Sugar Vanilla Shower Oil Bubble Bath
This is one of those essentials that every new mom needs in her shower. It can be used for baths too!! So once you have the okay to take baths use this in it. It smells amazing, and makes your skin feel amazing!!
3.Basq Intensive Treatment Stretch Mark Butter
Some of you might not realize this, but the days of stretch mark cream are not over once the baby comes. Keep putting it on after because stretch mark cream keeps those post baby stretch marks and dry skin away. This also smells amazing and makes my skin feel amazing.
4.Sarah Chloe Sonya Layered Letter & Monogram Necklace
New mommas deserve a gorgeous monogram necklace with two little heart pendants. I absolutely love this, and if you need push gift inspiration this is perfect!!
5.Clarisonic Mia Facial Sonic Cleansing System
This is the perfect gift for simplifying the cleansing process. I love that when I use this my skin feels really clean. I also, love using it after at home facials. When I use it I never worry that I've accidentally left a little green ,or blue mask here or there. Because I've definitely had those oops moments before.
6.Special Delivery Charm Bangle
Alex and Ani bangles are one of my favorites, and this pink bangle with a stork is one of my favorites. I've found that their bangles are one of the most baby friendly bracelets too. There is less worry about hurting a little ones skin with these bracelets. Also, 20% of the purchase price is donated to March Of Dimes.
Every new mom needs a good hat on those days where our hair is past the point where dry shampoo can help. When you're a new mom showers are far and few and between at the beginning. So this cute hat could save you from a really bad hair day. It could also save you if you need your roots done, and can't get into the salon. Something I'm very familiar with. When I wear a hat, I usually add a few curls to add a little something extra. This way you also don't have to tease your hair either.
8.Bobbi Brown Hydrating Eye Cream
I think hydrating eye cream says it all. It's definitely a major need, and this one works amazingly.
Every new momma needs a little something gold in their life that keeps coffee warm because once you become a momma having a cup of coffee while it's still warm doesn't happen often. So thankfully mugs like this help to keep it warmer longer.
10.Neu Lash Lash Enhancing Serum
I haven't personally tried this, but I've heard amazing things about it. After pregnancy, new mommas usually shed a lot. So this could help with the lashes that all the new mommas lose after having a new baby.
Thanks so much for stopping by, and I hope y'all have a fabulous weekend!!