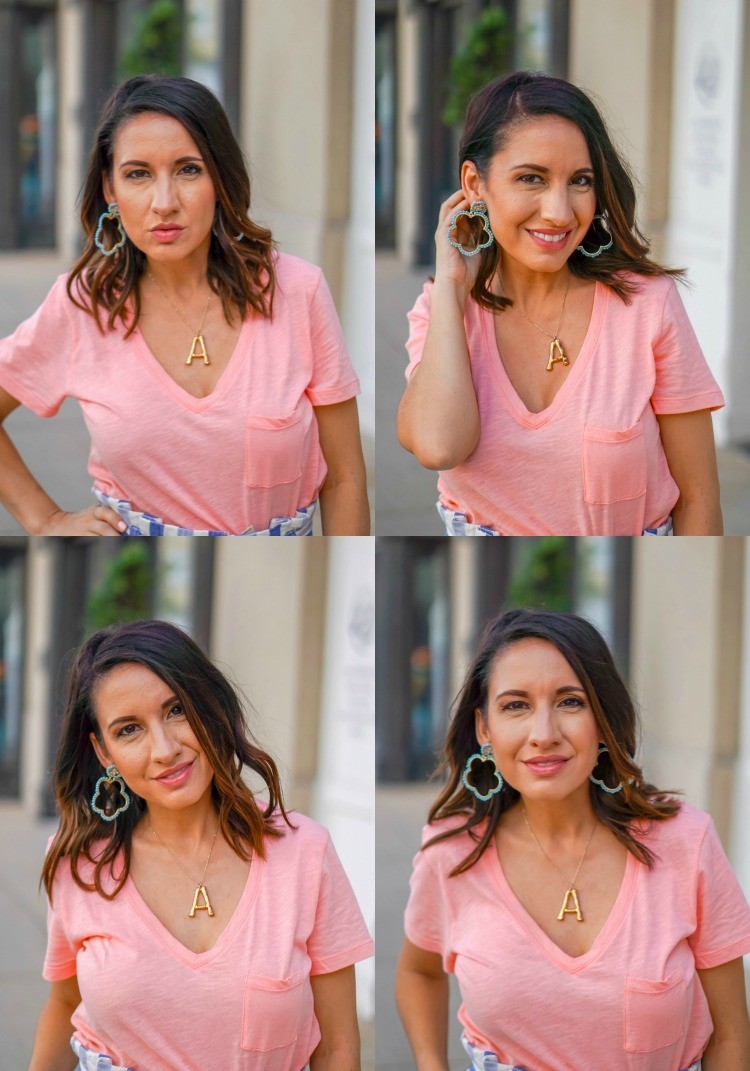 Good morning! This is one of those posts I have been so excited to share with Y'all but I wanted to make sure I did all my homework. I know this isn't an inexpensive service so I wanted to really make sure I did my due diligence. So basically this is my no BS post on Botox, what I thought and what I learned. So let's ease into this topic. This way I can share all the facts, but most importantly why I wanted to get Botox. I feel like explaining my why is just as important as all the facts about botox and the experience. Which I will totally share with Y'all.
Let's start from the beginning. First I have something to share that I haven't been hiding but I haven't necessarily been broadcasting to y'all. I'm 38 years old. I didn't necessarily hide my age but If I'm being completely honest I didn't really share it either. So around December, I started to feel really self-conscious about the lines on my forehead and the lines (aka 11's) between my eyes. At first, I tried creams, moisturizers, relaxation, and more creams and nothing worked. I remember thinking if I am calm and chill then some of the lines won't show up as harsh when I do blog photos and post on social media and basically go about my day with my kiddos. Which to some might sound really trivial but to me, it was really important. So after lots of thought and talking to friends and my hubby, I knew it was time to look for a doctor. It just so happened that my friend Leanna popped up in my inbox and invited me to her Botox party at her house. The food was amazing and her home was absolute decor goals. You can check her post out here.
This is where I met Dr.Courtney who is basically the nicest doctor. I was so nervous I think I talked a million miles a minute, and yes I have Instagram stories archived to prove it. Omg. Okay, so he totally put me at ease once I stopped talking a million miles a minute. He looked at my face, examined it, and then told me what he saw and asked what my concerns were. I appreciated that he was honest, friendly, and super approachable. He explained everything to me and put me at ease. We did botox in my forehead and the lines between my eyes (the dreaded 11's). I went back two weeks later for my follow up to see how the botox was settling. This is something I really liked because who better to make sure everything is settling just right than the doctor. So at that appointment, I shared a concern that the eleven lines weren't completely gone.
He took a closer look and since those lines are a little deeper they will need filler. Filler is completely different than Botox. But that is a conversation for another day. I love the results! It gave me a huge boost of confidence when I put my makeup on and start my day and I use the best micellar water to take my makeup off before I go to sleep. It's definitely something I would do again. Even with my fear of needles, it is something I plan on having done again. The results are so worth it!
It's been almost three months since I had it done and my forehead is slowly starting to move a little bit more. My hope is to go back in a little closer to when my babies are back in school. For now, I am on full-time mommy status.
Here's a quick look at my before and after! There is little to no downtime and you can learn more important facts right below these pictures. Dr.Courtney did such an amazing job! Seriously so thankful for him!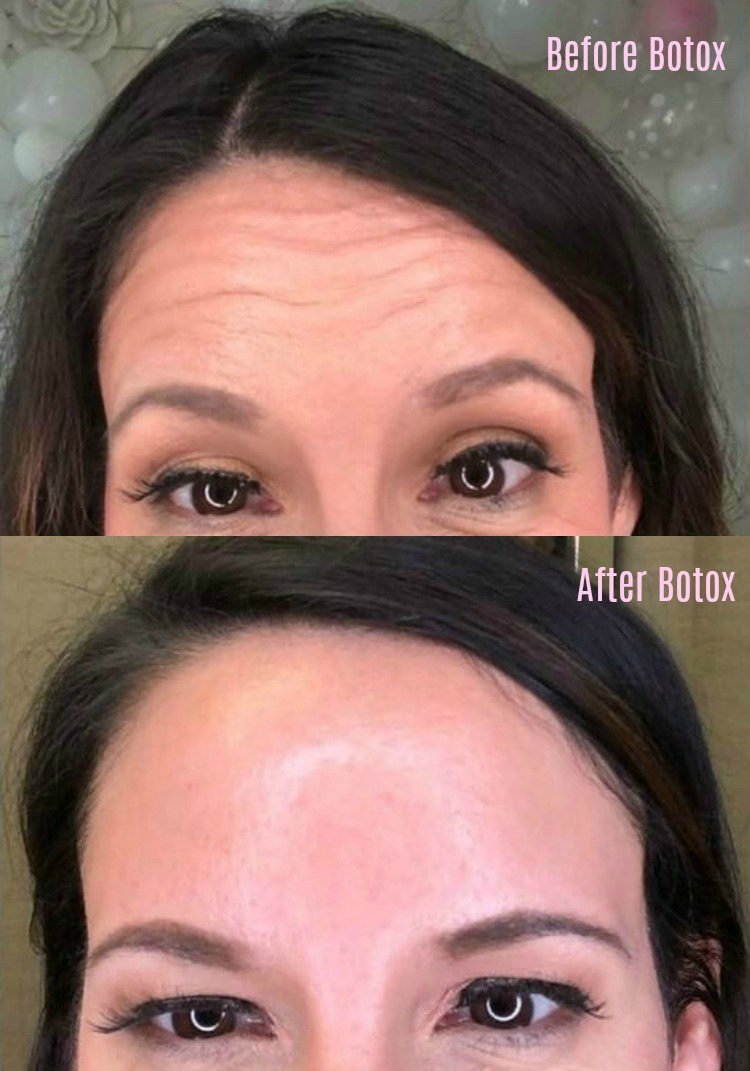 Facts About Botox
---
What is Botox?
Botox is typically used to freeze the muscles in certain areas of the face. Typically it's used places like the forehead and crows feet.
How Do You Find Someone To Go To?
My advice is to do your research and look for a board certified doctor. I know some people try to bargain shop for this but my advice is DO NOT DO THIS! This is your face! Botox isn't permanent but you want to go to someone good. Book consultations with several doctors, and choose based on someone that makes you feel completely comfortable and answers all your questions. If you live in the Houston area or surrounding areas I would schedule a consult with Doctor Courtney. He is one of the nicest doctors I have met. He runs a close second to my fertility doctor Dr.Griffith that helped me have my two babies. Dr.Courtney's office number is (713)522-4411 and here is his website. If you want to get a feel for him go take a look at his Instagram because he shares a lot of his work and his stories are always really informative.
What Is The Cost Of Botox?
The cost really depends on the place you go to. My suggestion is to do your research. The cost of botox with Doctor Courtney is $14 a unit, $12 for referrals, and $10 a unit at botox parties.
Where Did I Get Botox?
I got botox in my forehead and my 11's. I didn't want my forehead to look frozen, but I also didn't want to see any lines. Thankful that Doctor Courtney listened and knew just how to achieve that.
How Often Do You Need To Get Botox?
This can vary but it is usually every 3 to 4 months. I am going on almost three months and my forehead is slowly starting to move a little bit more.
Should You Start Botox Preventatively Or Wait Till You Have Wrinkles?
Preventative Botox is a new trend but from what I have read and learned from my consultation it can help to help to prevent lines from becoming deeper in our face. Perhaps if I had started earlier my 11's wouldn't be such a deep line that needs filler. Again, I am not a doctor I am simply sharing my experience.
Does Botox Hurt?
Botox doesn't hurt but it doesn't feel great. The needle is super tiny so that is a plus. I had a mild headache after but it wasn't anything that was unbearable. I have heard I have a high pain tolerance in the past but really I didn't think it was bad at all. I really liked that Doctor Courtney explained exactly what he was going to do. I have a huge fear of needles but knew I was in good hands so my nerves were at ease.
Can You Wear Makeup When You Get Botox?
Wearing makeup is totally fine. When I had my botox done the doctor removed some of my makeup on my forehead but it wasn't anything I couldn't touch up easily.
Is There Anything You Should Avoid Before Getting Botox?
My advice is to ask your doctor what do's and don'ts they suggest. I stayed away from ibuprofen and aspirin for 24 hours since they are blood thinners.
I Have A Special Event Coming Up. When Should I get Botox?
I would suggest going no later than a month to 3 weeks out before the event. Botox typically takes two weeks to settle in. This should give you time to let it settle, have a follow-up, and be ready for your event. It really is worthwhile to do the follow-up. Trust me it's better to get the all good from the doctor. For all my brides I would definitely start 4 weeks out though because these are photos that will last a lifetime. You'll want everything just right.
What Is The Recovery Like?
There really isn't any real downtime. Your forehead might be a little red but it is nothing noticeable. My advice if you have somewhere important to go is maybe bringing some foundation or an all-purpose powder so you can powder your forehead. You could get this done on your lunch break and I doubt anyone would know you had botox done. It takes a little time to settle in.
Alright, thank you guys so much for hanging out with me! If you have any more questions please don't hesitate to comment or send me an email. I'd be happy to answer any of them! Have a great weekend!

Thank you so much to Dr.Courtney for a great experience. Let me know if you have any additional questions.