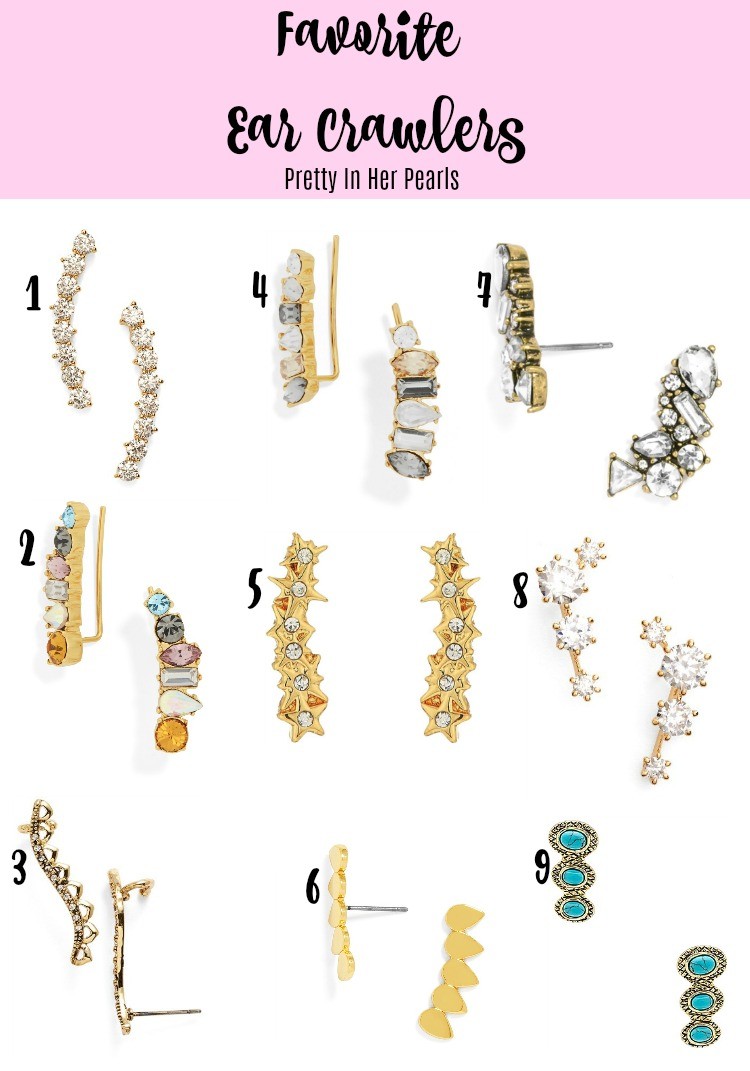 1 / 2 / 3 / 4 / 5 / 6 / 7 / 8 / 9
Hey, I hope ya'll are all having a great week so far. Halleluah it's already Wednesday. I am so ready for the weekend because my hubbies going to be back in town. It  has been a long week because my son has been sick this week, and has needed a little extra love. I have to say trying to do both my babies bedtime rituals at almost the same time has made for an interesting week for this  momma so far. Thankfully my little ones have been patient with this momma that has been figuring out how to do it on my own this week.
So, I love the ear crawler trend so much. It was popular last year, and looks like it's going strong again this year. I really like that it adds a little extra drama to your ears without being a big, heavy, long pair of earrings. Don't get me wrong, I still love my big chandelier earrings, but this is a really mom friendly earring. I say mom friendly because these are earrings that your little ones probably won't be able to pull out.  This is one trend I can't wait to wear again this fall. Next week, I'll share how I plan on styling a pair of ear crawlers with a fall outfit. For now I'm sharing nine pairs that are all super cute, and under $50.
I wanted to take a moment to thank you to ya'll for sharing your feedback on my drugstore makeup post review question on Monday post. Since I got a lot of feedback that you all would like to see what I'm loving in drugstore makeup, I'm going to break it down by my favorite drugstore lipsticks, and then my favorite makeup.  This will include all drugstore makeup that I am loving. I've always loved high end beauty products, and was really lucky when I came across drugstore brands that are bringing their A game.