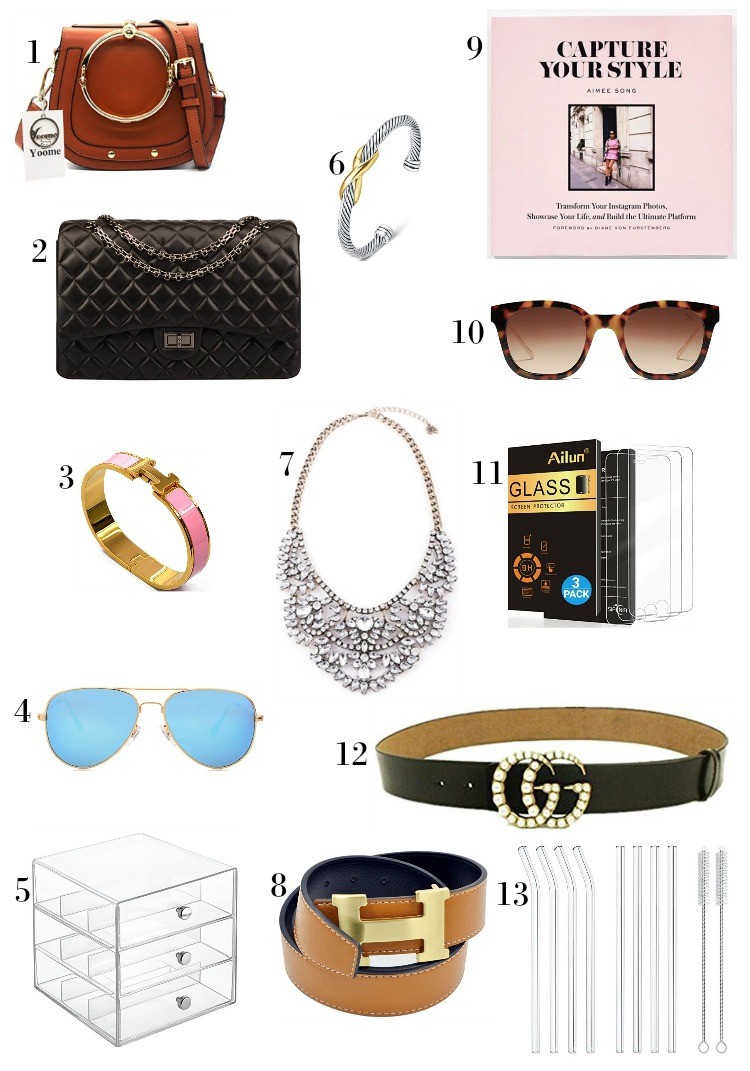 1 / 2 / 3 / 4 / 5 / 6 / 7 / 8 / 9 / 10 / 11 / 12 / 13
Good morning! I was doing some Amazon shopping and thought I have to share what's in my cart with Y'all. Some of this stuff I've already bought and some of it I still have to finish buying. I know it takes me forever I'm soooo indecisive.
So let's get started because I think everything is my version of a need. Hehe!
1.This bag is so darn cute and it definitely has that timeless feel to it. I can already imagine it with dark jeans and booties.
2.This bag has that Chanel vibe but is really good budget find. It's good quality and such a good staple piece because black goes with basically everything.
3.This bracelet is such a good dupe. It comes in a few other colors and doesn't feel cheap at all. I really love it so much. Wish I could get it in every color.
4.These sunglasses are so good. They feel like the designer aviators and are such good quality. They come in a few other lens colors and look so good on lots of different face shapes.
5.I'm beginning to organize my life aka my closet and bathroom again. This has been so helpful. I can put my sunglasses in it and I love that it's clear so I can actually see what I own.
6.This bracelet is one of my favorite new additions. It's such a good dupe for a much pricier designer version. I love that it's something I can wear with my kiddos without freaking out if my daughter wants to wear it for a few minutes. Another thing I love is it doesn't get stuck in either of my babes hair. Yes, that has happened with other bracelets and it's so stressful.
7.This necklace is such a good one. It's got a good weight to it and takes any outfit up a few notches. I plan on wearing this more when it's a little cooler outside.
8.Belts are really in again. So this belt is totally on trend and has such a timeless feel to it. It comes in a few other colors and is so cute!
9.I love this coffee table book so much. They add such pretty pop of personality. Also, I've been following Aimee Song for such a long time. I love her style and work ethic.
10.These are some of my favorite new sunglasses. They are really great quality and come in a few lens colors.
11.These iPhone screen protectors are amazing. I swear by these. They have saved my phone so many times from bumps and drops. I like to keep a few on hand.
12.Omg, I love this belt. It has pearls on it and screams we all need it.
13.These are one of my favorite kinds of straws. I love that they look like regular straws but are super strong.
What have you been ordering on Amazon? I love finding new stuff to try.
Alright, Y'all I hope you love everything as much as I do.

Shop The Post