This post contains affiliate links, which means I receive a commission if you click on a link, or make a purchase using the links in this post.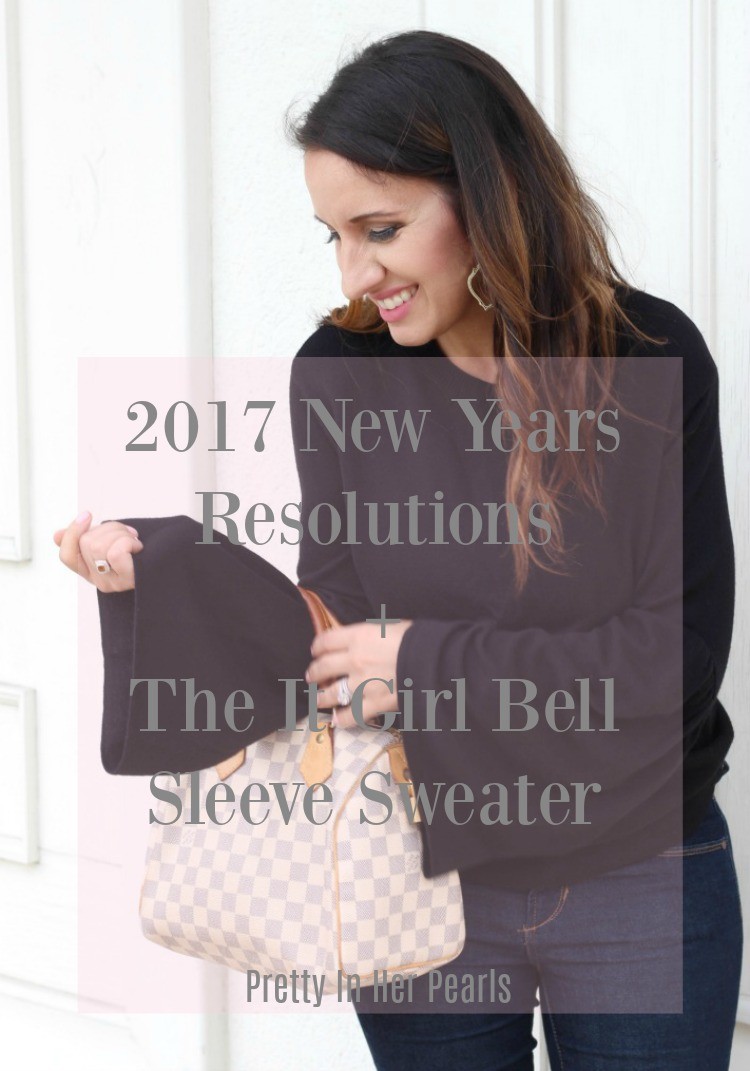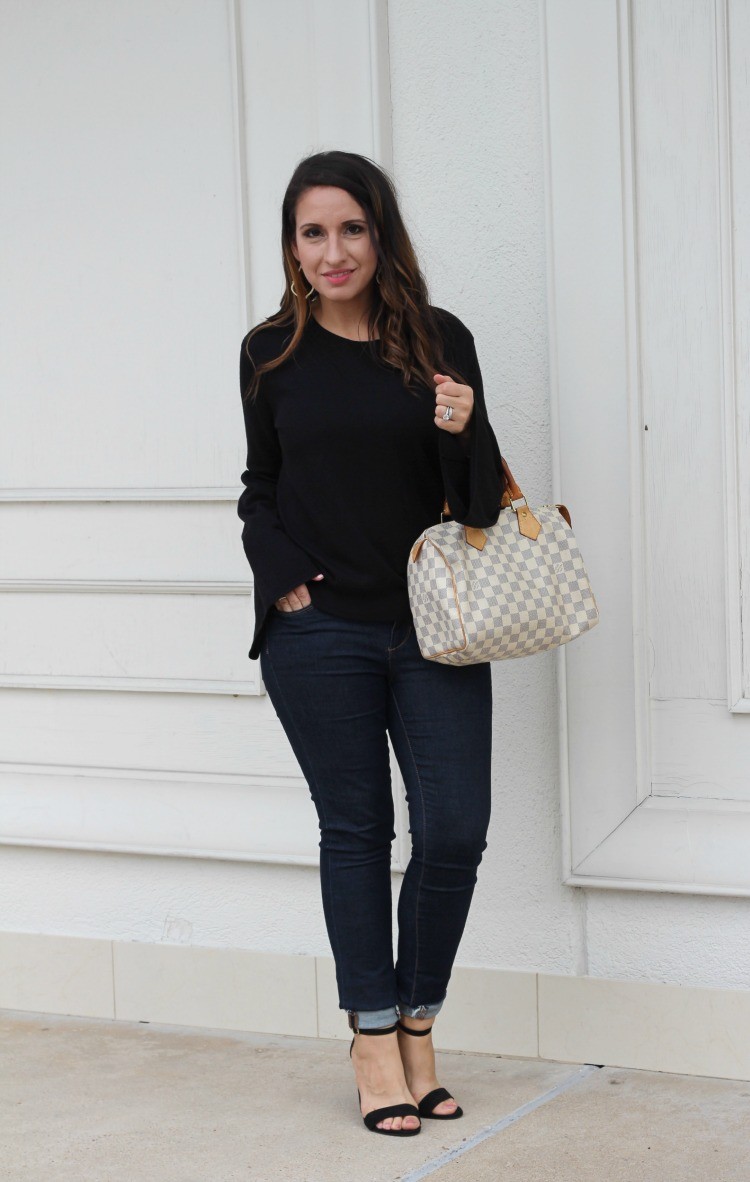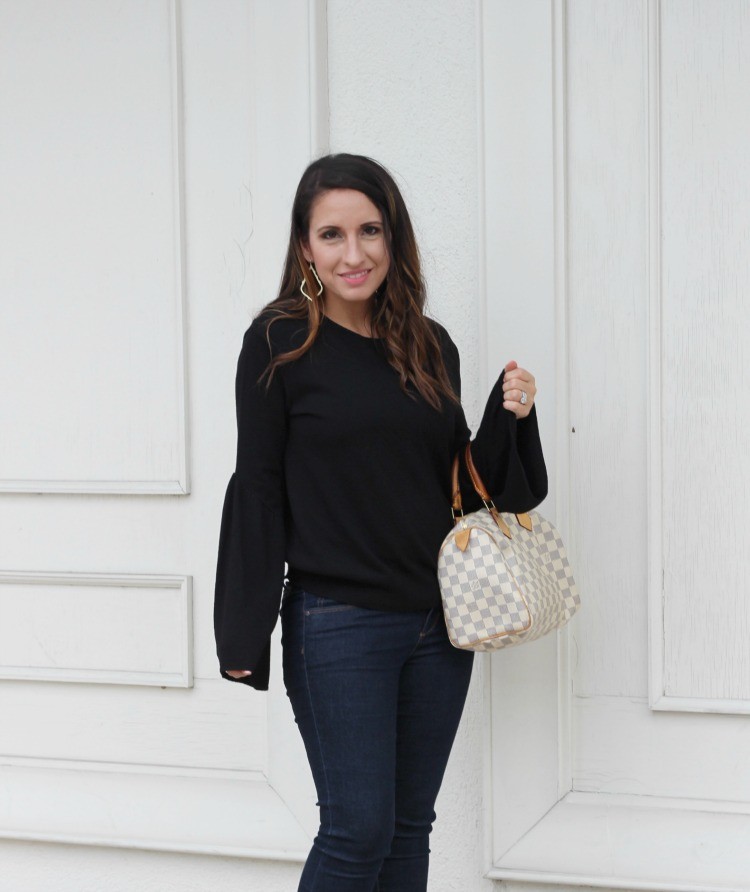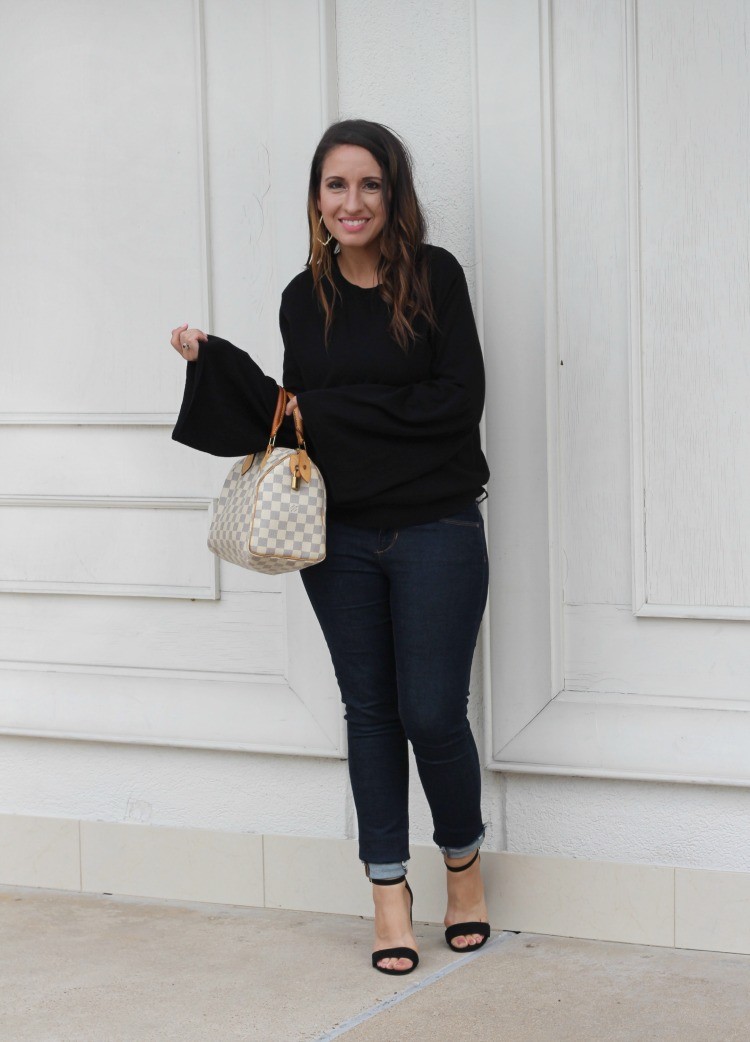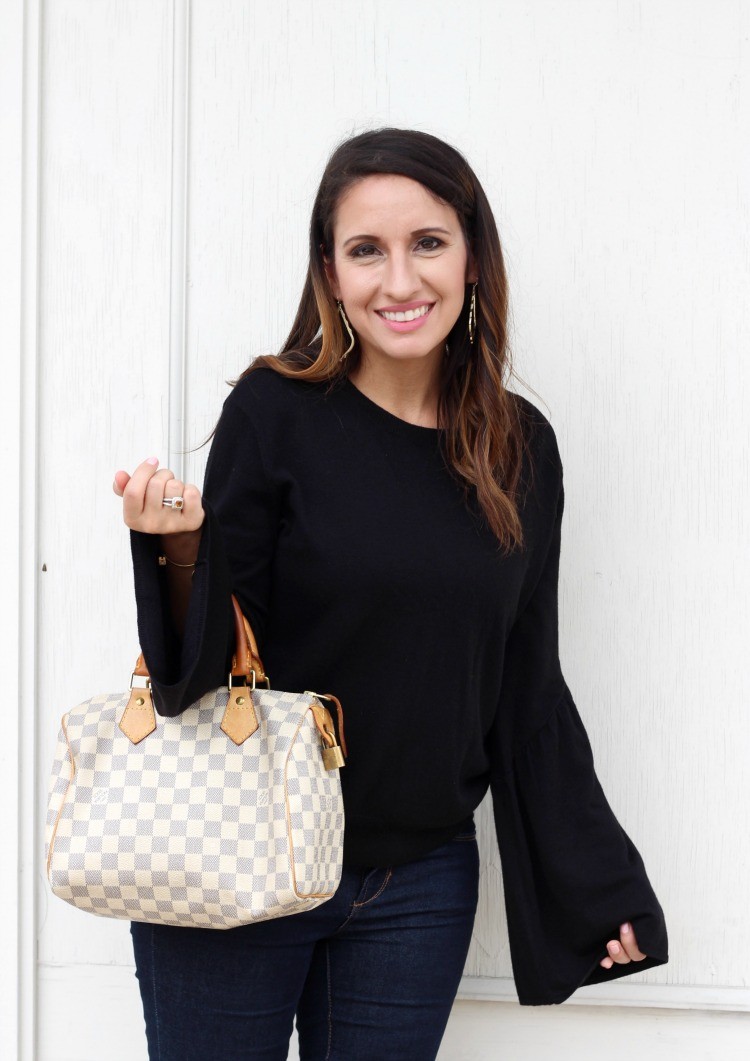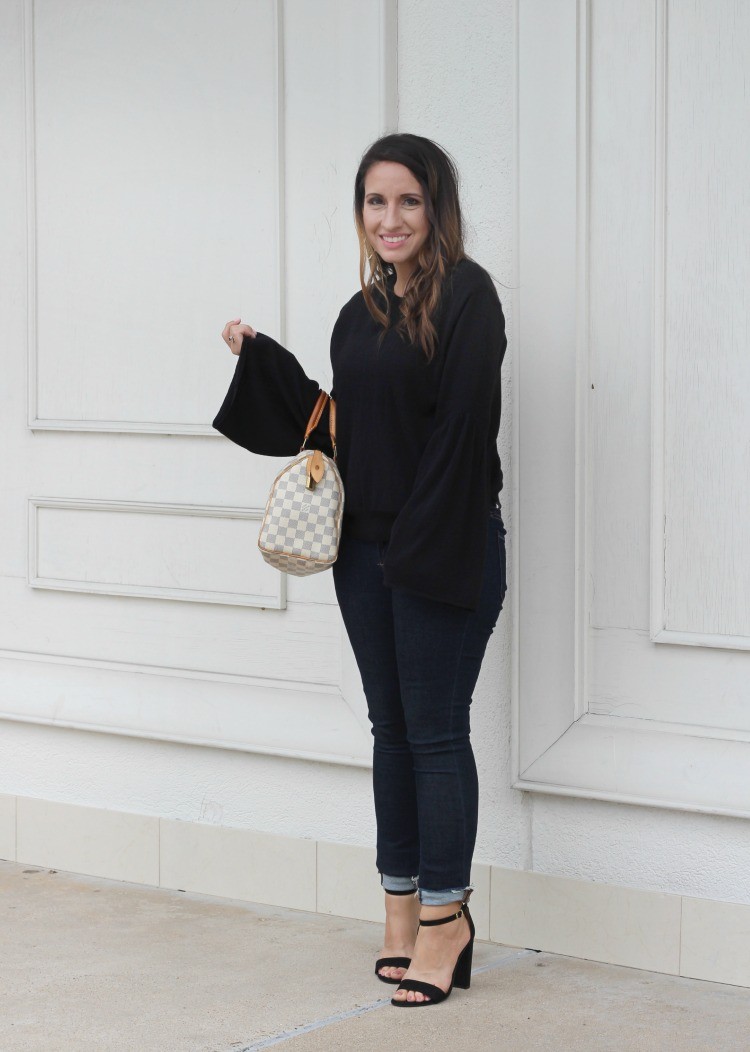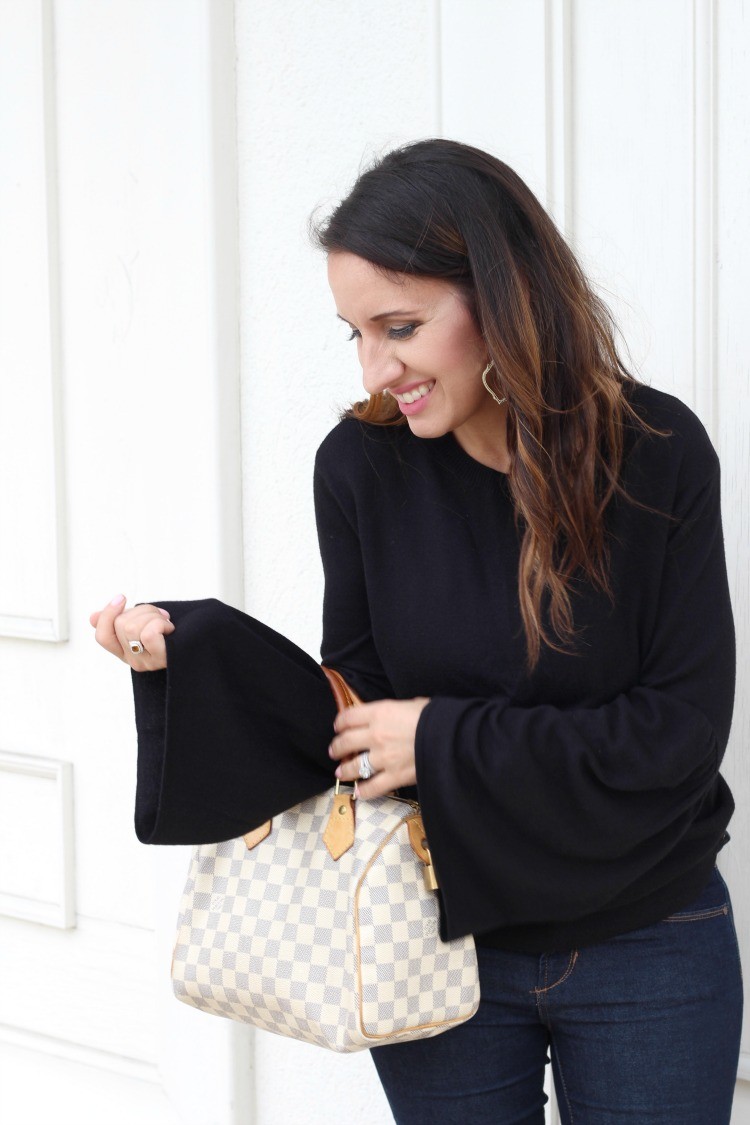 Outfit Details
Sweater:Nordstrom (Wearing extra small. There is a big difference in between the extra small and small!! It's only $35 and comes in 4 more colors!) | Denim:Nordstrom (these are super similar and on sale!! Same brand!!) | Shoes:Target | Handbag:Louis Vuitton (similar style super cute!! It's black with white details on it. It's under $130 and really pretty!!) | Earrings:Kendra Scott c/o | Bracelet:Alex and Ani |Lips:Twisted Tulip
New Years  Day is almost here and I'm so thankful to be ringing in another year with my family. I couldn't imagine being anywhere, but home with my hubby (of course) and babies. They will most likely (I hope) be sound asleep in bed way before the ball drops.
Manny and I are splurging on some delicious filets, lobster tails, and some really tasty cheeses. Think charcuterie board but a little less fancy. Woohoo for delicious meals that don't include me having to really cook. Manny is grilling the steaks, and our local grocery store is steaming the lobsters for us. We've been snacking on the cheeses since we bought them on Friday. The plan is to pour some champagne, have some grown-up cheeses and share our New Years resolutions with each other. I've been really brainstorming my New Years Resolutions that I'll share with Manny because he's so great at running ideas/goals by. He always asks me questions I would never have thought of. Those are the moments that really help me to really think through my decisions. Because who really wants someone that just blanketly agrees with you?
In the spirit of sharing New Years Resolutions, I thought it would be cool to share some of my New Years Resolutions for the blog and myself. This is going to be a little long.
1.My blogging journey is different from the person standing next to me and that's okay. I will not measure my success by what someone next to me or on Instagram is doing in their blogging journey. This is my journey and that is sacred. God has a plan for me. I don't always understand it but that's okay.
2. I will be present for my babies. They need mommy to really be there for all their smiles and everything in between. The everyday moments are just as special as the big firsts.
3.Learn my camera. I'm always putting it off because I'm busy, but it's time to learn because life is only going to get busier. So make time now.
4.Last year I took a few blog-related classes, this year I really want to go to a blog conference that away from home. I have my eye on The Blog Societies big conference. I have heard great things about it. There are a few things that would need to be worked out for this to happen but it's a goal for the new year.
5.This is the year I'm going to believe in my voice instead of doubting myself. It's taken time but I have my own unique voice and I'm not going to over think it. It's scary to put myself out there, but sometimes scary can be good.
6.Organize and plan my work schedule out further in advance. It'll make for a happier work-life balance.
7/8.This is a 2 part resolution. I'm going to be more confident when I explain what I do in regards to blogging. I get some interesting looks when people first learn what I do. I usually don't bring up blogging for that reason. Also, because of part 2 of this resolution. It's time to stand tall and be proud of what I love and work hard at.
On another note, it's okay to set boundaries when people (friends and strangers) want detailed information on how much I make blogging. I mean really would you ask anyone else how much they make in their career. I mean I don't go into my OBGYN and ask how much she makes and how that breaks down. I always feel like I need to over-explain myself.
9.It's time to realize it's okay to let friendships go because they aren't always meant to last. I had a friend years ago that said a quote from a poem that has always stuck with me. She said you have will have friends for a reason, season, or a lifetime. Usually, when you have friends for a reason it's because you need them for a very particular reason. The friends you have for a season is because it's your turn to be the friend for a reason. Friends for a lifetime are constant not because they are always there, but because they have a really true connection. I am learning to embrace the message from this poem and move on and be grateful for however long friends are meant to be good friends.
10.Making 30 minutes for my health is important. It's time to make simple changes that will hopefully make bigger changes throughout 2018.
11. I'm giving myself a break and accepting taking time for my blog isn't a bad thing, or make me less of a mom. It makes me happy which in turn makes me a better mom for my babies. So it's a good thing.
12. This one's a biggie that I've always struggled with as long as I can remember. I've always felt like I'm petite but not truly petite because I'm not tiny. It's time to like me, and embrace the version of petite that I am. I share a little more on this here.
Thanks yall for coming along on this amazing blogging journey and supporting my dream. Y'all are like family and I'm so grateful for each and every one of y'all. Thank you for your support and always being so kind to me, my little family, and my blogging dream.
Stay tuned because next week I'm going to share some aha moment takeaways from 2017. Do y'all do New Years Resolutions or lessons learned from the previous year? If so, I would love to know what some of y'alls are!!