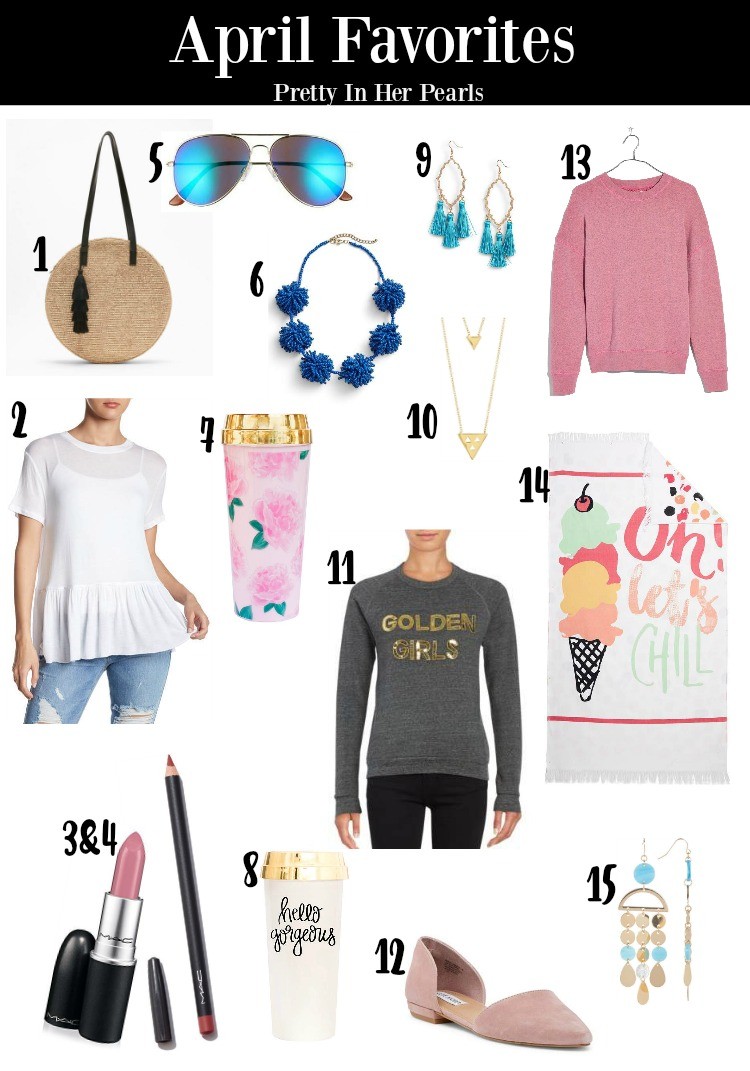 1 / 2 / 3 / 4 / 5 / 6 / 7 / 8 / 9 / 10 / 11 / 12 / 13 / 14 / 15
Good morning!! Sorry, guys I really dropped the ball on my favorites posts this month. These are some of my favorites posts to put together because they are literally everything I am currently loving. For Aprils favorites post, I'm feeling the power of a cute sweatshirt, the color blue, and cute to go mugs. Maybe because I'm on the go with Pookie and Sofia for lots of appointments.
Alright, let's get this party started and break down why I'm loving all these April favorites.
1.Y'all straw bags are huge this spring and this one is so cute. It even has a chic black tassel detail that makes it feel a little bit more dressy. I can see this with so many cute outfits.
2.Peplum tops are those tops I can't get enough of. I love that this peplum top is lightweight and perfect for spring/summer with the short sleeves.
3./4.I'm all about sharing really good lip color combos and this one does not disappoint. It's like the perfect mix with the lipliner Whirl and Snob on top. Here's what it looks like on me.
5.I've always loved a good pair of designer sunnies before having babies, but I'm a bigger fan of designer dupes now that both my smart little toddlers love playing with my sunnies. These do not disappoint and are under $15.
6.This is such a fun pretty blue statement necklace that screams spring. It would be so cute with a cute white or grey basic tee, dark denim, and denim jacket. Something about denim jackets just screams chic.
7.Spring is all about the peony and this to go travel mug is so pretty. Did I mention I love the gold detail on it?
8.I love a cute to go travel mug that greets me with a positive message like this one.
9.This is a really good statement earring that is basically perfect for anyone just trying out a bigger earring or just wants a cute pair of earrings to go with a casual outfit.
10.I'm loving some delicate necklace and this one is so cute to pair with lots of cute everyday outfits.
11.Sweatshirts have been some of my favorite wardrobe staples to pair with shorts and jeans. I love that it says golden girls in gold sequins.
12.Flats can be so chic and these are the perfect shade of taupe blush. They come in a few other colors and are perfect for everyday life.
13.This is one of the softest sweatshirts and I love that it comes in this pretty shade of pink. I love that it's comfy without looking like I'm in my momma's clothes. With me being petite I have to be super careful about that. Here's how I wore it a few days ago.
14.I try to always add a few new beach towels into the mix each season and this one is so darn cute. I love that it has an ice cream cone on.
15.This pretty pair of earrings reminds me of the new Kendra Scott line but are only $15.
Thanks so much for stopping by!!