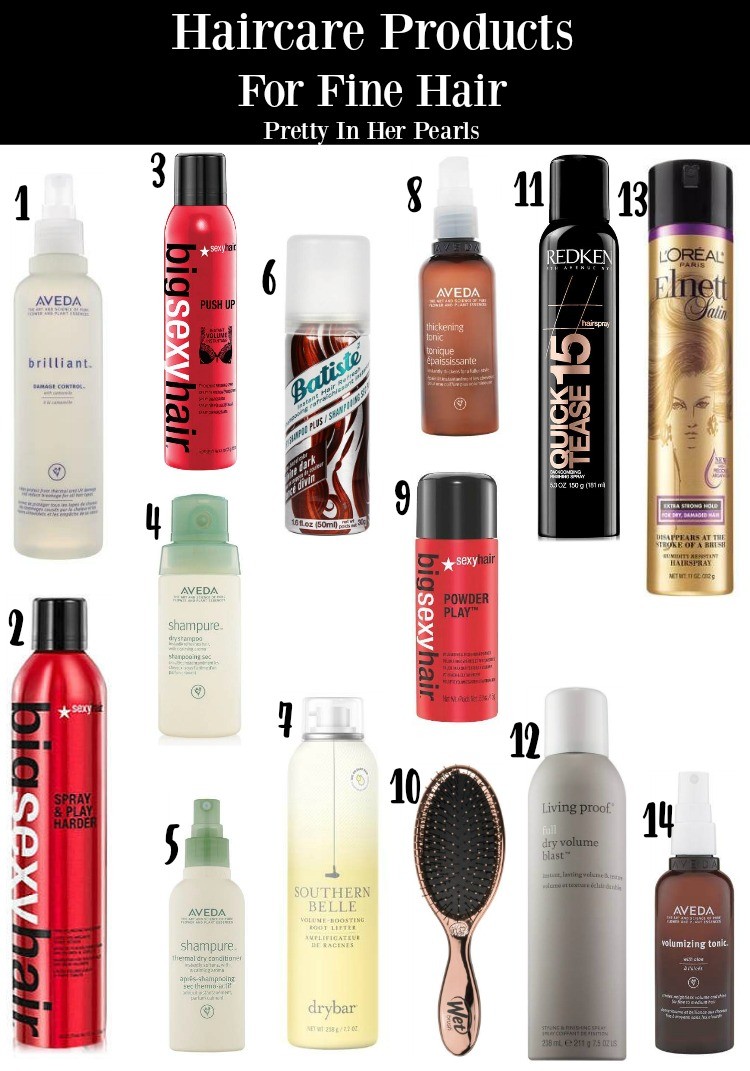 Shop The Post

Good morning!! Today's all about my holy grail hair products for fine hair. I love finding hair products salons use, but I am not averse to some more budget-friendly options too. I'm not going to cover shampoo and conditioners because that's a whole other post in its self. So these would work for almost any hair type, but they are best for fine hair. These products get me through mom life and all the humidity Houston throws my way. Alright, not trying to make this super long, but there's a lot of ground to cover.

Let me walk you through why each product is so good that I call them my holy grail hair products. These are products I rotate between because I love them and need them for different occasions.
1. Damage Control is a ride-or-die product I've used since high school. I remember going to Planet 21 in Charlotte and loving this product the moment they sprayed it in my hair. There is nothing like the way Aveda products smell, right?! This is an amazing heat protectant that is super lightweight too. Basically, a girl with fine hairs BFF because we have to protect our hair from the heat that we put on our hair.
2. Spray and Play Harder is a newer product to my holy grail list. This hairspray is super lightweight but actually gives your curls some hold without turning them into a sticky tacky mess. The aerosol applicator on this one does get clogged kind of easily, but running a little warm water over it does the trick.
3. Push Up does basically what we all wear push-up up bra for, but instead for our hair. I spray this, and it gives my curls more definition and volume. I love spraying it almost under my hair. I showed a small tutorial on Instastories of how I curl my hair and use Push. You can find that here.
4. Shampure Dry Shampoo is a newer product Aveda came out with about a year or so ago. I like that the formula is weightless, smells good, and makes my hair look clean. I usually use this on 2nd or 3rd-day hair. I sometimes use this the night before on clean, dry hair to absorb the oils during the night from my scalp when I sleep. It helps, and most of the white residue is gone by the morning. If you have dark hair you know what I'm talking about.
5. Shampure Thermal Dry Conditioner is a total game-changer. I shampoo my hair 2 to 3 times a week, and having a spray conditioner that moisturizes my hair throughout the week is important. It makes my hair so much more manageable and cuts down on the split ends since it's still getting the conditioning it's missing from the days I'm not shampooing my hair.
6. Batiste is one of the very first dry shampoos I've used. This one is tinted for brunettes, and I love it. There is no white residue to work through, and it keeps my hair looking clean and not oily. This is forever a goal for my peeps with fine hair.
7. Southern Belle is a great one for giving the hair lots of lift. This is a product that you put on damp hair and then blow-dry as usual with a round brush. Remember, don't put it on super wet hair. You won't get the best results from it. I promise I've tried it both ways.
8. Thickening Tonic is a new product, but I love it. I use it ponytail down on damp hair. It makes my hair appear thicker. It is so important because I love anything that makes my hair appear thicker.
9. Powder Play was a game-changer product for me. It gives more volume to where ever I tease my hair. So, tease, spray, then add tease holder and then put a few puffs of the Powder Play in, and you are good. Just a friendly tip a little goes a long way. If you use too much it will almost have the opposite effect. A little goes a long way.
10. This Wet Brush isn't a product, but a tool that every girl with fine hair needs. It makes getting through the tangles a lot easier process. It's also my go-to hairbrush whenever I comb through my curls for a looser look. It's also really amazing for any blondes.
11. Quick Tease 15 is an amazing product. I spray this after each section of hair I tease, and it locks the teasing/backcombing in. I love any product that helps keep the height I worked hard on getting.
12. Dry Volume Blast is really good for adding volume and texture. It's amazing for making the hair feel bigger and give it some added texture. It's an awesome product for getting a really good braid that can be pieced out a little. Basically, the not so perfect braids that we all love on Pinterest.
13. Elnett Satin has been around for forever. It's a really great lightweight hairspray for every day that also gives really good hold.
14. Volumizing tonic is another one I've used since I was probably 16 years old. It's one of those magical products that are really lightweight but adds lots of volume when you blow dry damp the hair with it. I even use it on 2nd and 3-day hair. I spritz a little on my hair and then go through with a round brush and blow-dryer on the areas I sprayed. Anyway, I spritz this tonic about 10 inches from my hair. I'm not spraying it super close to my scalp. That would not be good.
I think I've talked your ear off about my favorite hair products for fine hair. I'm officially going to bed. Tomorrow is going to be a long day. Pookie has speech therapy (ST), and then we are off to a pediatrician appointment after lunch. I wish I could say it was for a good visit, but I think the pollen has gotten us again. Both my babies have runny noses and a slight cough. Since Manny Jr. has had it since the weekend, we are going in. I'm so ready for no more sick visits for a while.

Shop The Post