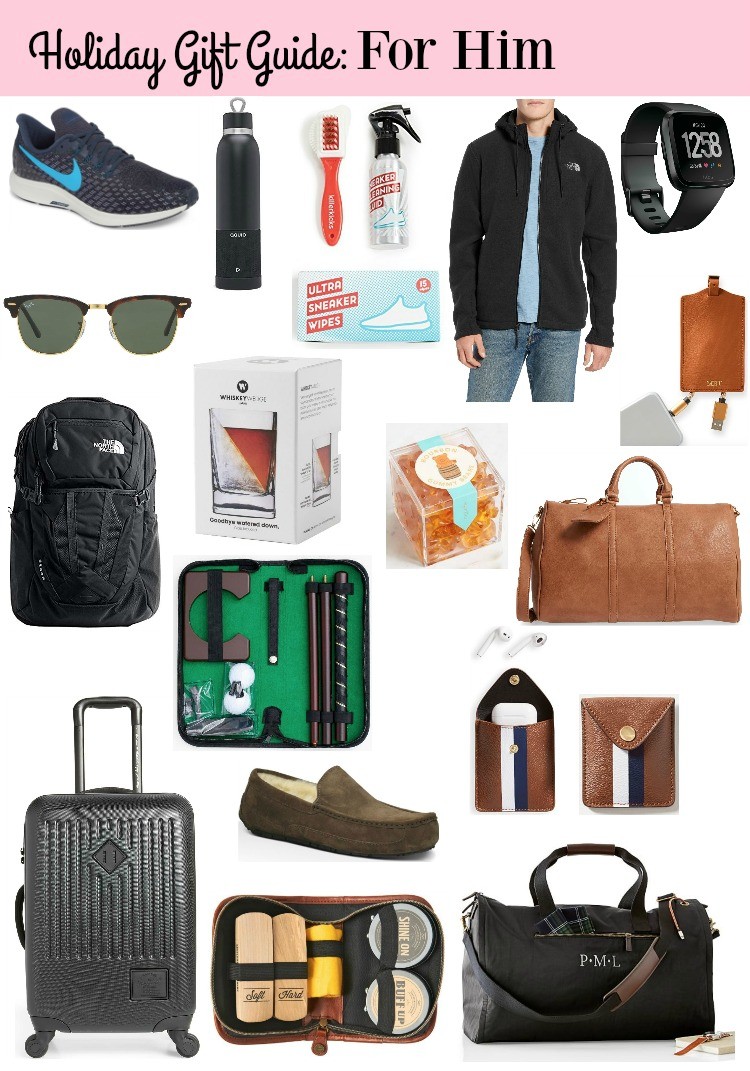 Good morning! Today's gift guide for him is for all the men in your life. Whether you need a gift for your dad, boyfriend, brother, or hubby I've got you covered. These are gifts varying in all price points for lots of different types of guys. So get ready because I'm going to break down why each gift on this gift guide for him list is a must. Just in case you don't have time to read right now there is a shop the post link below. Can't wait to hear what you choose.
Shop The Post

Alright, let's dive into this gift guide. You can totally shop it above but I wanted to share a little about why I chose some of the items in this gift guide for him.
New sneakers are such a good gift for so many types of guys. These sneakers come in a few different colors and are super cute.
These retro RayBans are such a good gift idea. They would look good on lots of face shapes and they are such a timeless design.
After flying with my babies a bookbag is needed whether you have kids or not. This is such a good gift for guys who travel or workout a lot.
This piece of luggage is one those really great timeless pieces. It's durable enough to check but small enough to keep as a carry on too. It comes in grey too.
This water bottle is also a blue tooth wireless speaker which basically makes it super guy friendly. It comes in lots of other colors. I have my eye on the pink option.
Whiskey glasses never get old. They make such a good gift your guy drinks whiskey or some other sipping liquor. It has an ice wedge that helps the drink not become super watered down.
This on the go golf set looks like so much fun.  I love that it's super compact and cute.
Slippers are never a bad gift. These look so soft and comfy. They come in lots of different colors. This could even be a great his and hers gift.
I love smartwatches that track my activity. I have heard really good things about this one and it has such a good sporty look but could even be worn in someones day to day life depending on how dressy they need to be.
These Bourbon Gummy Bears look like the cutest stocking stuffer.
This travel bag is so cool. It's a two in one garment bag that actually looks like a bag.