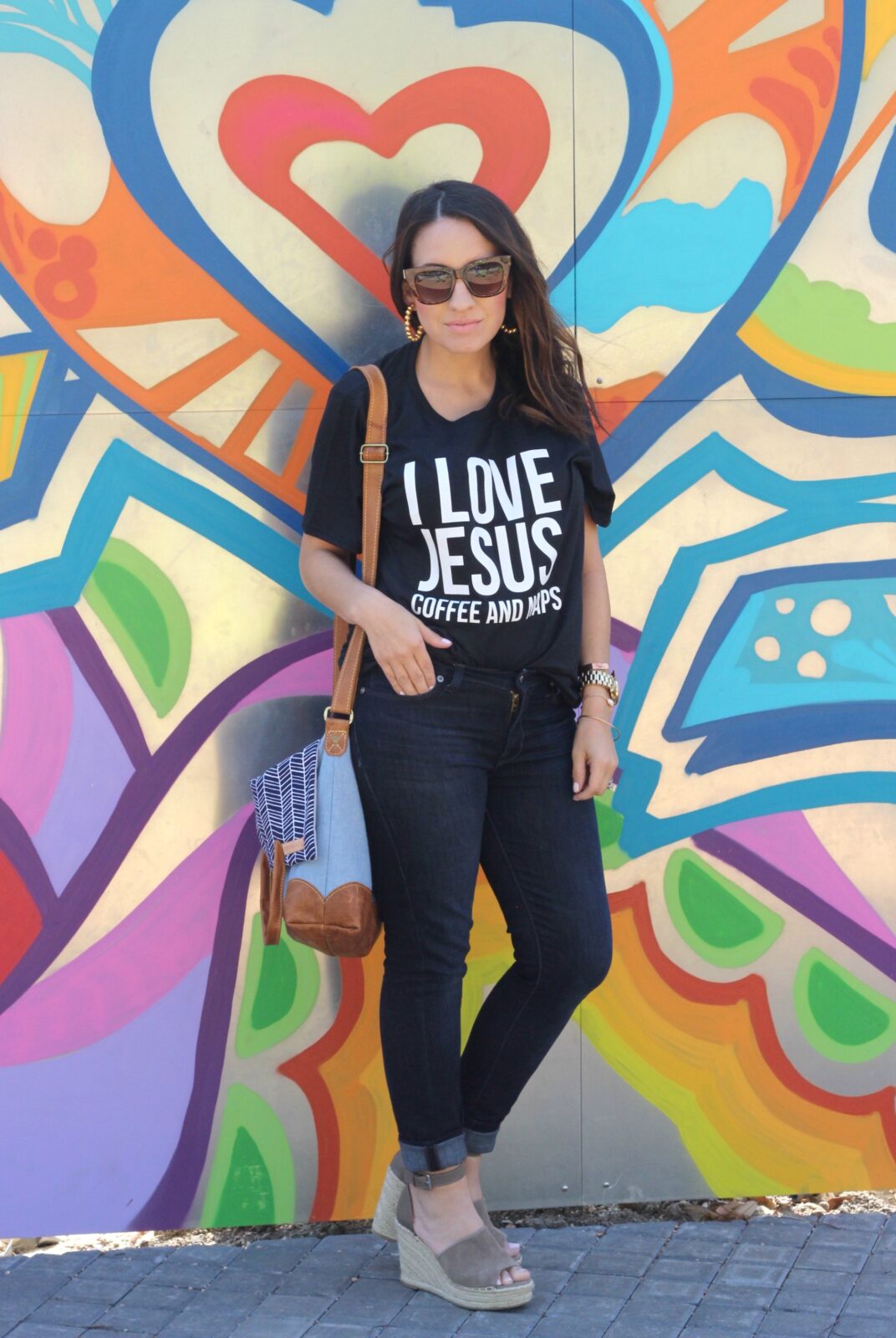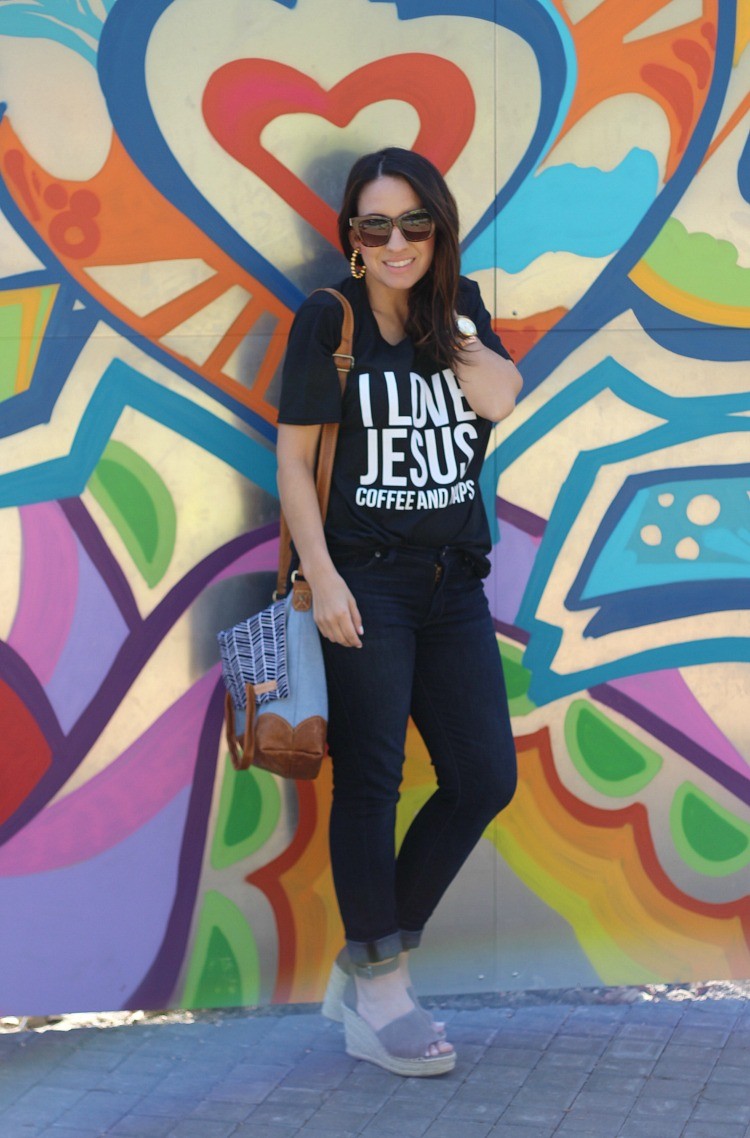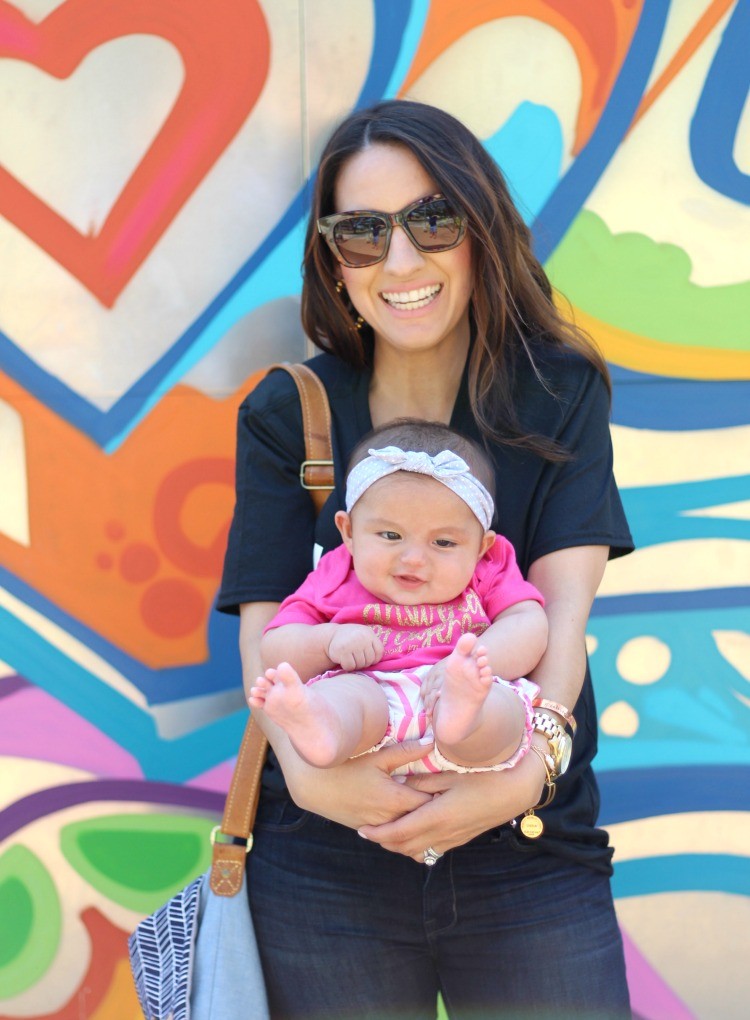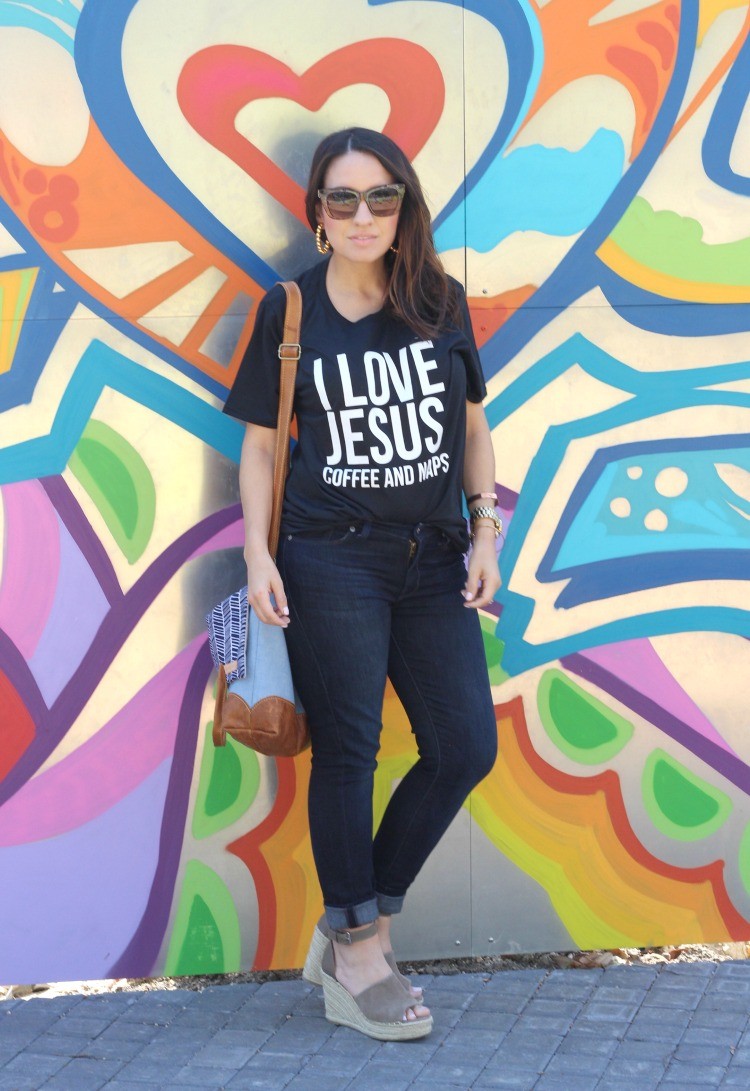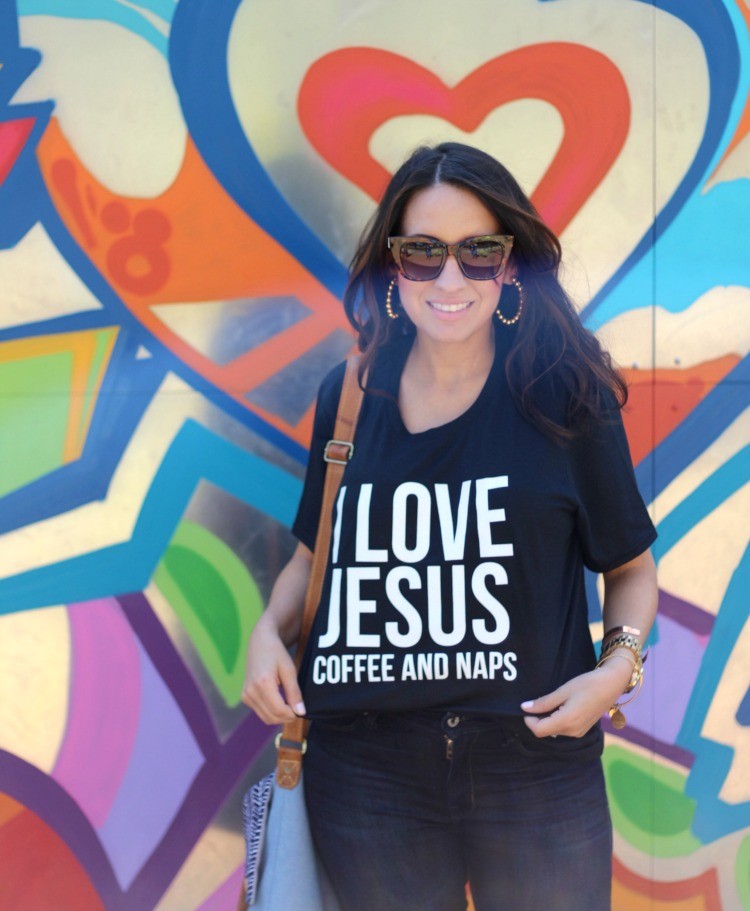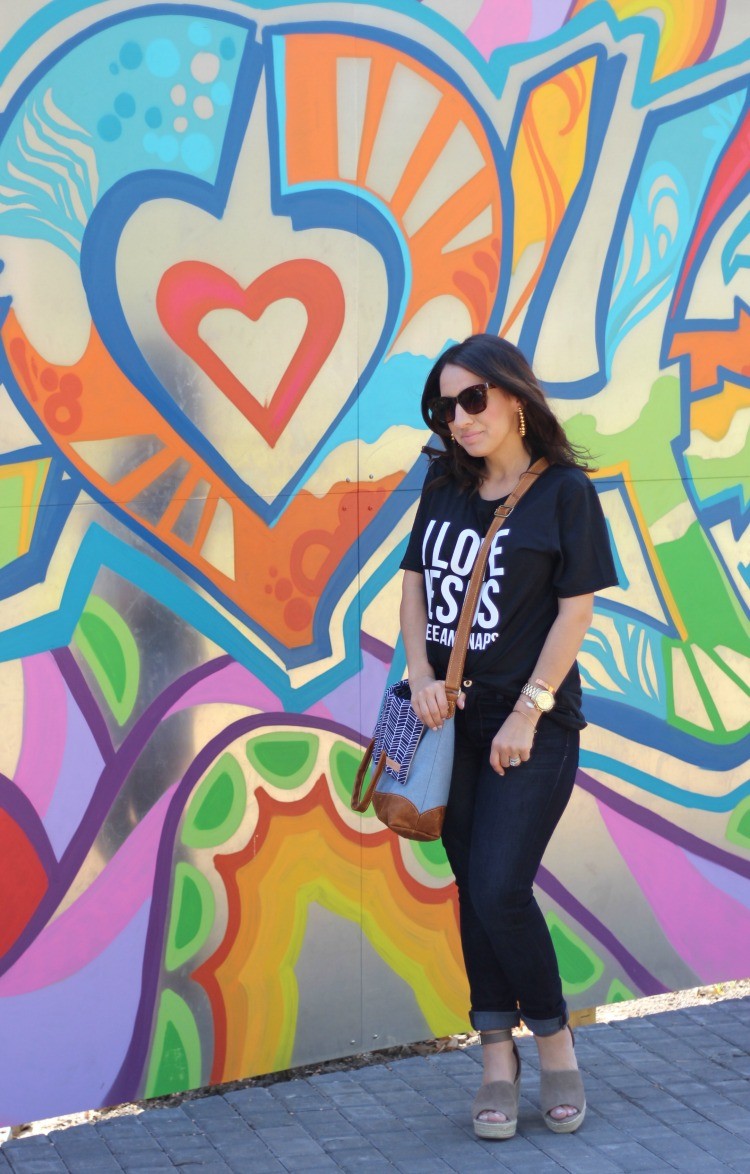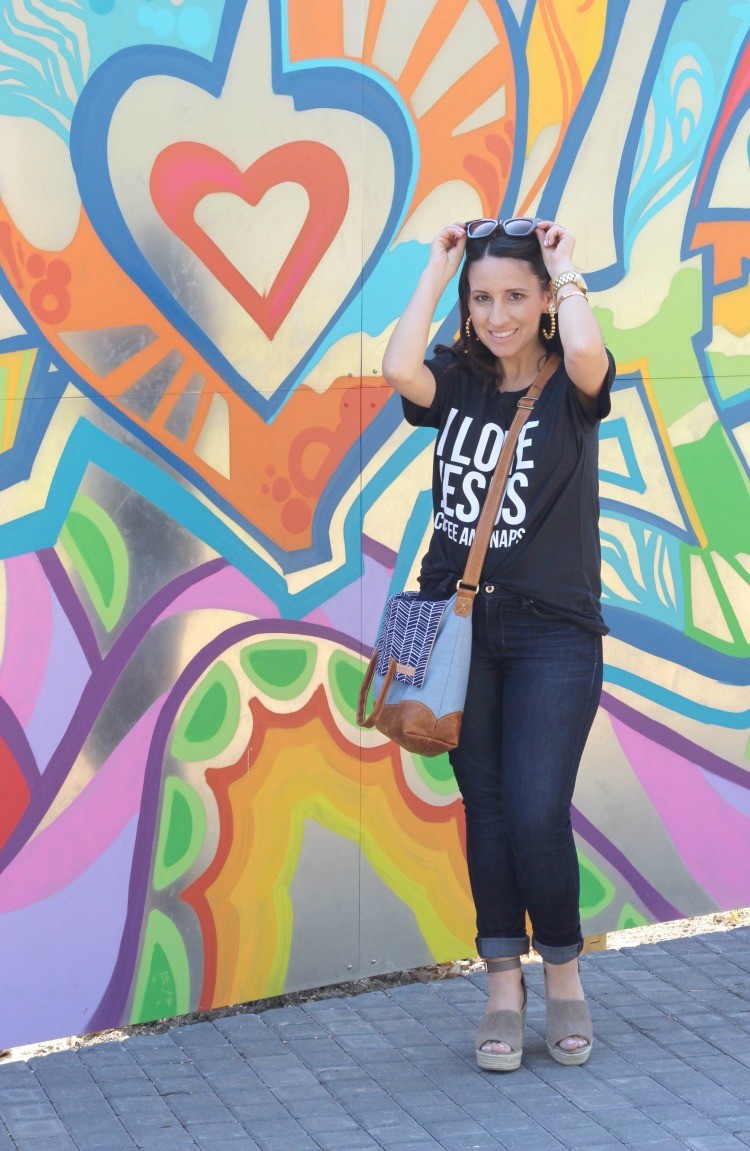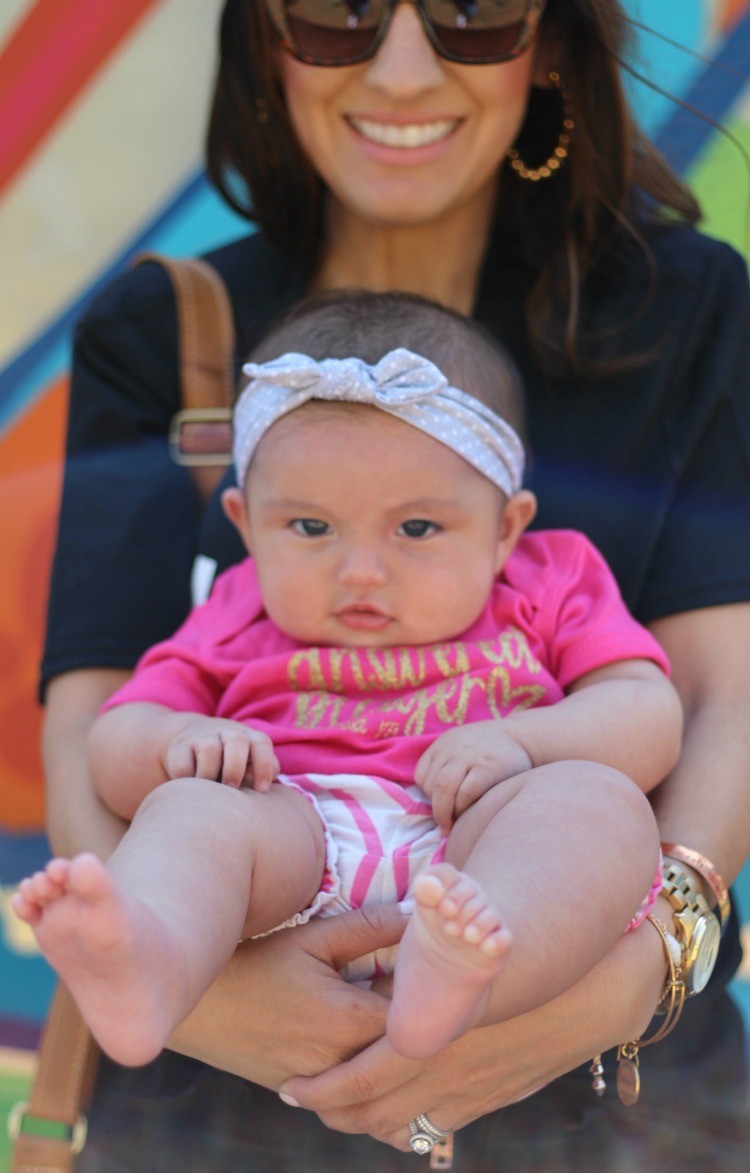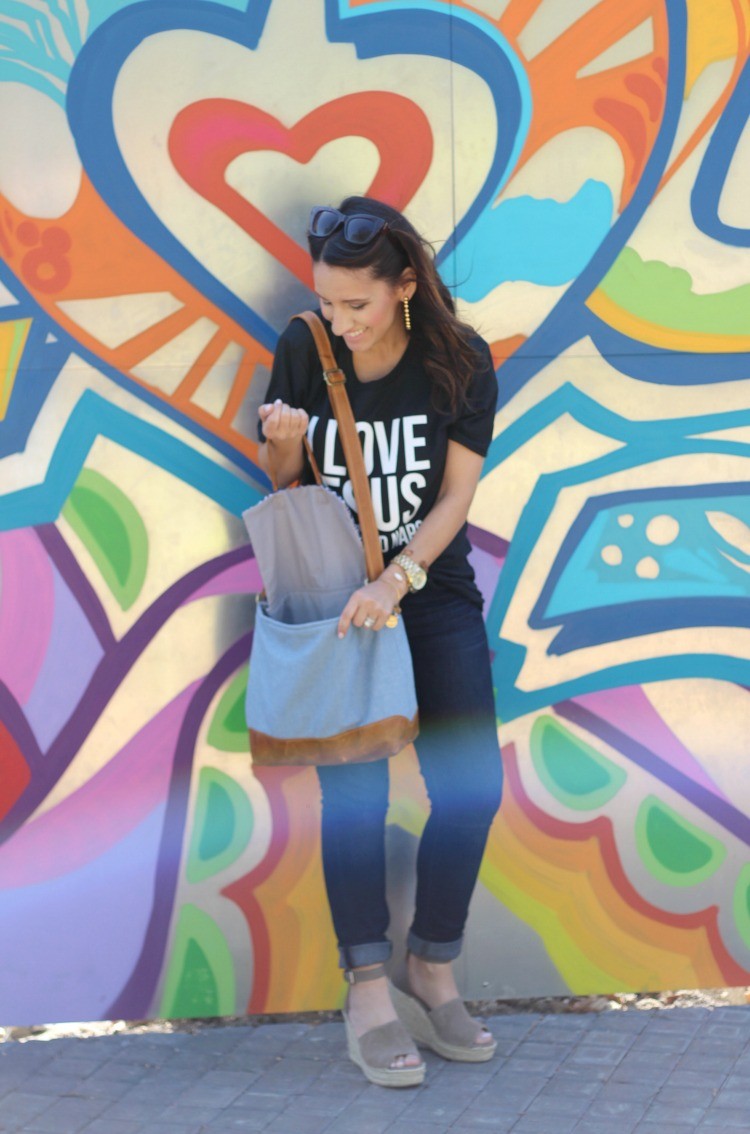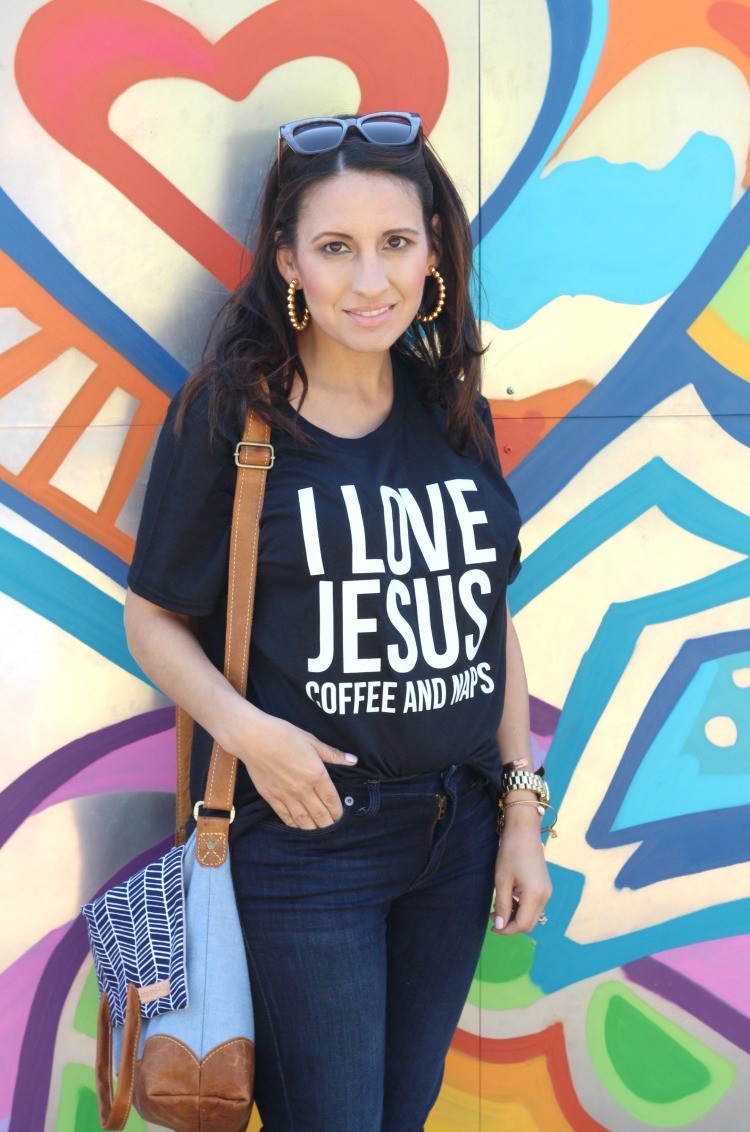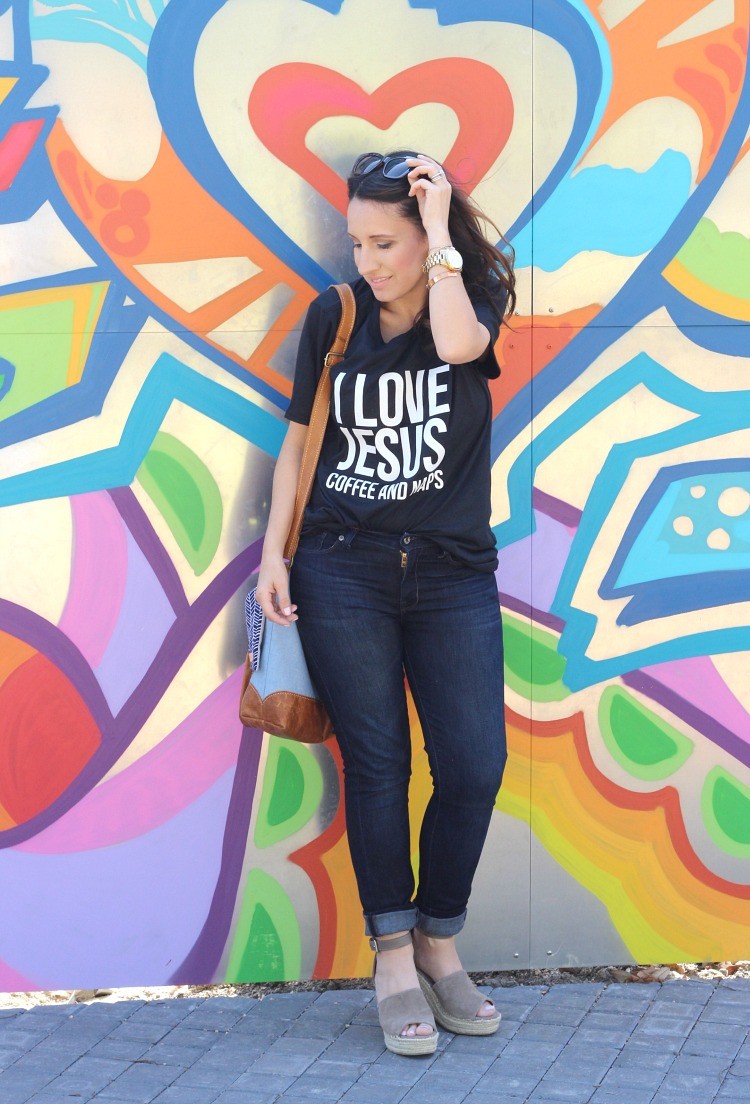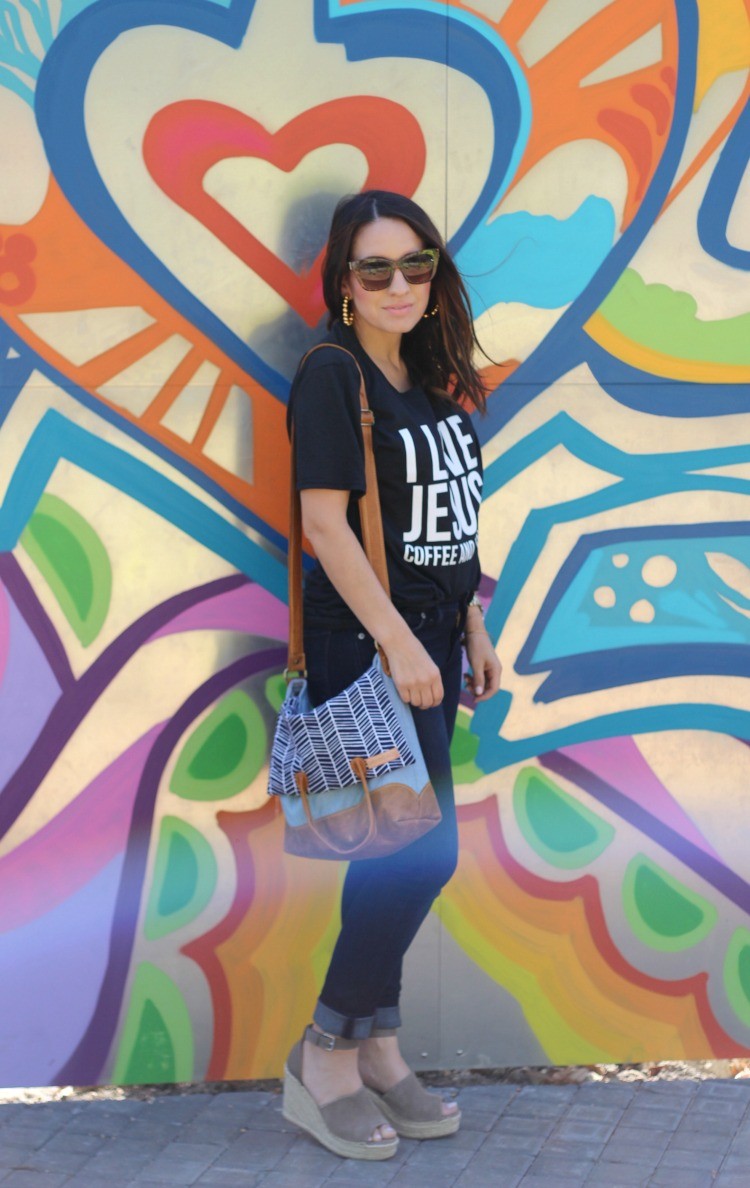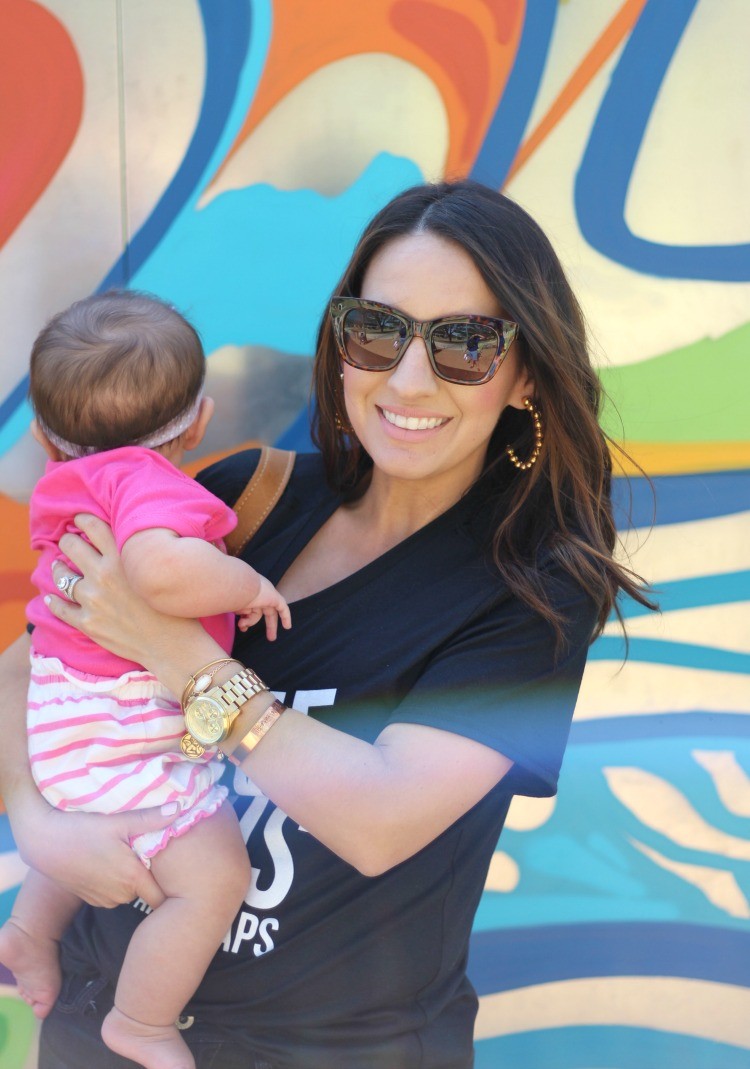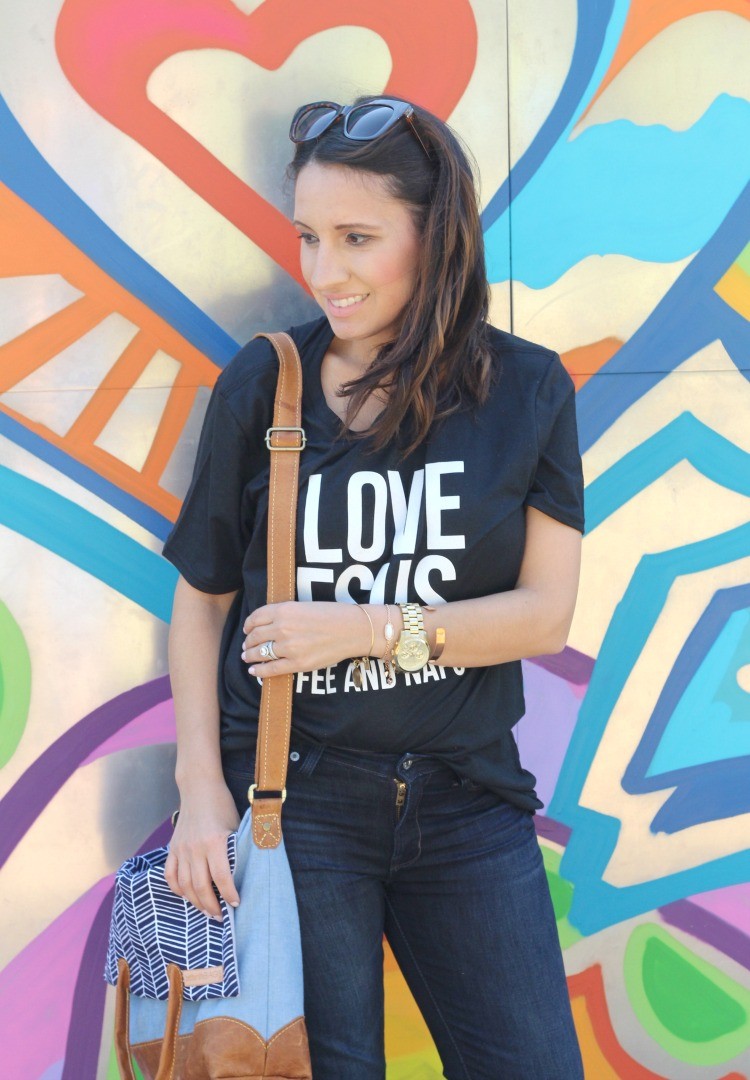 My Outfit:T-Shirt:Elly and Grace c/o (Wearing a medium for size reference. I wanted it to fit a little bigger!!) | Denim:Lucky Brand | Shoes:DSW | Bag:Better Life Bag c/o | Earrings:Lisi Lerch c/o | Bracelets:Alex and Ani, Kendra Scott c/o, The Silver Loft c/o | Watch:Michael Kors | Sunglasses:Forever 21 | Lips:Peach Buff
Sofias Outfit:Onesie:Elly and Grace c/o | Shorts:Baby Gap | Headband:Carters via Target sold out (similar style)
A few weeks ago, I came across the company Elly and Grace, and immediately fell in love with their tee shirts, and loved all the cute designs. They are super soft, and really well made. These are biggies for me because I won't wear anything that feels like it might scratch my sweet Sofi because this lady (That's me!!) has a stage five clinger. She has to be on momma at all times. This cute Elly and Grace tee shirt had me at hello because I loved the design and the message. It included three of my favorite things.
On a whim I looked at the onesies because there is something so fun about shopping for a baby girl. They had this  'Answered Prayer' onesie, and it brought back all the memories good and bad about all the hopes, and dreams I had while going through In Vitro Fertilization or IVF for short. I remember praying to God to please help Manny and I during this time, and thinking if babies aren't meant to be please give me guidance, and show us what our path truly is.  Thankfully babies were, and my sweet Sofi is an answered prayer. We conceived her through a frozen embryo transfer from our first round of IVF. I am so thankful that God brought us the right doctors, nurses, and friends to support us throughout this experience. We couldn't have done it without their support. They have been there through all the different stages of us growing our family, and we are so grateful. If ya'll would like me to share more details about my experience with IVF I would be happy to answer whatever questions y'all might have. I'm seriously an open book because it really helped to read other peoples stories that had gone through it.
On a different subjet I have to share this cute Better Life Bags that is made so smartly. I mean it's made so smartly that at first I was like what's this handle in the front of the bag for. After wearing it I figured out that it makes getting anything, and everything out of your bag so helpful. Especially when you have one baby on your hip, and the other holding your leg. True life that is usually what my day looks like a lot. I have to tell ya'll that this bag is really well made, and it can be customized depending on what your needs are. They also have a lot of ready to ship Better Life Bags that are very cute. This bag has been on major repeat because it has two spaces inside the bag that are big enough for a bottle, snacks, and my iphone. I love the Better Life Bags founder Rebecca Smith's company mission statement to hire women with various barriers to employment to make their custom leather, and fabric bags. Better Life Bags sees these ladies as more than employees, but as part of their family, and welcomes them in to their life, family, and friendship.
Thanks so much for stopping by!! I hope y'all have a great weekend!!

This post has been sponsored by Elly and Grace.  As always all opinions are my own. Thank you for supporting those who support Pretty In Her Pearls.