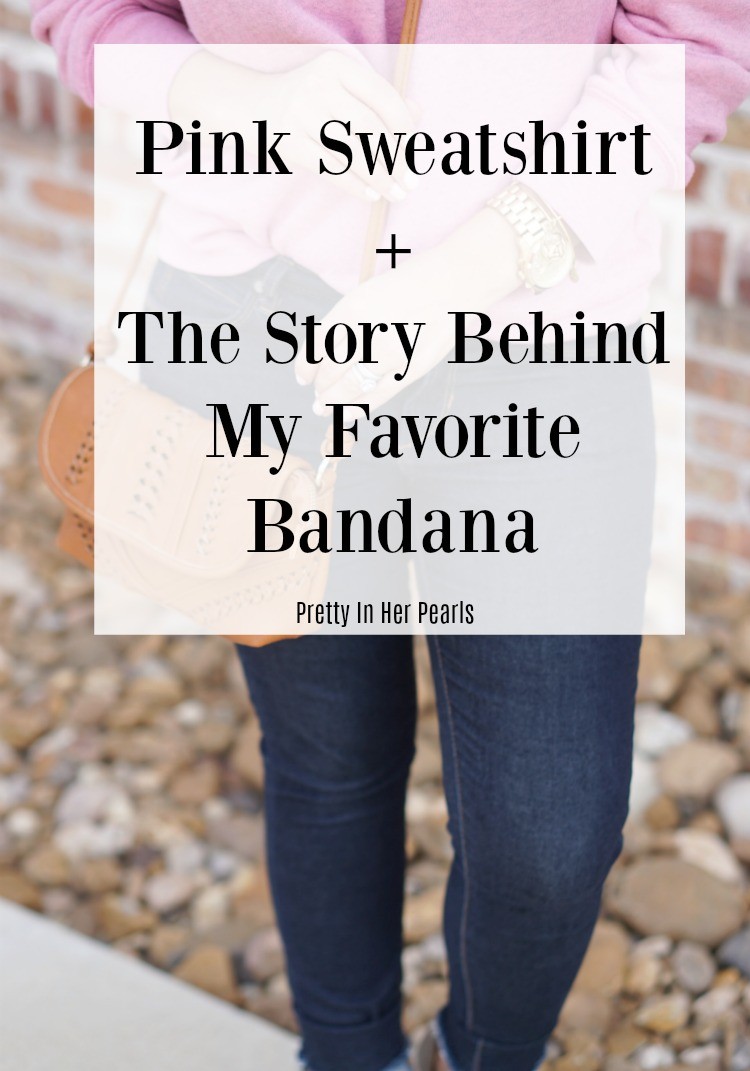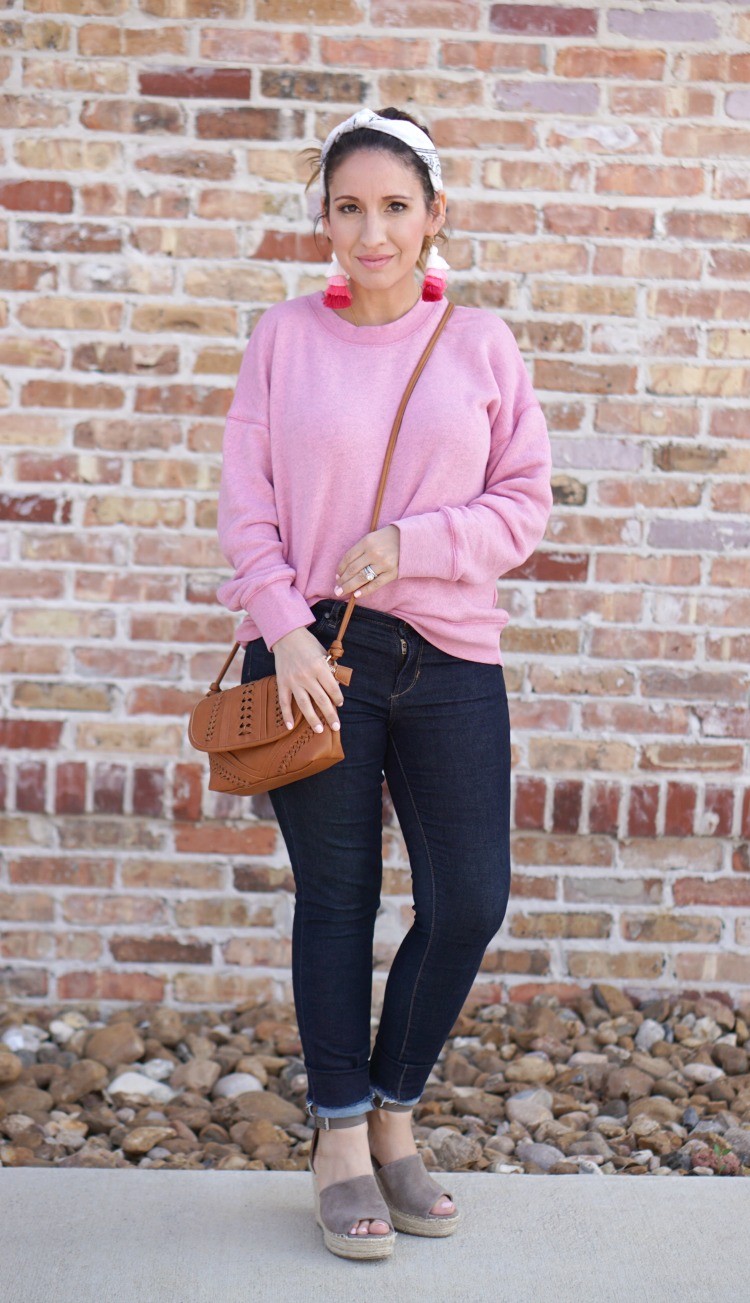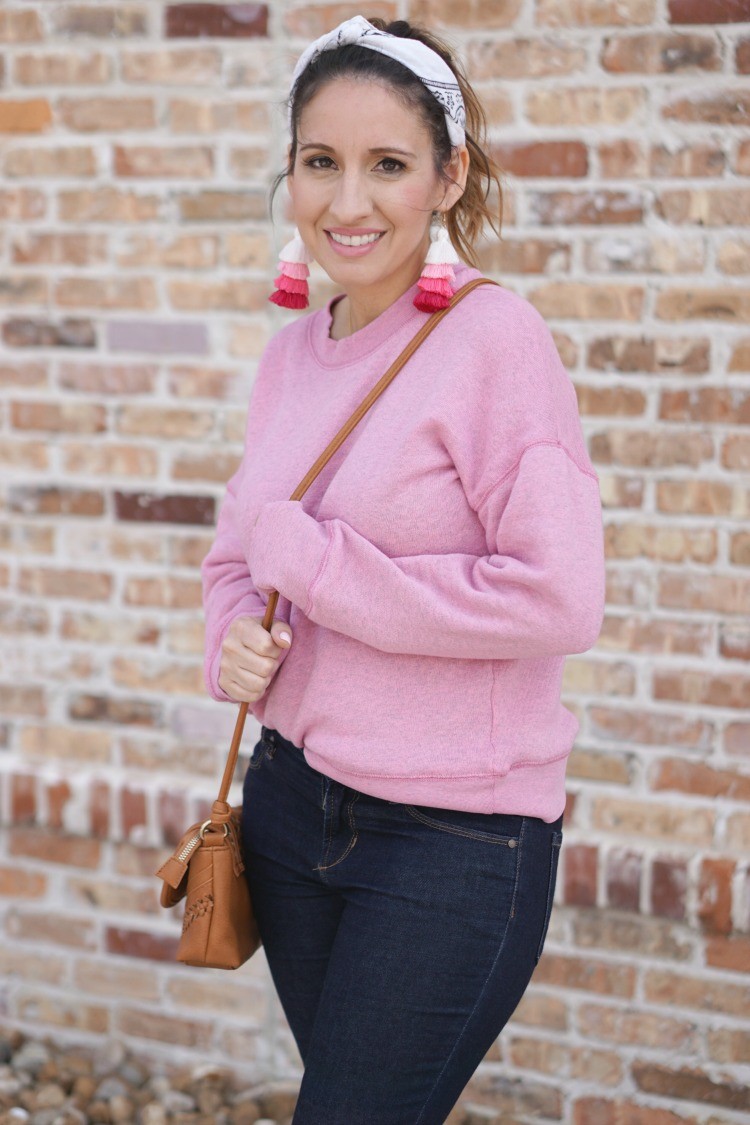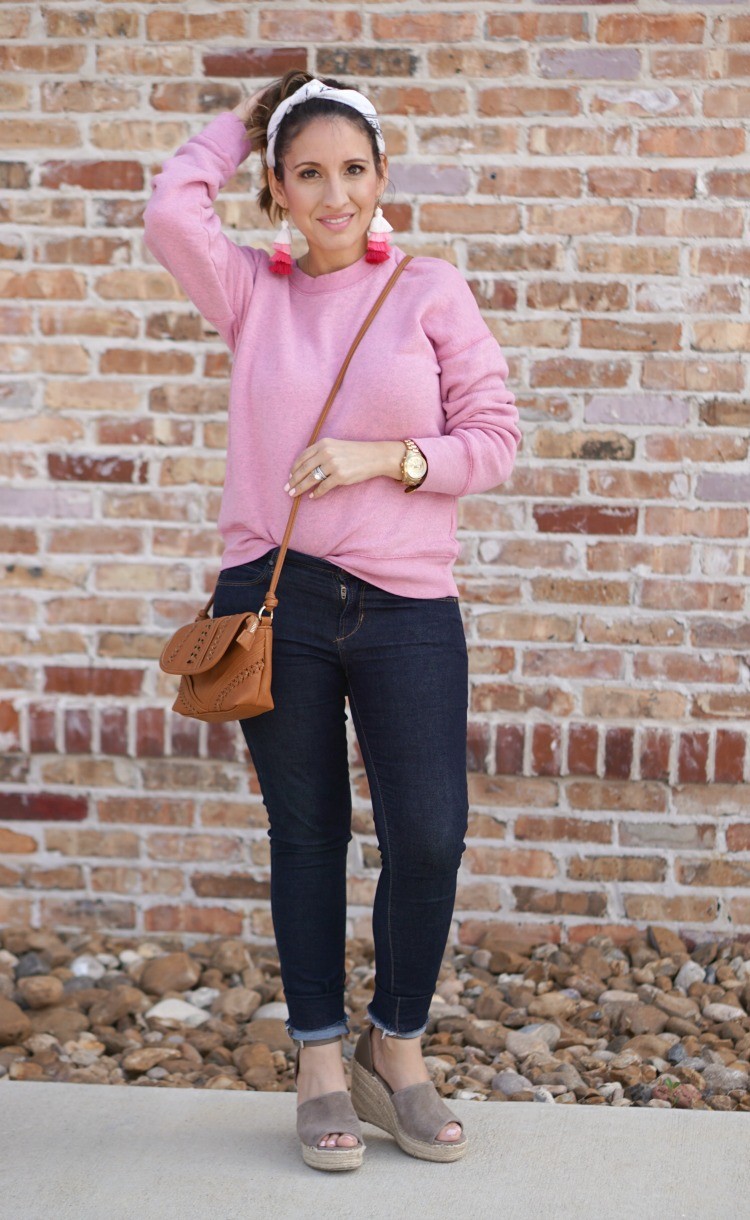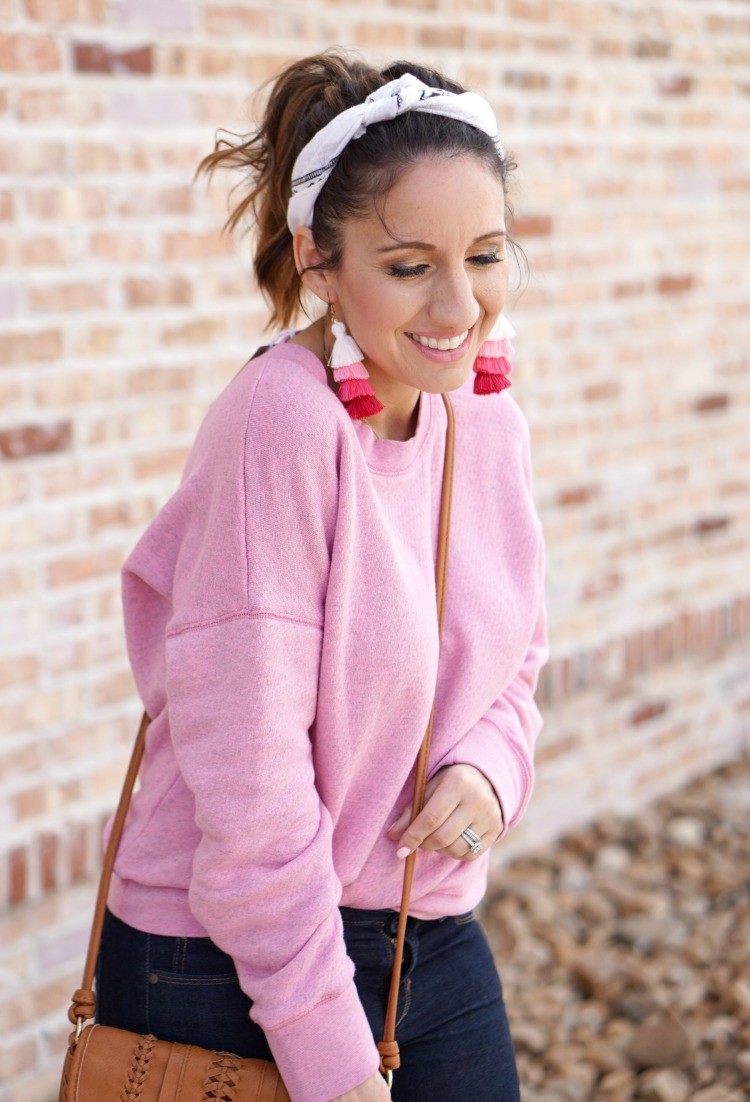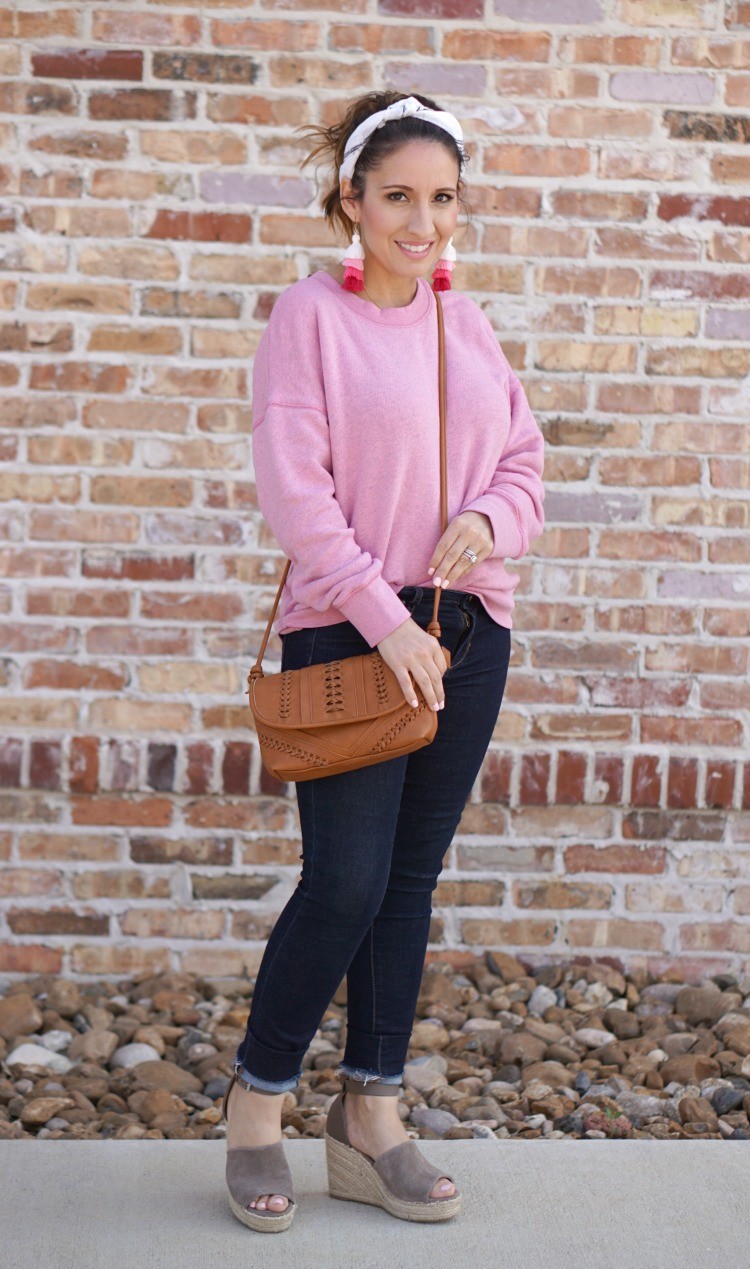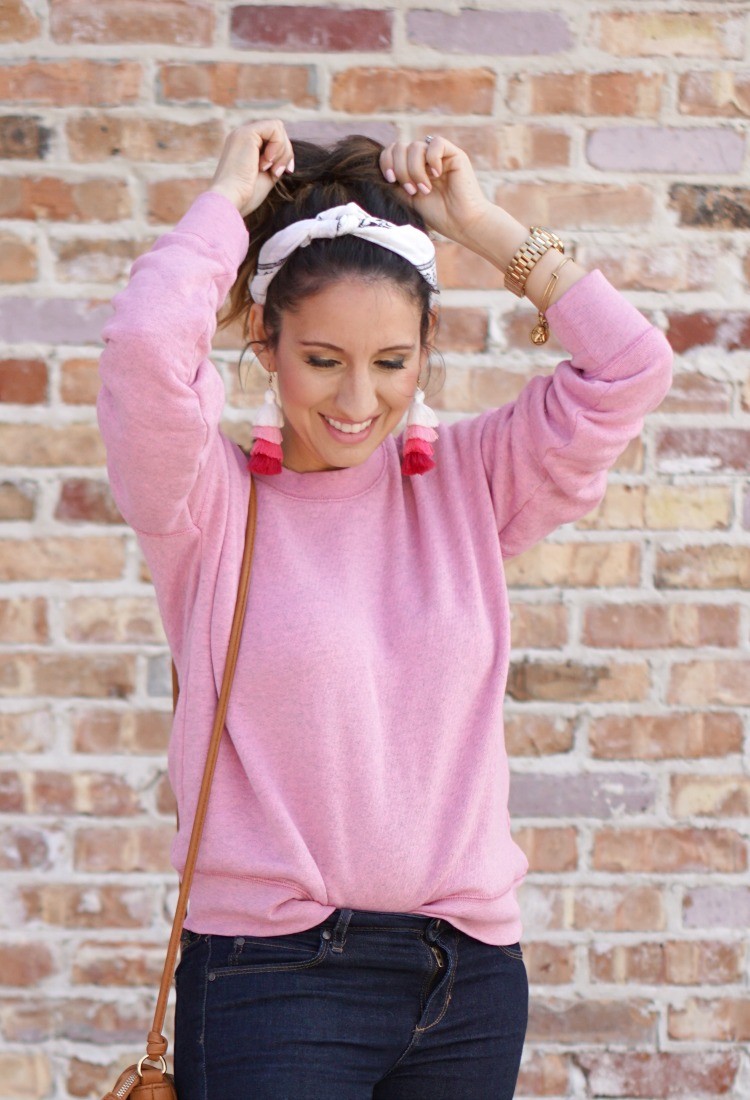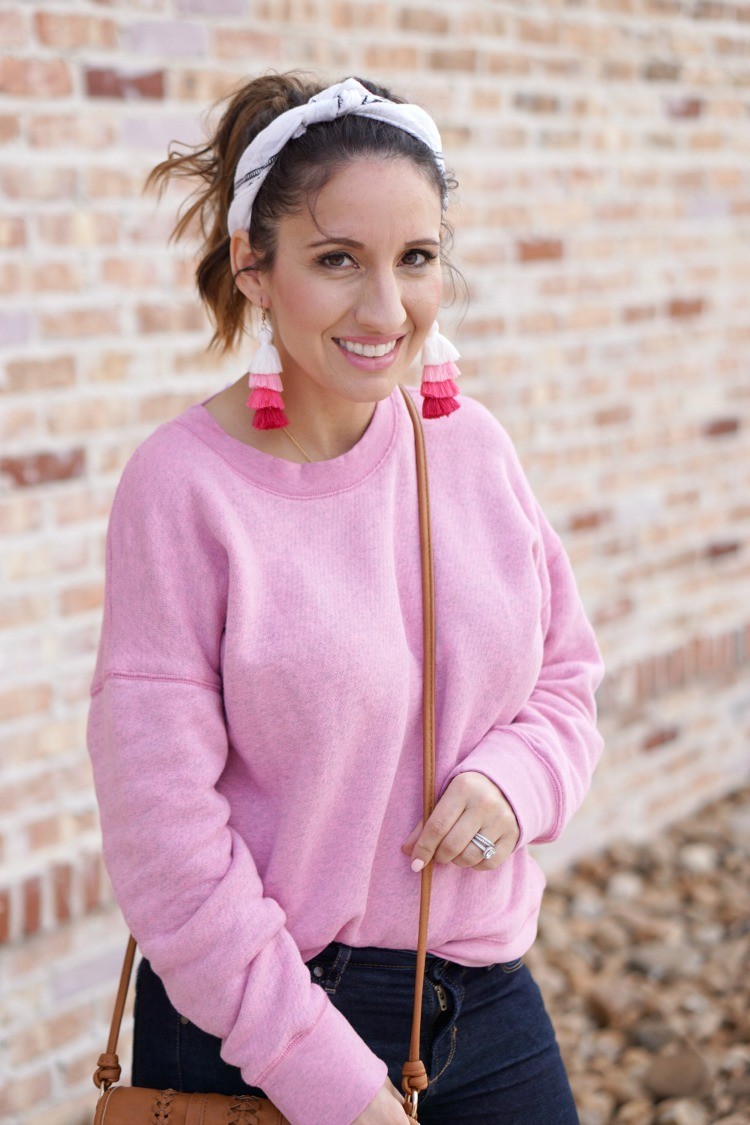 Bandana:Nordstrom Rack (This is for a set of 3 and is under $8!!) | Sweatshirt:Madewell (It's on sale for $55 and grey too!! The grey sweatshirt is $65!) | Denim:Articles of Society sold out (similar style) | Shoes:DSW | Handbag:Urban Expressions sold out (similar style) | Earrings:BaubleBar sold out (Similar style these are all pink and so cute!) | Bracelet:Alex and Ani | Watch: Michael Kors (On sale for $207!)| Lips:Whirl lipliner, Snob
Good morning!! I am a little in denial that this weekend is Mother's Day but I'm coming around. I want to take a second before I get started to say that this isn't about mourning her but rather celebrating her and the memories that are special to me. It's been a tough holiday in the past because it marked another year without her, and missing all the milestones with my kids and motherhood milestones that I'd accomplished or failed miserably at. I try not to get lost in my thoughts but instead focus on the good memories. That starts with her fuschia lipstick (Which I totally hated as a kid. Go figure!!), her love for some Bon Jovi, John Mellencamp and fashion. She had the snapping fingers dance down pat, and of course, the bandana to go with it. I always teased her that she liked bandanas because of John Mellencamp. He used to wear a bandana back in the day. Her bandanas make me think of happier moments with her and my sisters. When we were going through her things after she passed away we didn't realize how many bandanas she had collected over the years. So we decided to divide them up so we would all have one to remember her by. We like that we all have something that is the same but different because of the color, style etc that we knew she loved. Sofia has one of her grandma's bandanas too that she will enjoy wearing when she gets a little older.
This outfit makes me think of my momma in the best possible way. She loved a high ponytail, some big hair, and the color pink. I see where I get it from. She also loved herself some bright fuschia lipstick and well I can't pull it off but I wore my version of a fuschia lipstick in her honor. I think she would absolutely love that sweatshirts are back in style big time. So I'm rounding up 10 of my favorites that I love and I think she would too!!
Thanks so much for stopping by!! Have a fabulous weekend celebrating the women in your life and the ones that have passed as well.


10 Favorite Sweatshirts