This post has been done in collaboration with Romwe. As always all opinions are my own. Thank you for supporting those who support Pretty In Her Pearls.
This post contains affiliate links, which means I receive a commission if you click on a link, or make a purchase using the links in this post.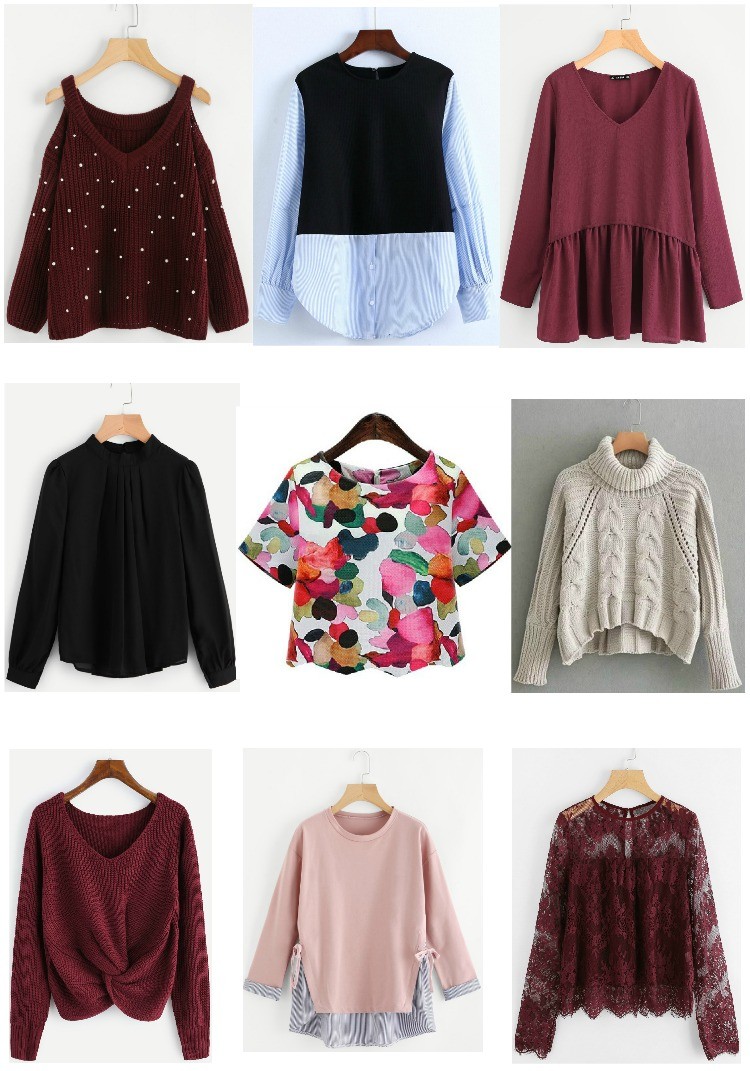 Hi guys, I wanted to share some of the cutest tops and sweaters with y'all that are on my wish list. These are so cute and I am already coming up with reasons that I need all of them. They will be listed from left to right below. So without further ado let's talk about all these cute pieces.
I usually get questions about how the Romwe pieces fit. Here is a good post sharing all about what I look for when I shop Romwe.

1.This sweater is one of my favorites. It's such a great piece for anyone that lives somewhere with a mild fall or winter. I love the pearl detail and this burgundy wine color is really big this season.
2. I love everything about this top from the exposed zipper detail to the color combo. I love light blue and dark blue together. Something about this color combo feels so classic. I can already imagine it with heels and some dark denim.
3. This smock top is so cute. It's literally perfect for keeping up with the kiddos while still looking fashionable.
4. This top is another one of those tops  I would have in every color because it's so versatile. It's appropriate for work as well as hanging out on the weekend. All that would need to be adjusted is accessories and heels for a more casual feeling.
5.I have this watercolor crop top and absolutely love it. I wore this one here and went up one size so it didn't rise up too much. I also wore a really similar crop top and made it appropriate for most offices with a lightweight top underneath. Here's a link to how I styled it. It could be really cute with a really cute black skirt or tuxedo pants.
6. This sweater is so gorgeous. It looks high end without costing a lot. I love the cable knit detail and color.
7. This sweater is such a good dupe for a pricier option I've had my eye on. I love this pretty burgundy color, and that it comes in six other colors.
8. Pink and blue is another color combo I absolutely love. I really want to try this. I can already imagine it with distressed denim and pretty blue statement earrings.
9.Lace was such a huge trend last year and I'm so glad it's still going strong. This top is so pretty and I love the raw hem and keyhole detail in back.
I hope y'all are having a good week!! I'm so glad the weekend is almost here!! As always thank you so much for reading!! Y'all mean the world to me!!