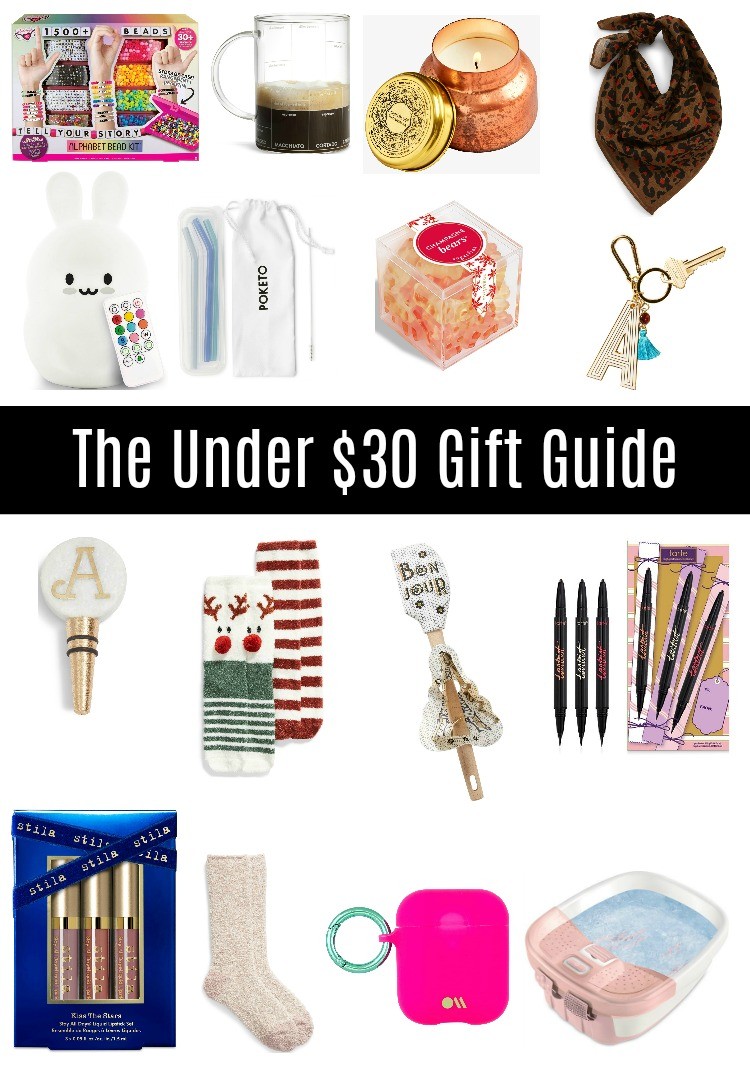 Shop The Post

Good morning! I am so excited to have my under $30 gift guide for her published. These are all such great gifts. I love that there is something for everyone.
The alphabet bead bracelet DIY kit would be so much fun gift for the girl that likes personalized bracelets. I love that all the pony bead bracelets are coming back in style. They have such a playful feel to them. I've had my eye on this one and this one. So this kit is something I really want for myself.
I love coffee and this cup that basically gives you the measurements for different specialized coffee and latte drinks is one of my favorites.
Ever since I went into Anthropologie for the first time I have absolutely loved all of these candles. They smell amazing and make a really great gift.
This animal print bandana is one of those pieces that make such a fun statement. It's a really beautiful unique piece.
This night light would make such a cute statement in any room. It has a remote and you can change the color of light it glows. I think it is so cute for any room.
I love how chic and sleek these reusable straws are. I love the case and that it has the pipe cleaner to clean it all together.
Boozy candy is always a good gift. I love these!
Statement keychains are the best. This one is so chic and I love that you can pick initial you want. It looks so expensive and it's only $18.
Wine corks that have that personalized touch and a touch of white marble are so beautiful. This is one of those gifts I think anyone would like to receive.
These holiday socks are so cute!
I saw this cute spatula and cookie cutter and thought it would be such a thoughtful gift. I love the way it's decorated.
This Tarte eyeliner set is such a great deal! You could totally gift it to someone or gift yourself. They make one of my favorite eyeliners.
Stila lip glosses are always good. I love that this set comes with 3 colors. It's one of those gifts you could give to someone or split up and add as stocking stuffers for your family/friends.
Barefoot dreams socks! You know these are going to feel amazing. Need I say more? Barefoot dreams almost anything is so good.
This Casemate Airpod holder is really cute and comes in lots of color options. I love this bright pink but if that's not your thing it comes in other colors that would be so cute too.
This footbath is something I don't think many of us remember to get for ourselves, but I think it is something we would all love to have. Who doesn't love warm soapy foot baths?
Thank you so much for reading to the end! I know this was a long list but I wanted to really share a little bit more on why I think these are good gift options.

Shop The Post