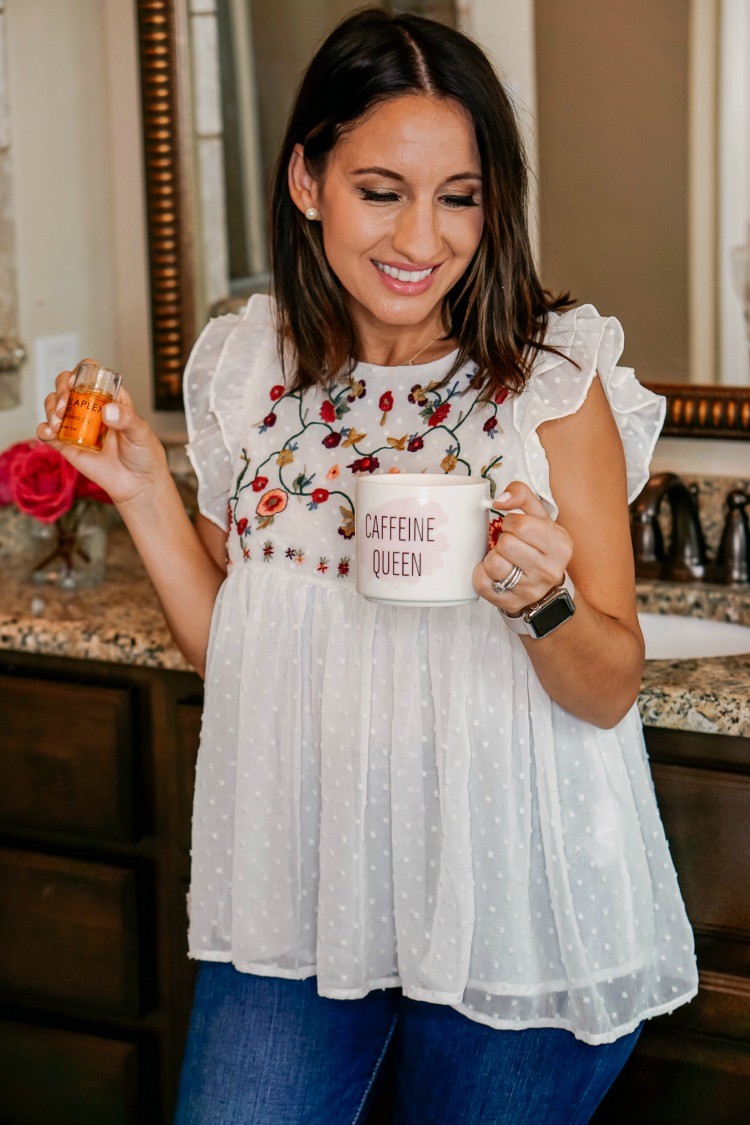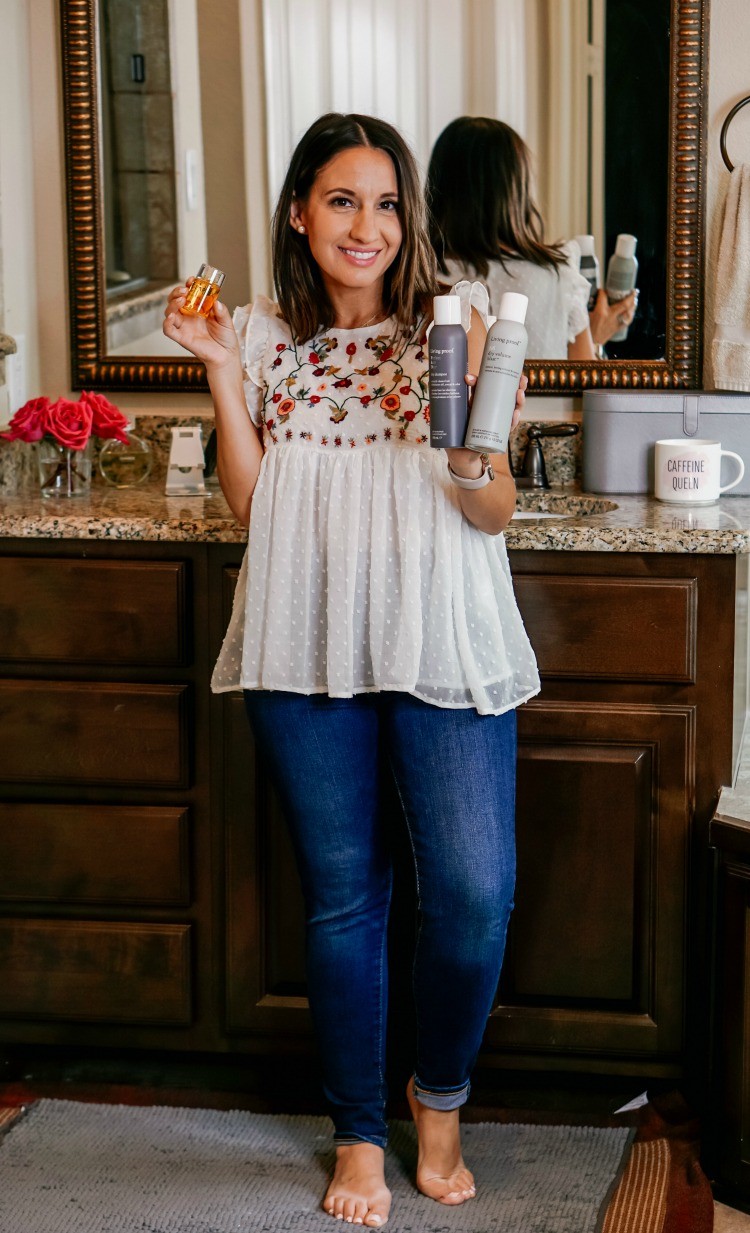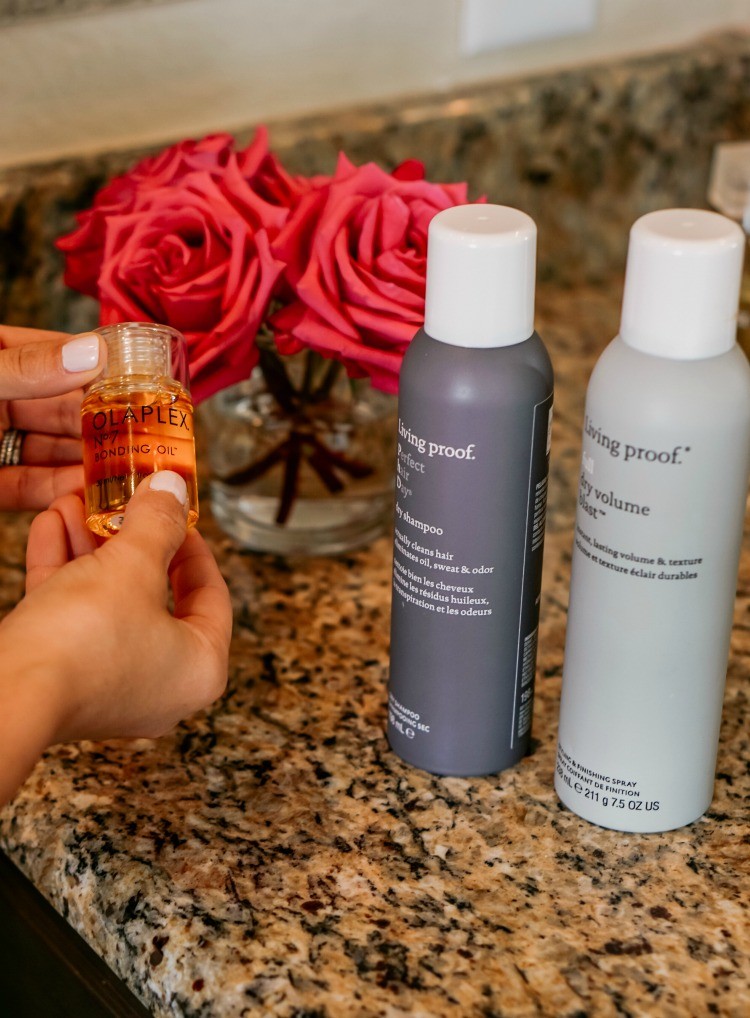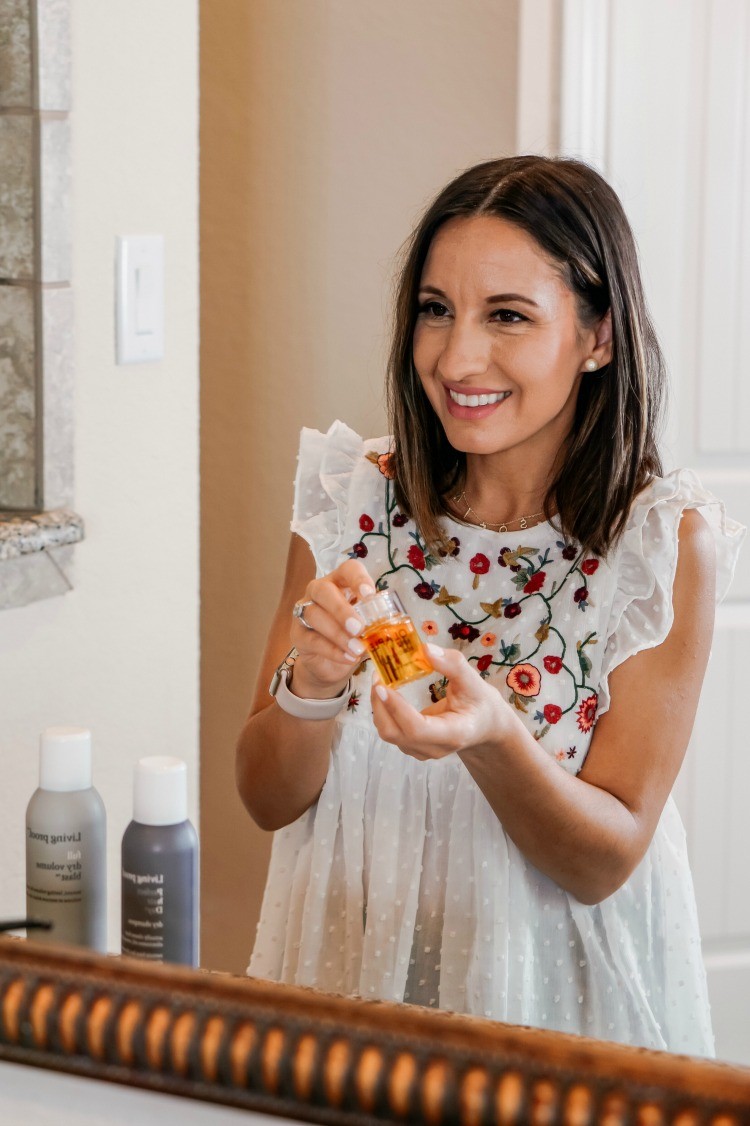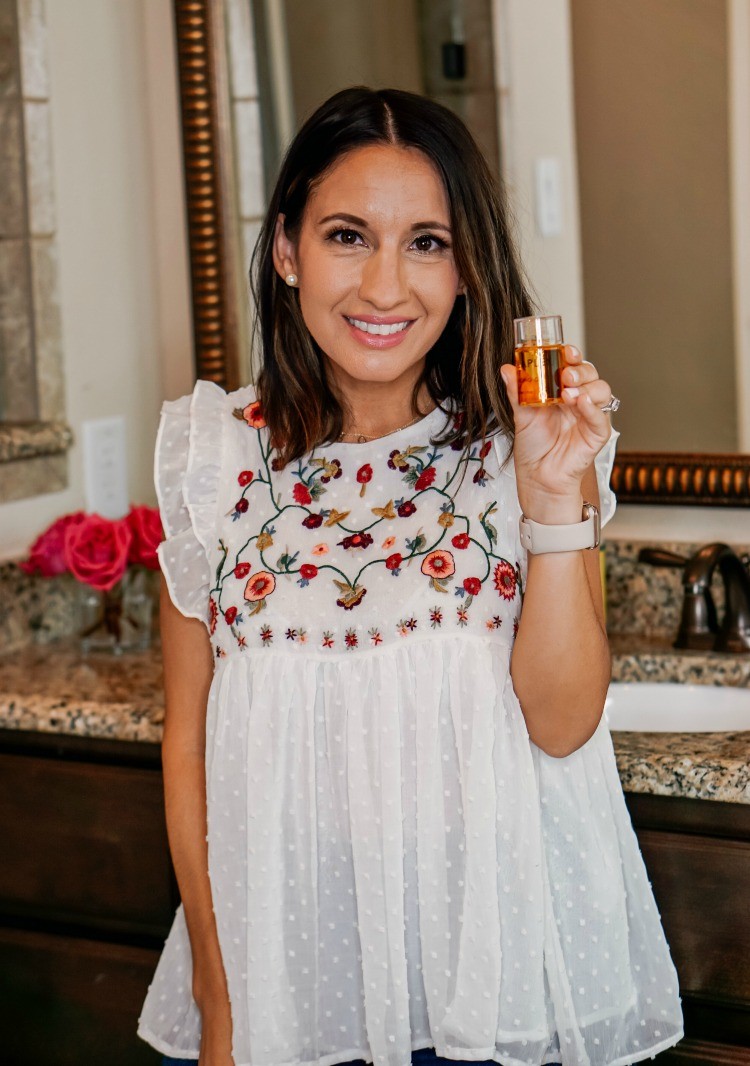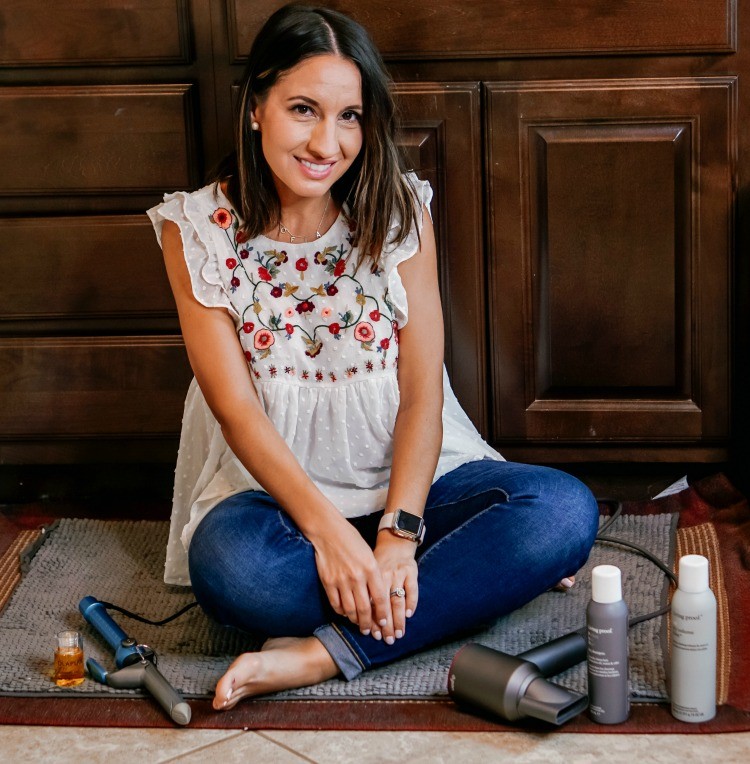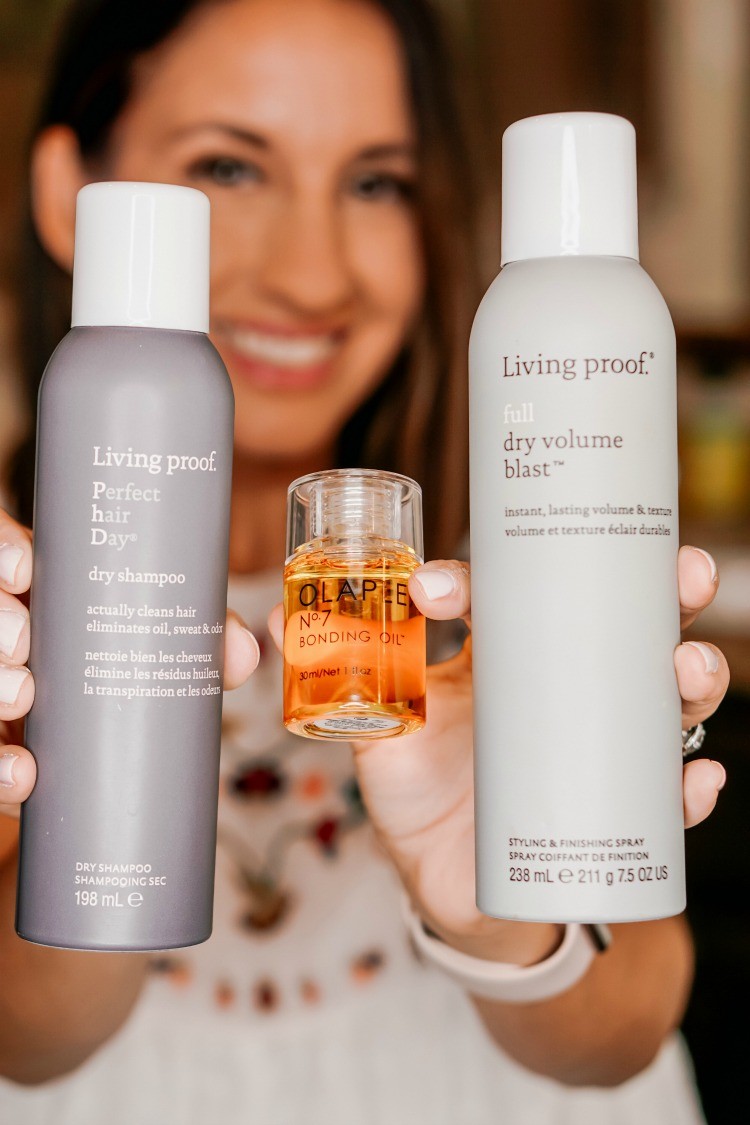 Hey guys! Before I get started I wanted to let you know this is a topic I am pretty pumped to talk about. I am such a product junkie and so I did lots of trial and error to find three solid hair products that I love and share why I love them and how I use them. I'm also, going to cover my go to hot tools and products I use to style my hair basically everyday. Okay, let's get started.
 3 Hair Products I LOVE
I did an Instastory a couple of weeks ago talking all about how I had finally organized and decluttered my vanity and totally forgot to put these three products away. Oops. They are just so good that I had them out still. I love the packaging and that they really work.
Olaplex No.7 Bonding Oil: This is one of my new favorite buys. It's a heat protectant and so much more. It reduces frizz, extends color, heat protectant up to 450 degrees, shortens drying time, softens and detangles, UV protection, no residue, and it's color-safe. I feel like there is nothing this stuff can't do. I have been using it for a few weeks and it is so good! Okay so you can use this on wet or dry hair. And you will be amazed at how well it does protect your hair. I use two drops and put it on from my ponytail down. Whatever product I have left on my hands I usually run over my front pieces that can become frizzy. Then I blow dry my hair just like normal. It makes my hair super shiny and healthy-looking. 
By the way if you are scared to try this because it has the word oil in the name don't be. I promise this doesn't weigh your hair down or make it look like a greasy mess. This is coming from a girl with baby fine hair. 
Living Proof Full Dry Volume Blast: I have tried so many volumizing products because I have baby fine hair and things will work but not be amazing. I found my amazing volumizing product. This stuff is so good! I have raved about it before on Instagram stories but wanted to share it here. That way you can always find my favorite product for getting that sought after va va voom hair we all want. Okay, so I love this for day one hair. Day one hair can feel sort of flat and well just not all that fun. What I do when I use this is I go ahead and style my hair just like I normally would. Then I make sure I'm happy with my part and go about 2 inches from it and shake my can and then do a couple of quick sprays. Maybe 3 at the most about a comb length away from my head. Then I either massage the product in and put the hair back down or do a quick backcomb with this comb and repeat it on the other side. If I still feel like I need a little extra volume or it's falling a little I just massage the area I sprayed earlier and then smooth any crazy hairs.
Living Proof Perfect Hair (PHD) Dry Shampoo: This is hands down my favorite dry shampoo. I use this to keep my hair going on those days I either don't want/feel like washing my hair. Which are most days. Something about washing my hair just makes me want to put a shower cap on, marinate my hair with my dry shampoo, and read a book/scroll on Instagram. Hehe! So this is my everyday dry shampoo that I love and use religiously. I use it a little differently than you have probably seen before. So let me start by saying I spray this in my hair in the front, crown area, and at the nape of my neck. Those are the areas that always need a little extra love. So after I spray it I will let it sit for maybe 10 minutes or so. Then I will massage it in a little just to make sure it's picking up all the oily spots on my hair. I add 1-2 drops of the Olapex No.7 ponytail down to protect my hair from my styling tools. After that I get my hairdryer out, a round brush, and blowout my hair. I make sure to lift the hair up especially in the front and crown area. Doing this makes a huge difference in how my hair looks for the day. I basically blowout my hair the same way I would if it were wet, but it's dry. After that, I am good to go. 
Hot Tools and Hairspray
Dyson Supersonic Hairdryer: This is by far my favorite hair dryer I have ever used. It dries my hair quicker which means less heat on my hair. I love that because I have colored and curled my hair for as long as I can remember so anything that dries my hair faster and does a great job is awesome in my book. I love how small and lightweight it is.
I use it on my hair and my daughters because after using this everything else just felt heavy. I could go on and on about how I think this hairdryer is a splurge but so worth it. I'll do a full review in a few weeks. I've had it for about a year and feel like I know it's an amazing hair dryer. Get in touch with this hair restoration nyc company for more information on the latest hair treatments.
BabyBliss Pro Nano Titanium Spring Curling Iron: I have used this curling iron for as long as I can remember. I have tried other brands but I always come back to my 1 inch BabyBliss. This is such a good curling iron with adjustable heat settings. If there is one thing I have learned from back in the day and doing hair it's texture, type, density. So one size does not fit all and that's why I love being able to adjust the heat setting to what works with your hair. I have fine hair so I typically steer clear of the super high temps on any hair tool. This is a really good curling iron, also getting the right best flat irons could be helpful for other style of hairs. It doesn't leave clamp marks and it's not hard to learn to use. Babybliss is a really great brand too that lots of professionals use. This tells me this curling iron can be used a lot and last. I use it as both a curling iron and a wand by just holding the clamp. They do have a wand if that's more your speed though. I love both!
L'Oreal Elnett Precious Oil Satin Hairspray: Full disclosure I have tried a lot of hairsprays in my lifetime but this is the one I love! Like this stuff is awesome and it doesn't break the bank either. Which is good because it's humid in Texas and I like my hair to last. Let's talk about why I love this hairspray. First it gives my hair really good hold and second it doesn't feel like a helmet on my head. Like I can brush/comb through my hair without feeling like I am going to break my comb. And yes that can totally happen. I love the smell and that it's such a good product. It holds my curl and I can even use it if I want to lock some backcombing/teasing in. 
Alright, I have talked Y'alls ear off. If you have gotten this far thank you so much! Y'all are the best!

Shop The Post

Outfit Details