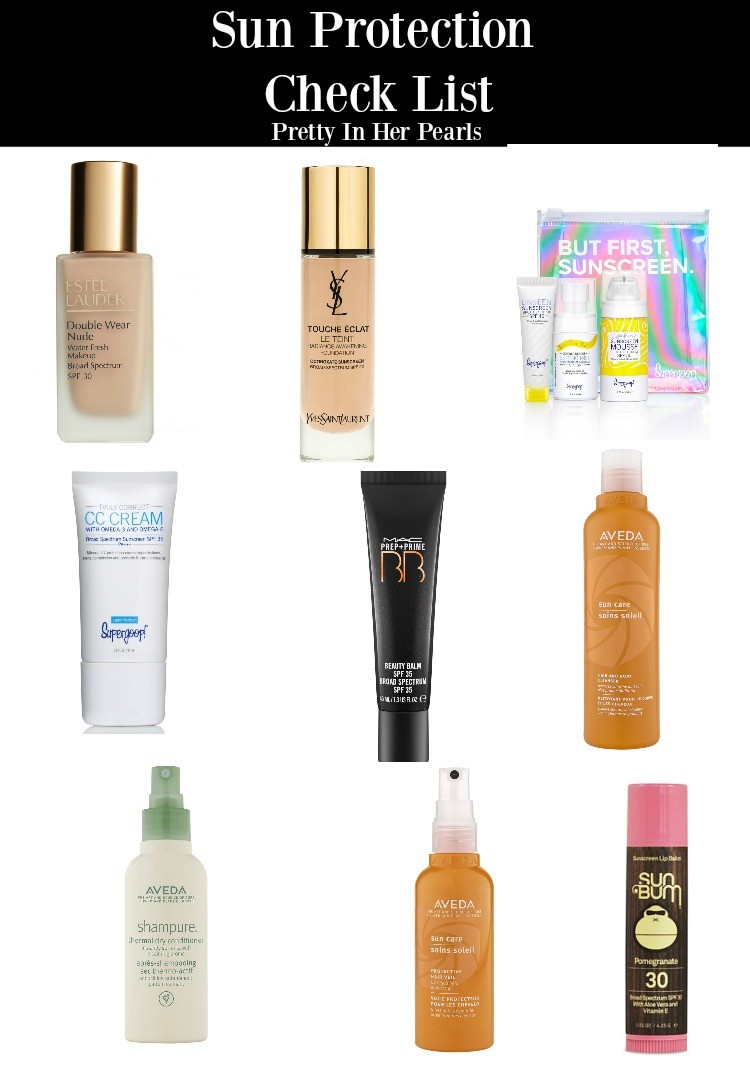 Good morning Y'all! It feels like forever since last talked. Well over the weekend Manny and I took the kiddos to the pool for some much-needed playtime at the pool. We were really hoping a good pool day would tire them out so that we could get everyone back to their regular schedules. Traveling last week threw things off a bit for them. Nap time had to take a back seat to seeing family and friends we hadn't seen in almost 3 years.
While we were at the pool I got a little sunburned. Thankfully we slathered the kiddos a few extra times with sunscreen. I really like this one. This made me realize I needed to give myself a little refresher course on sun protection at the pool and for daily life. I, of course, thought it would be fun to share with y'all as well!!
Let's get started. This should hopefully be fun or at least keep the sun damage away.
Sun Protection Check List
1. Estee Lauder Double Wear is a great foundation that has SPF in it. It's really good quality and I love products that already have SPF in them. It makes applying sun screen on a daily basis a lot easier.
2. If you aren't a fan of Estee Lauder then YSL is another really good option. It has an SPF of 22 which is lower than the other one. The great thing is it still offers protection for your skin. If you are debating between the YSL foundation in a compact I'd suggest going with the one in a bottle. My sister in law had the compact one and wasn't happy with how much foundation she had to leave behind because she physically couldn't get to it.
3. Super Goop sunscreen has a really good reputation. It's the one I use for me and have used on my kiddos at the park.
4.CC creams are really popular and this Super Goop one has a tint and SPF. I love two in one products.
5.MAC will forever be one of my favorite brands of makeup. I love that their Beauty Balm has an SPF of 35. That really amazing. Especially for the days where you don't want to wear makeup but want something to fill in pores etc.
6. I can't say enough good things about the Sun Care line. This gets the chlorine and pool chemicals out of your hair and off your body. Simply washing your hair won't do that.
7. With summertime basically in full swing, I'm washing my hair less and less. Thank goodness for dry shampoo. Which means my hair is getting drier from not conditioning it as often. This one is great. You spray it and brush through and your hair has added condition to it.
8. This is another product from the Aveda Suncare line and it's really good. This is one of my holy grail products for summer time. This is basically an SPF to protect your hair while you're in the sun.
9. Lip balm with sunscreen is one of those products I feel like we all forget to apply. I'll be the first to admit I remember lipstick and gloss but this gets forgotten sometimes. I love that this one smells really good, has a slight tint, and SPF to protect against the sun.
Thank you all so much for stopping by to show my blog some love!! Y'all are the best!!