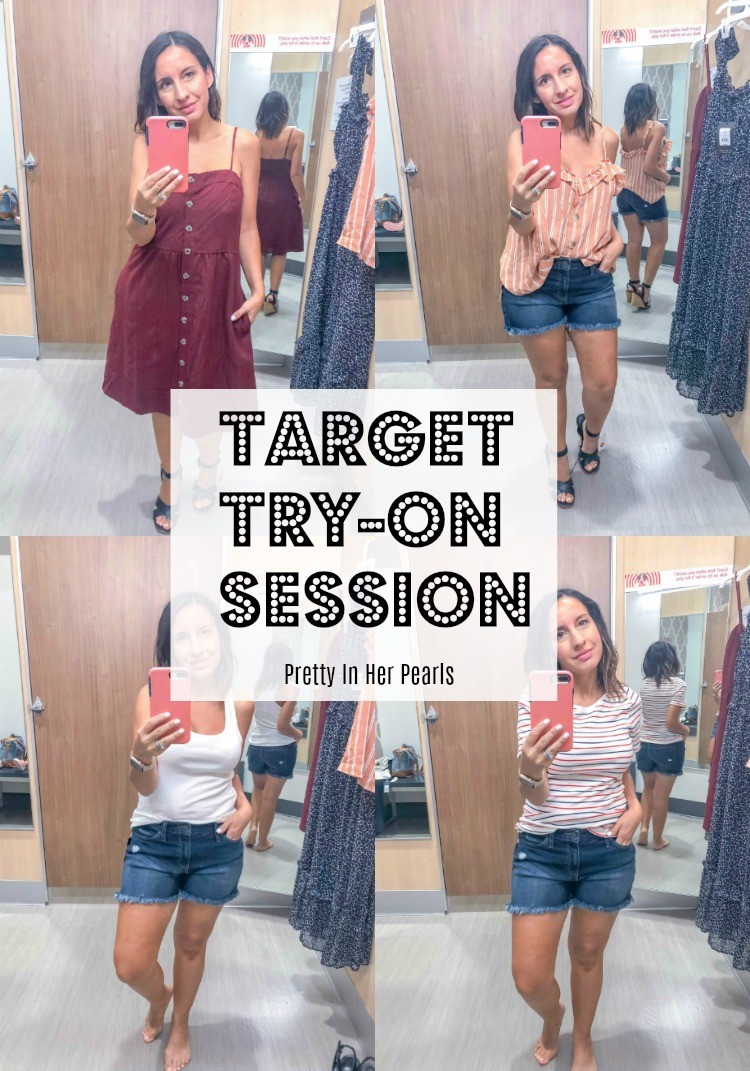 Good morning! I am excited to share another try-on session with y'all. This time it's at Target one of my go-to places for getting toys for the kiddos, cute home decor, and cute clothes for all of us. So let's get started. I almost forgot to mention that I am sharing everything from todays blog post on Instagram stories under the highlight Target Try-On Session. I have found five of the cutest pieces plus one pair of adorable shoes.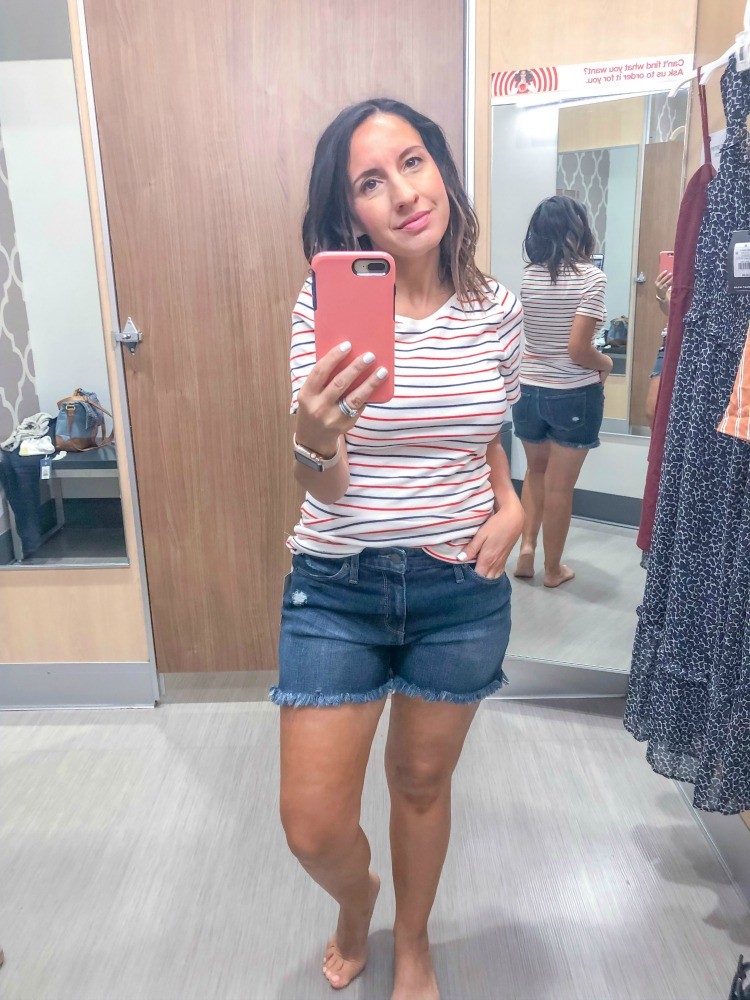 Red and Blue Striped Tee: This tee runs tts (true to size) and is so soft. I love the color combo of red, white, and blue. It just looks so good together and is so versatile. You can front tuck this tee or knot it. If you knot it I would suggest going with a high waist pair of shorts, jeans, or a shirt. I can't wait to wear this with my new jean skirt.
Denim Shorts: These shorts run tts and have the best distressing. They feel like designer shorts which is really nice. I love the frayed hemline too. So cute!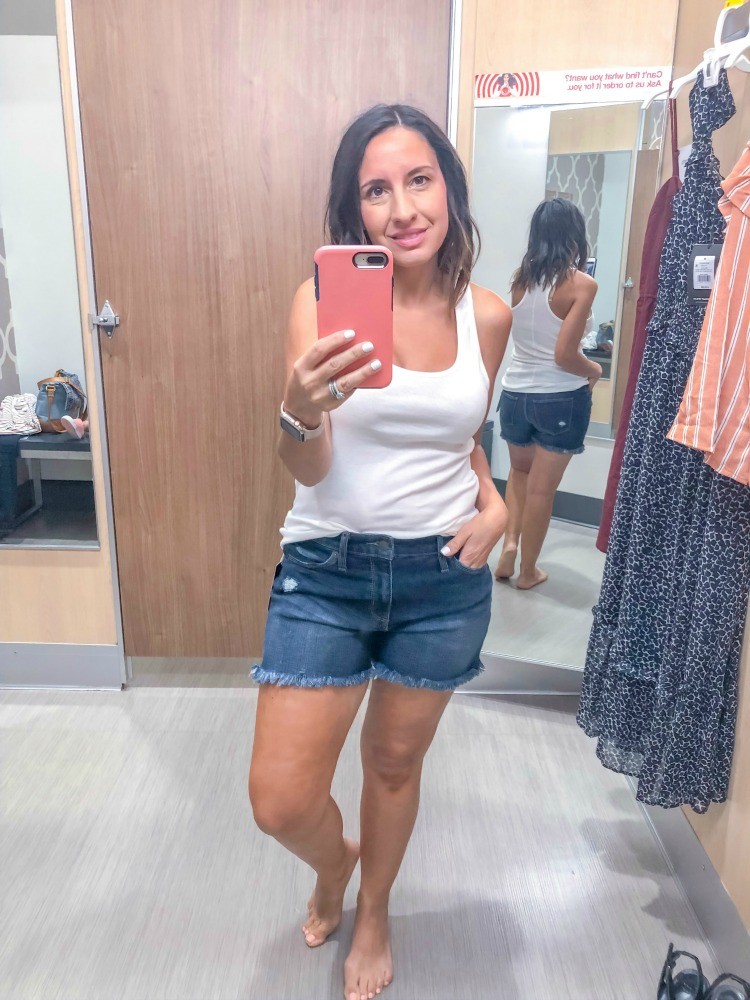 Tank Top: This tank top runs tts and is really cute. I love the subtle ribbed detail. This is a really great basic to have in your closet. I'm wearing a small and it fits great.
Denim Shorts: I love these denim shorts and Y'all know I just raved about them. As a quick recap they run tts and are really figure flattering.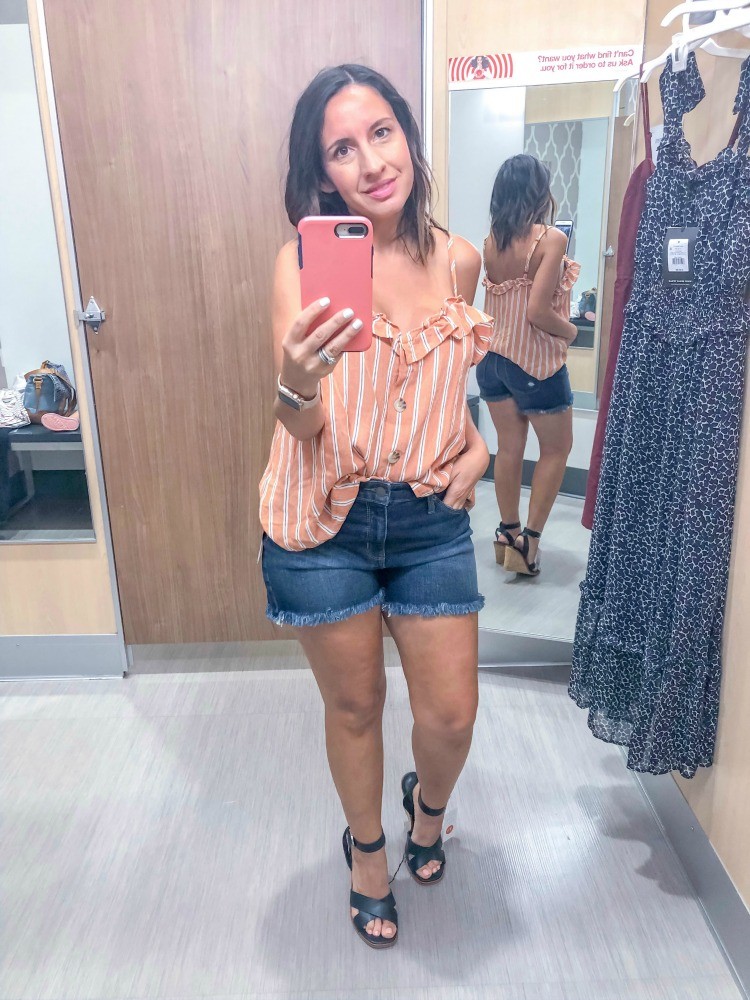 Ruffle V-Neck Cami:I absolutely love this cami. It runs tts and is really flattering. I love the button detail and the delicate ruffles. This top is basically my spirit animal. I love it so much! I'm wearing a medium becuase they were out of my regular size.
Denim Shorts: Okay I raved about these shorts already and really like them. They are such good quality and such a steal.
Wedges: These shoes are really cute and such a great find. They come in a really gorgoues brown color too. I love finding budget friendly summer shoes. Go up half a size in these shoes.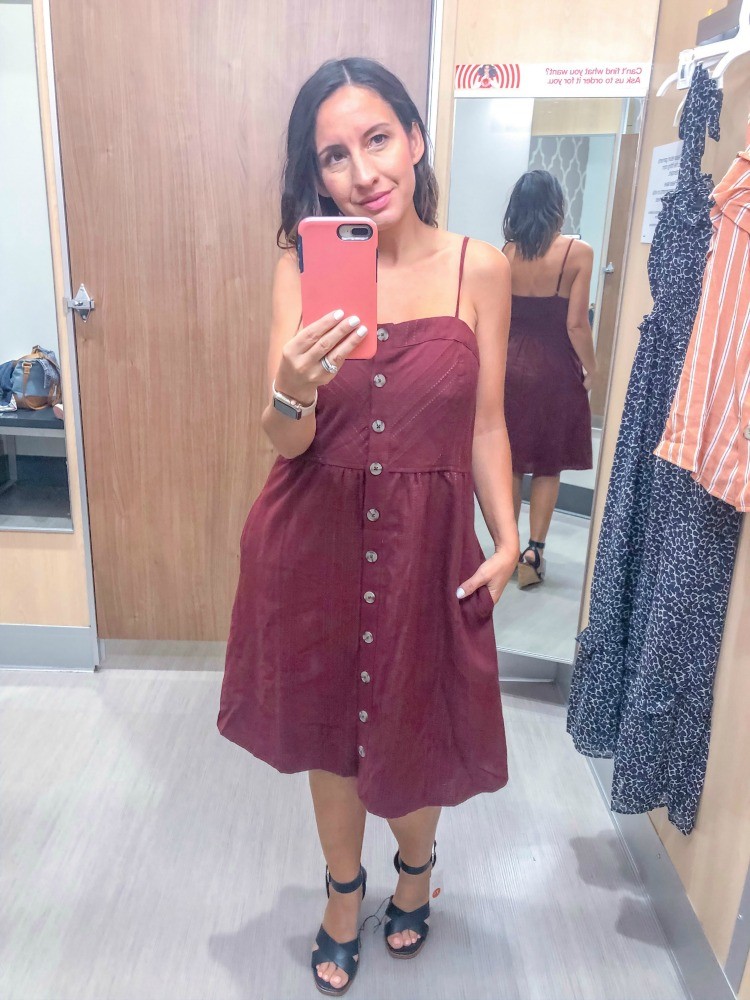 Sleeveless Button Front Dress: This dress runs big so I would size down maybe one size if  you are in between sizes. I tried on a small but I think an xsmall would fit better. I love adjustable straps and pockets. Pockets are like one of my favorite details to find when I am shopping for dresses. I love pockets. The buttons are functional. So it's great if you are breastfeeding as well.
Wedges: I just talked your ear off about these shoes but they are so cute. They run small so size up half a size. They are a great shoe to wear now and to transition into fall with dark jeans and a cute top.
Alright that is about it. I found some really cute options at Target. I'm going to share some of the things I also picked up for my kiddos later today.

Shop The Post