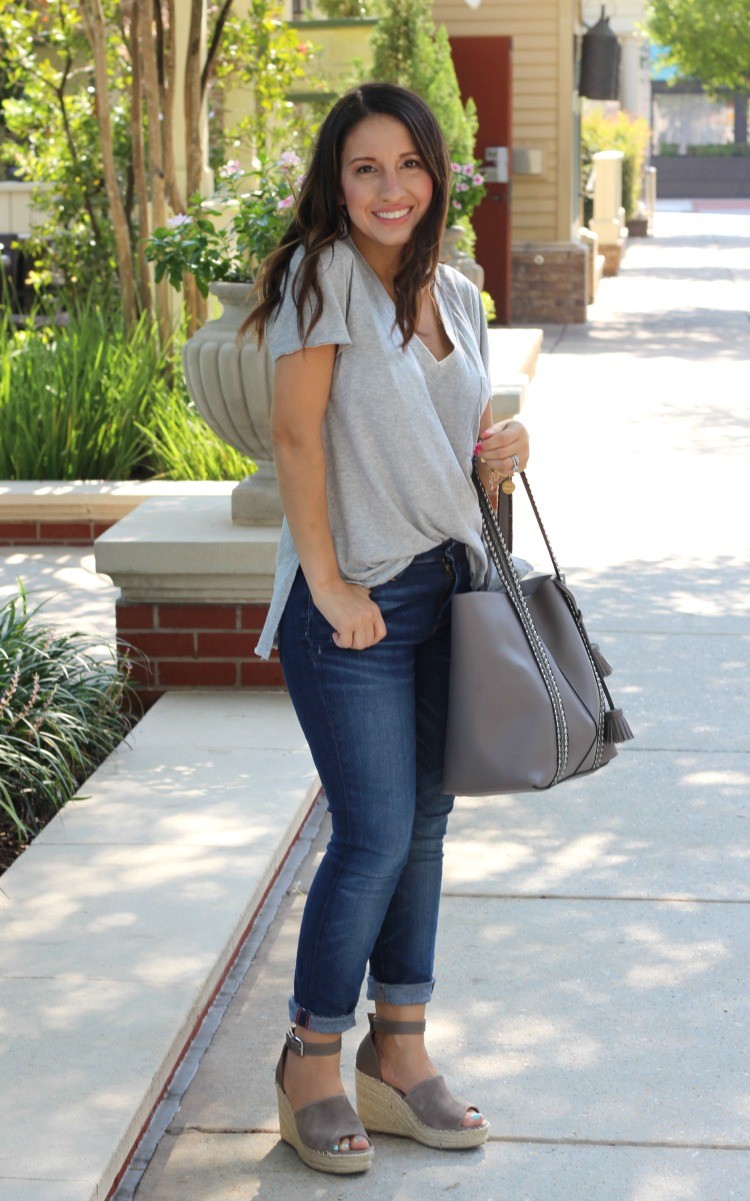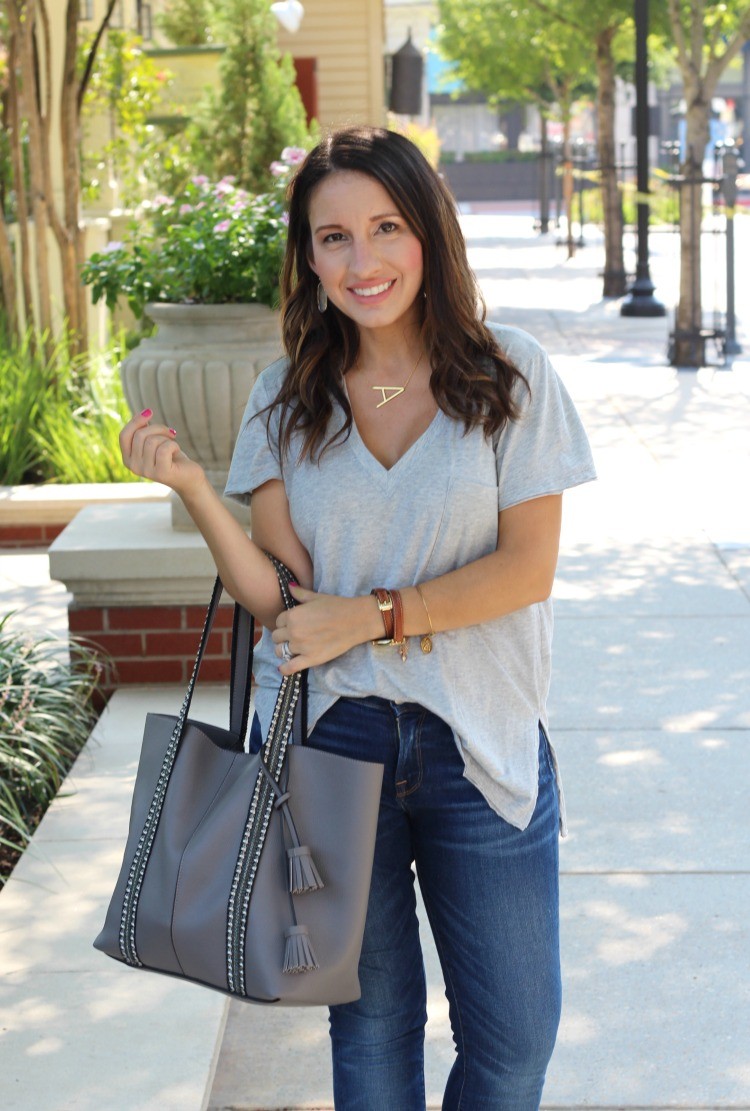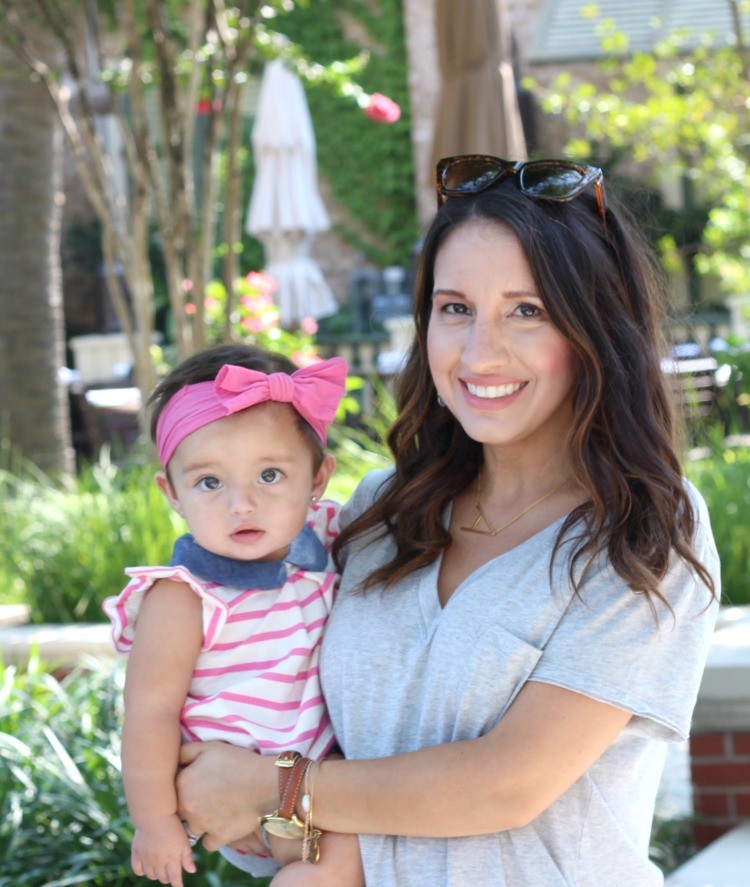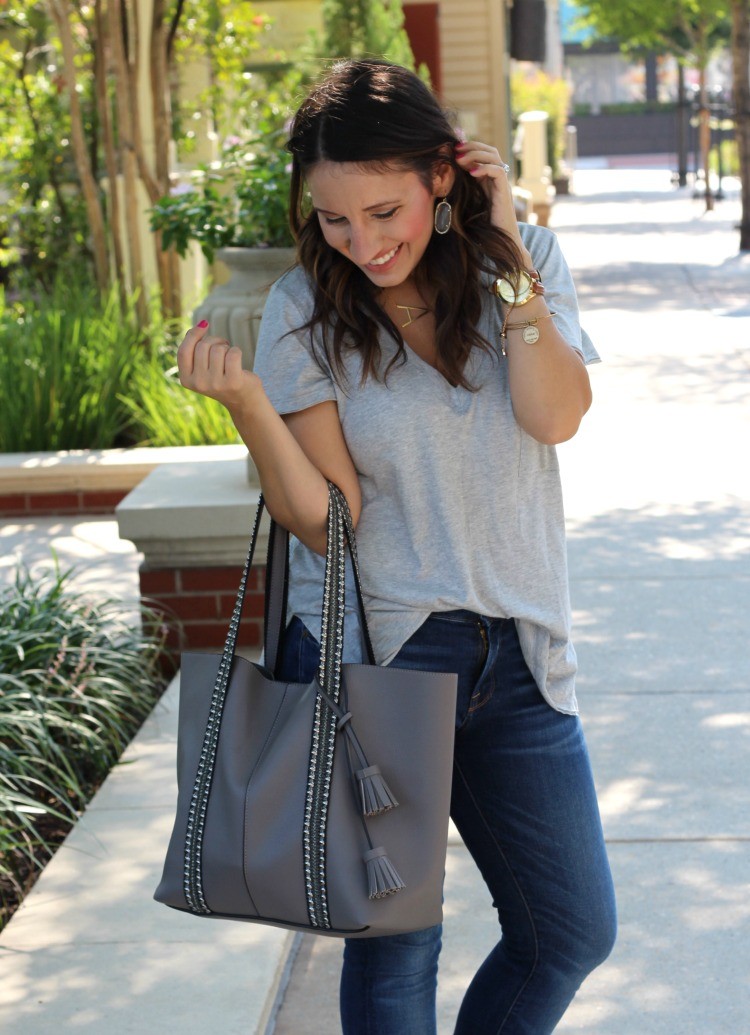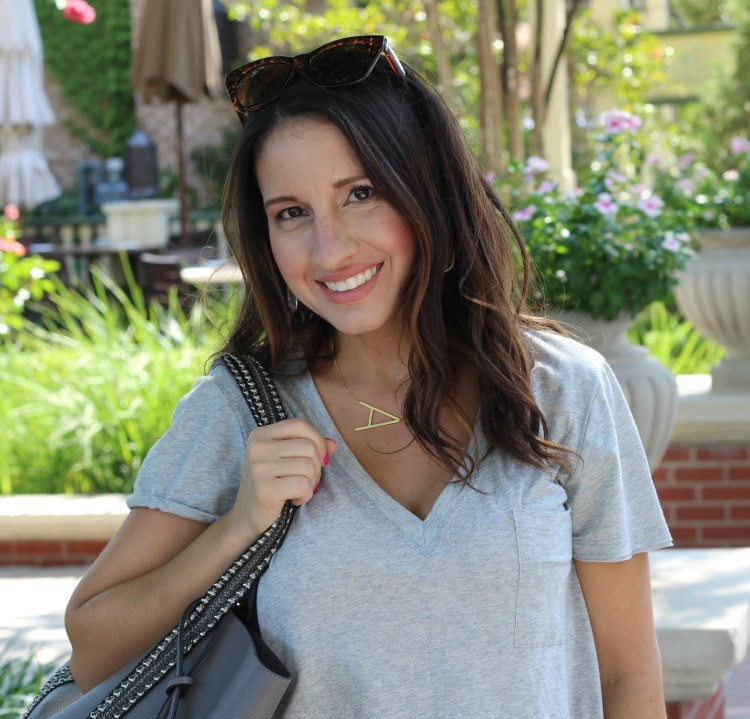 Top:Nordstrom | Denim:Lucky Brand (size down one size) | Shoes:DSW | Handbag:Urban Expressions c/o | Earrings:Kendra Scott | Necklace:Anthropologie | Bracelets:Alex and Ani, Kendra Scott c/0 | Watch:Michael Kors | Lips:Nude Thrill (Seriously one of my favorites!!)
The last couple days have been a whirl wind of being crazy busy. Thankfully, these Lush tees have been keeping me looking like a stylish momma instead of like an overwhelmed one. These are super soft, run tts, and the v-neck detail is so cute. It comes in four colors, and is super figure flattering. I love that it's a little longer in the back too because it gives my bum some shade. Hooray!!
I love these Lucky Brand jeans, but definitely size down. I really wish I had sized down because I have to pull these bad boys up a half a dozen times a day usually. Otherwise, I look like my bum is at my knees. Thankfully it's not at my knees.
Ya'll doesn't my Sofi girl look so cute. I love these Baby Bling Bows so much. They are so stretchy, don't leave indentions on my baby girls head, and they come in lots of colors. I picked a few really cute ones in some of the prettiest shades under the rainbow.
Thank you guys so much for stopping by, and I hope ya'll have a fabulous weekend!!
Hi, so this is completely unplanned, but I wanted to keep y'all in the loop. My hubby, and I had to go out of town last minute for a family emergency. I won't go into too much detail about the what's going on, but let's just say it was necessary. I won't be blogging next week because in the rush to get two babies under two, plus all their stuff I couldn't figure out how to safely pack my camera too. Seriously these little people need a lot of stuff. If y'all have any tips, or suggestions I'm totally open. This is our first flight with both babies. I've flown with Pookie 3 or 4 times, but flying with both of them had me scared. I will say it didn't go as bad as I had imagined.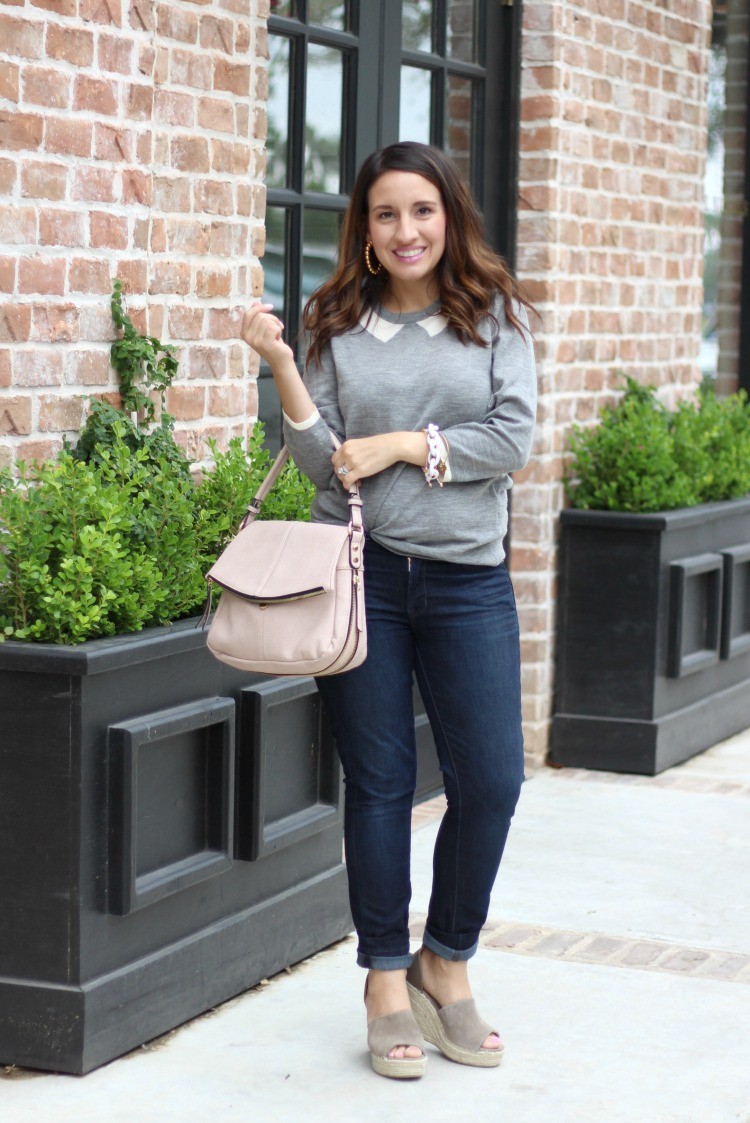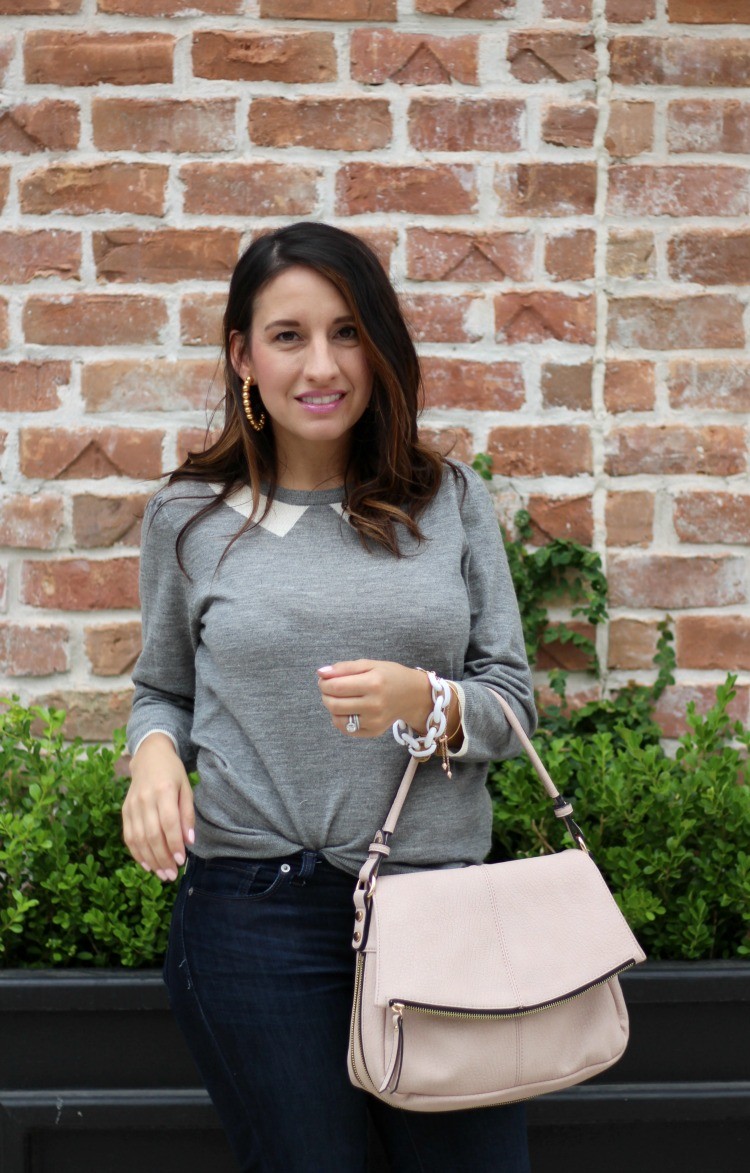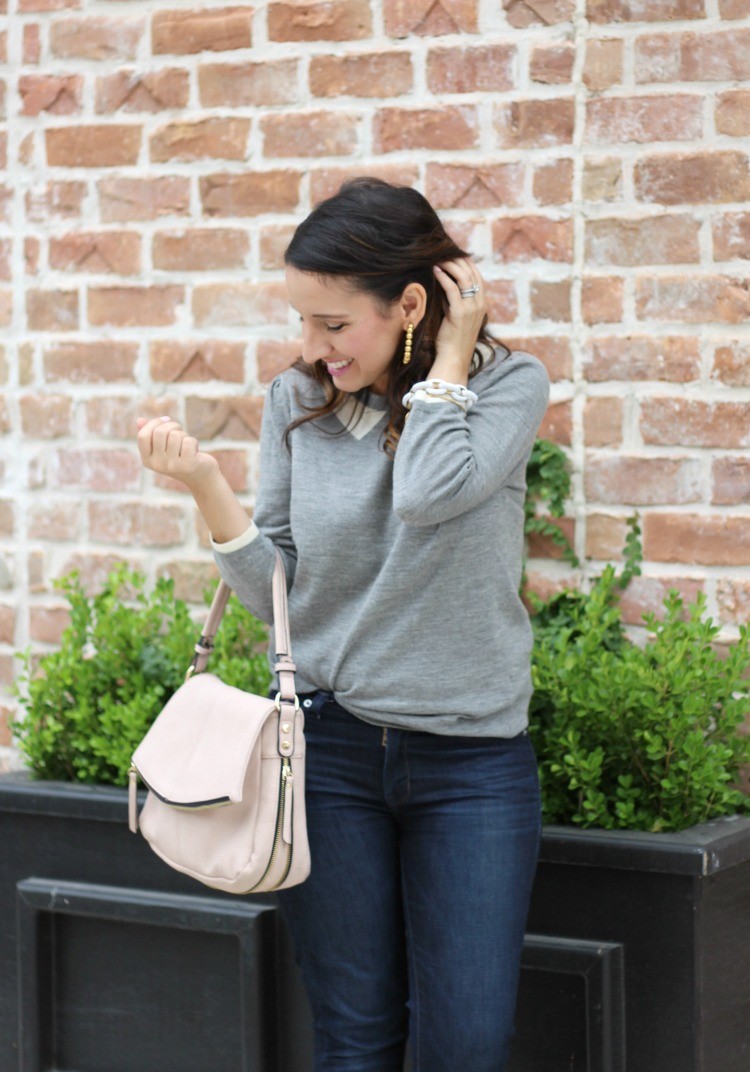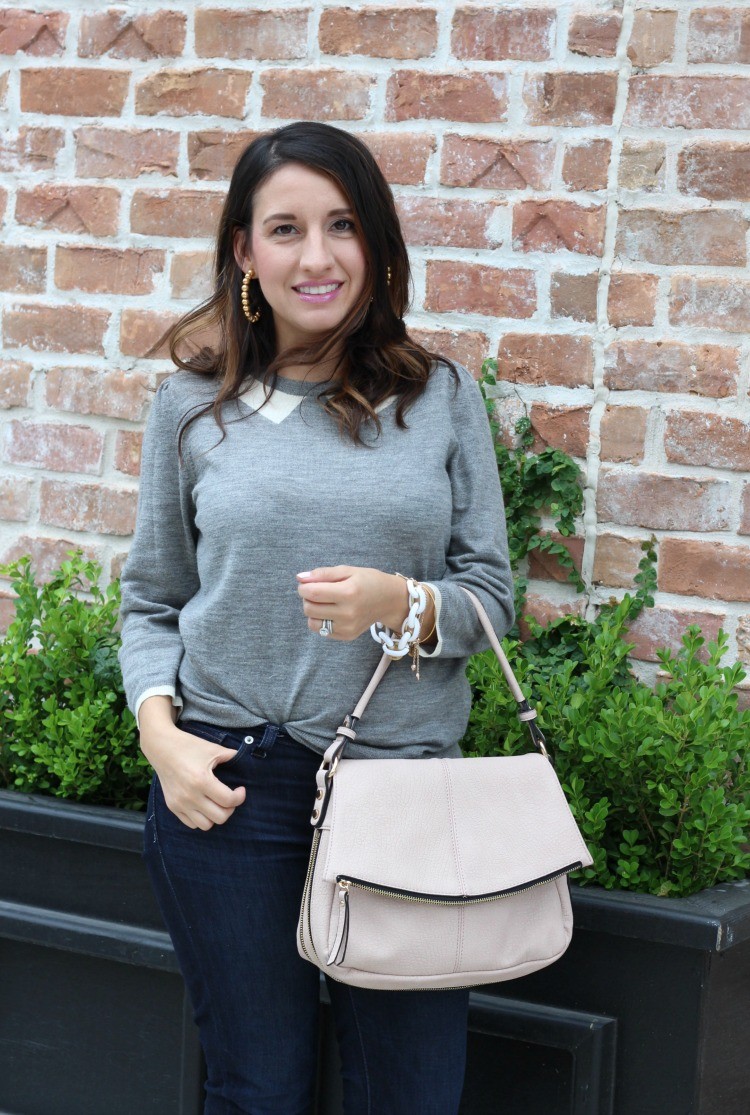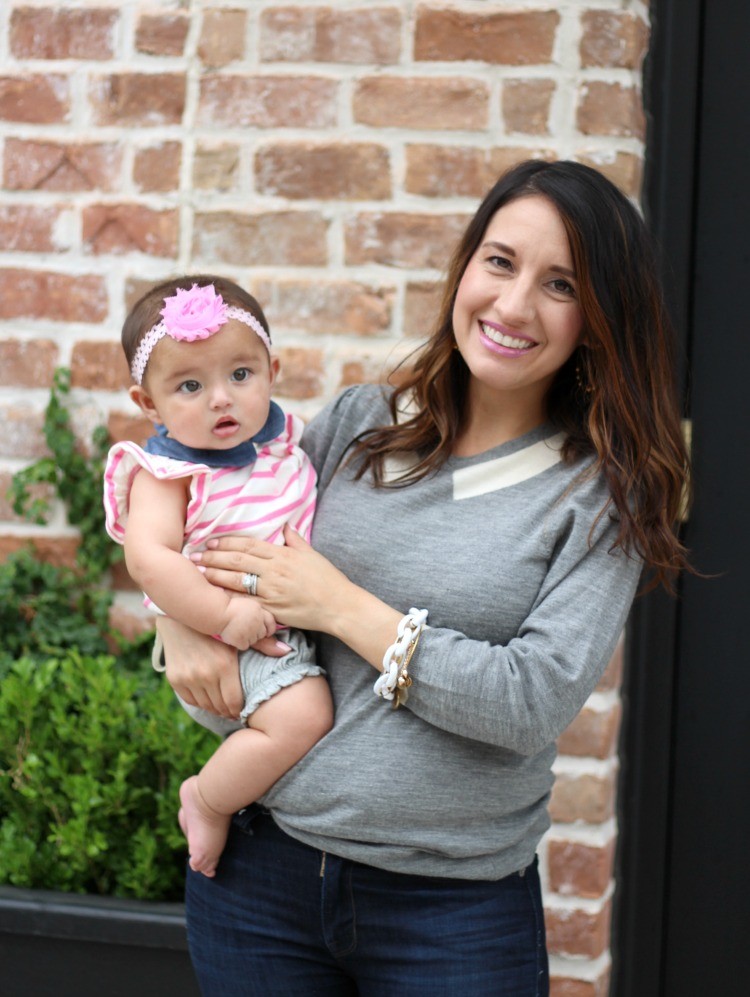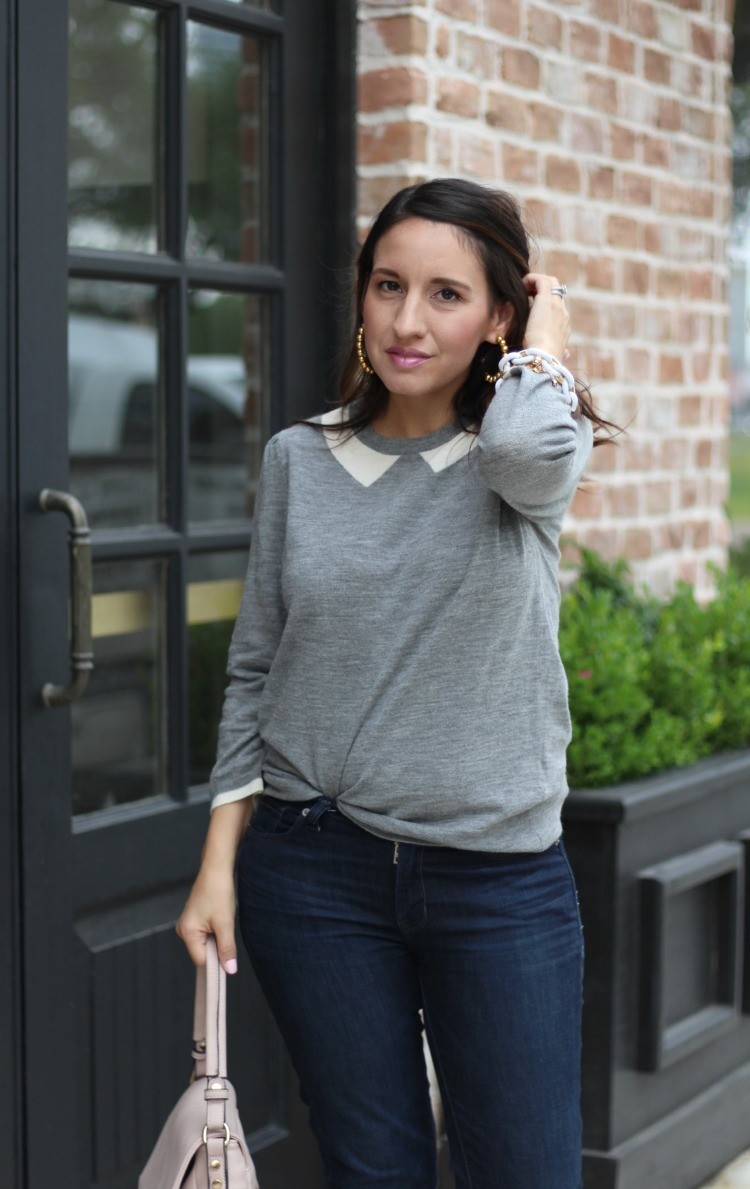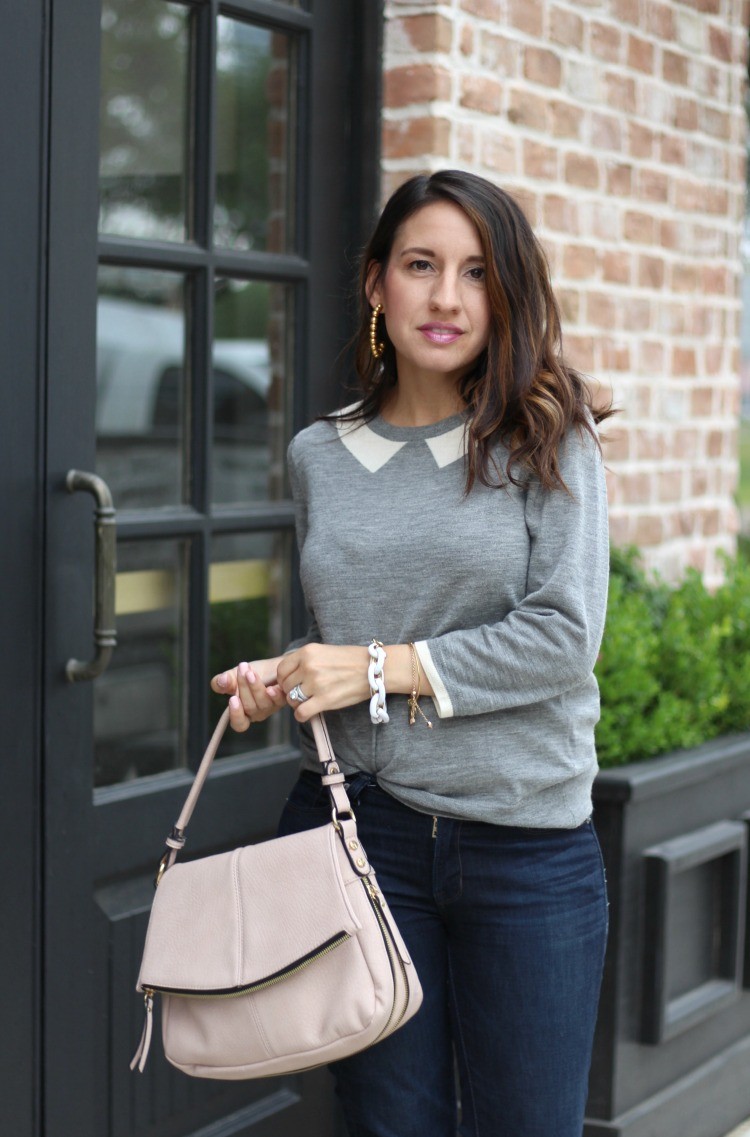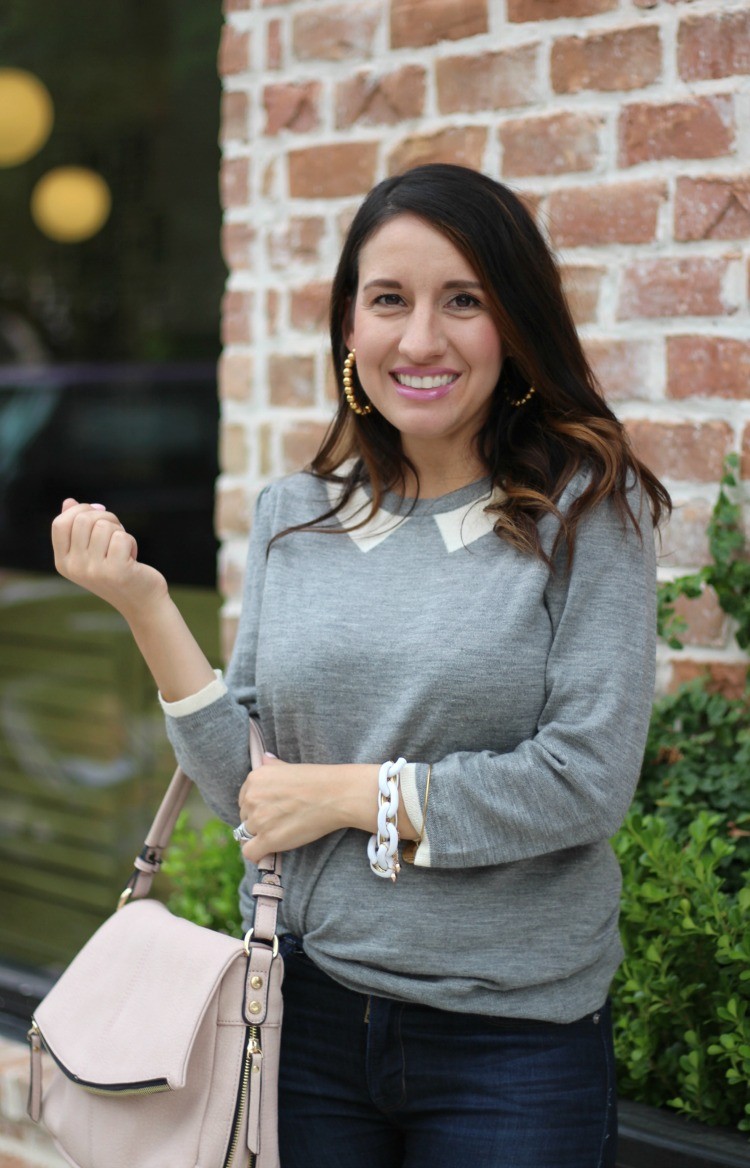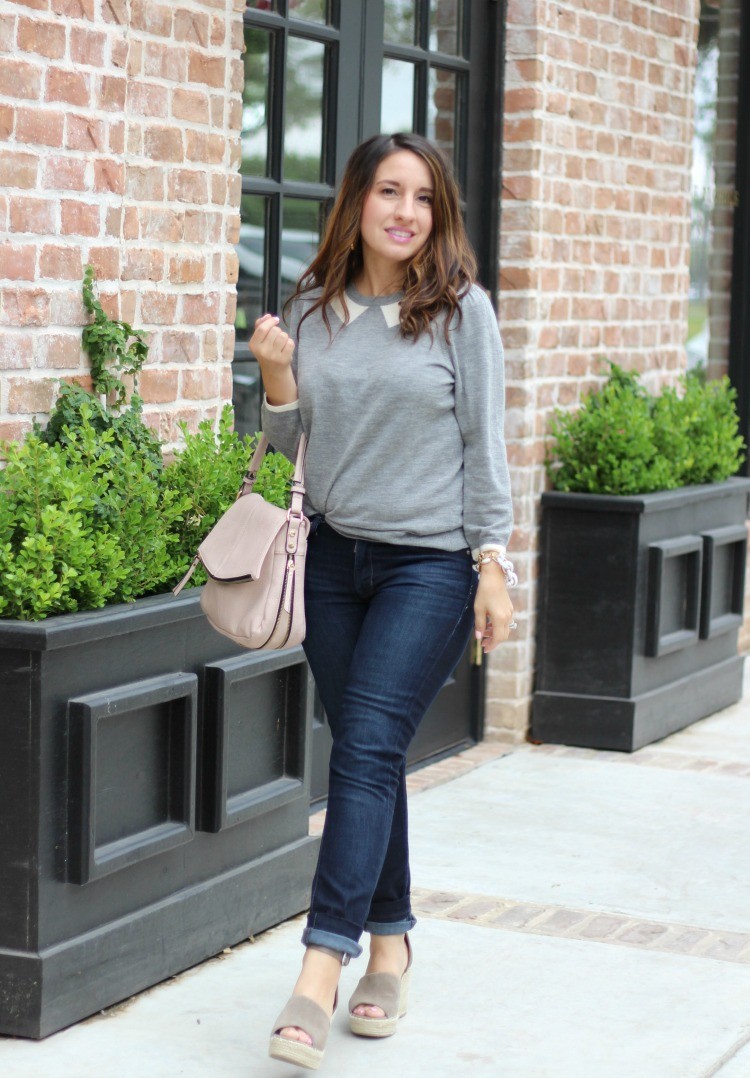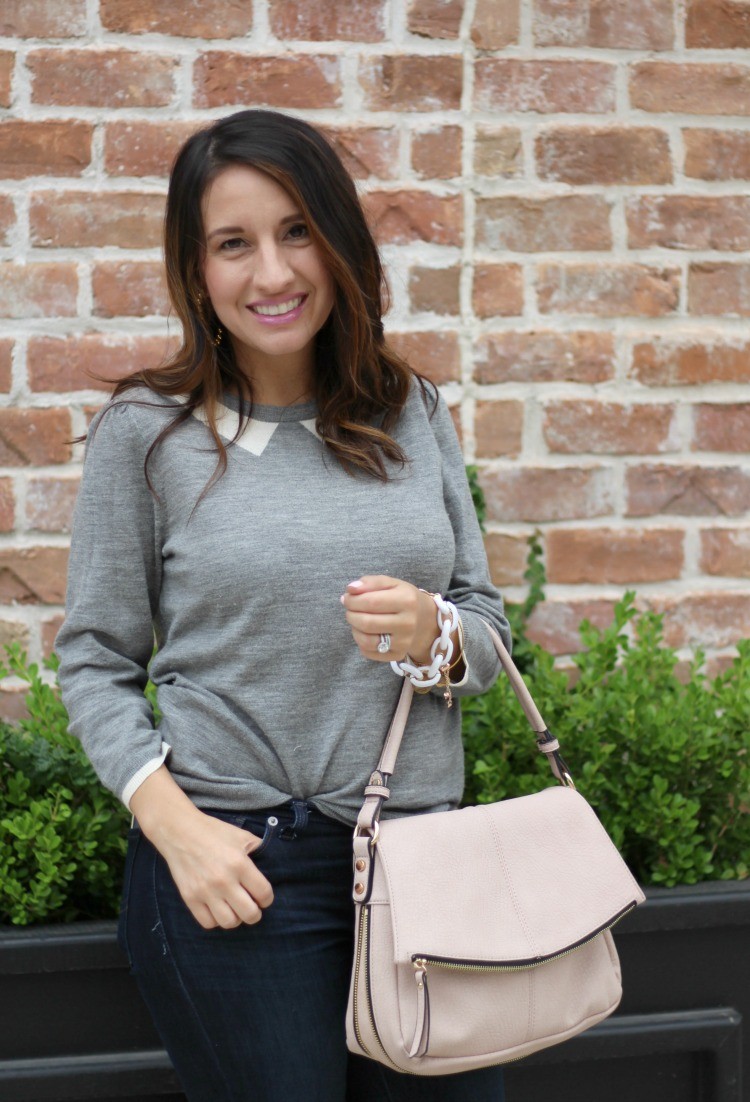 Sweater:J.Crew old (similar style) | Denim:Lucky Brand | Shoes:Steve Madden via DSW | Bag:Urban Expressions c/0 (similar style) | Earrings:Lisi Lerch c/o | Bracelet:Kendra Scott c/o, Alex and Ani, The Silver Loft sold out (similar style in gold)| Lips:Peace Pink and Glossy Gloss c/o
Sofias Outfit:Top:Baby Gap sold out (similar style) | Shorts:Baby Gap sold out (similar style)
The Tippi Sweater style is one of my go to light weight sweaters for a busy day of errands. This one in particular was love at first sight. The trompe l'oeilI effect on the collar had my attention when I first saw it. I really liked the white and grey combo of this sweater. Capped sleeves are a weakness of mine, and since the sleeves felt similar I was sold. After wearing this sweater I remember feeling like such a cool girl in my new sweater. Funny fact I use to watch the show Girls pretty religiously. So, when I saw my sweater on Hannah one of the characters on Girls I thought boy I am stylish. Fast forward to watching the behind the scenes commentary after the episode, and they touched onHannahs character, who she is, and her style. Well they burst my bubble when they explained that Hannah's not very stylish, and so this sweater was just right for her being on the verge of being stylish. I was like oh well I like it because at the end of the day it's all about feeling good in what you wear, right?
I wore this outfit for lunch at Eloise with one of my favorite momma bloggers Dawn from Dawn P. Darnell blog, and another favorite of mine Dede from Dress Up Buttercup. They both are some of the nicest, cutest, and super stylish blogger ladies that I know in Houston. Check them out!!
Thanks so much for stopping by, and I hope ya'll have a fabulous weekend!!