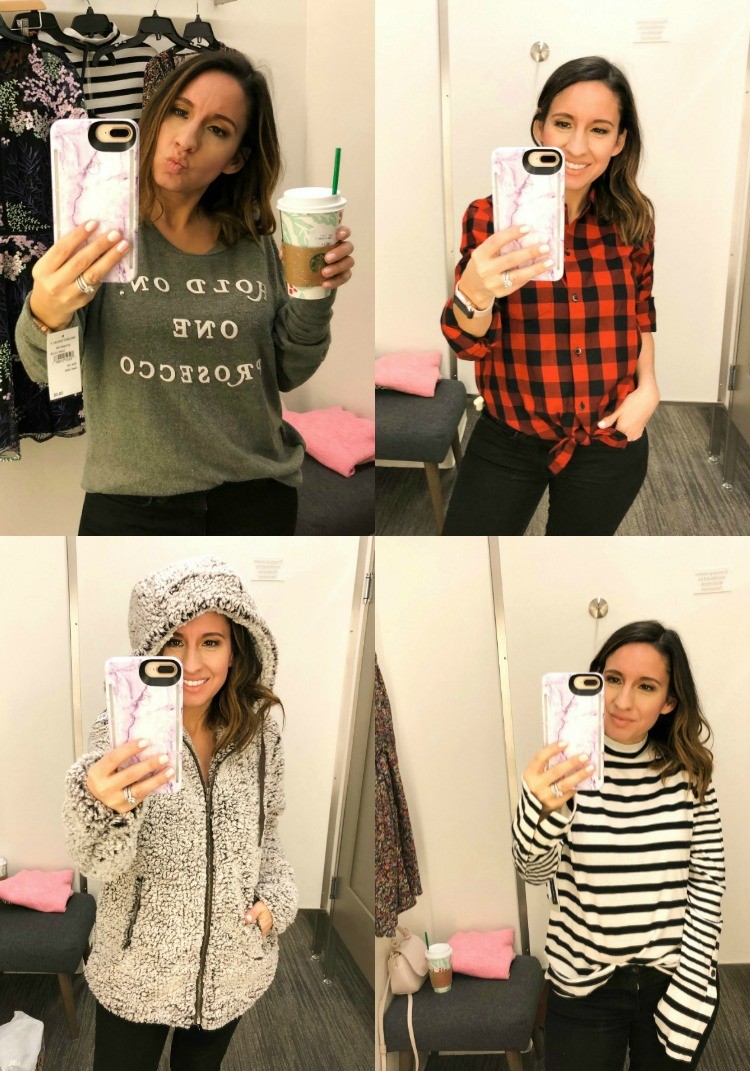 Shop The Post

Good morning! I am burning the midnight oil so to speak to get today's blog post aka try-on session to you. So last week I shared all the dresses I found at Nordstrom in Monday's try-on session. You can find that post here. I break down the sizing, pricing, and what I think of each dress.
Here's what you can expect from today's try-on session which is all about the tops, sweatshirts, and one really comfy pair of pants that made the cut. Treat yourself to these they are so comfy. I promise you will thank me later. Okay, I got a little sidetracked but here's what you can expect today. First try-on pictures, sizing, pricing, and what I think of each item. You can go to my Instagram account to see the try-on session videos on my stories. I will keep this in my try-on session Instagram highlight. So it is super easy to get back to. If I don't answer a question you have please send me a message or leave a comment.
Alright, let's get started!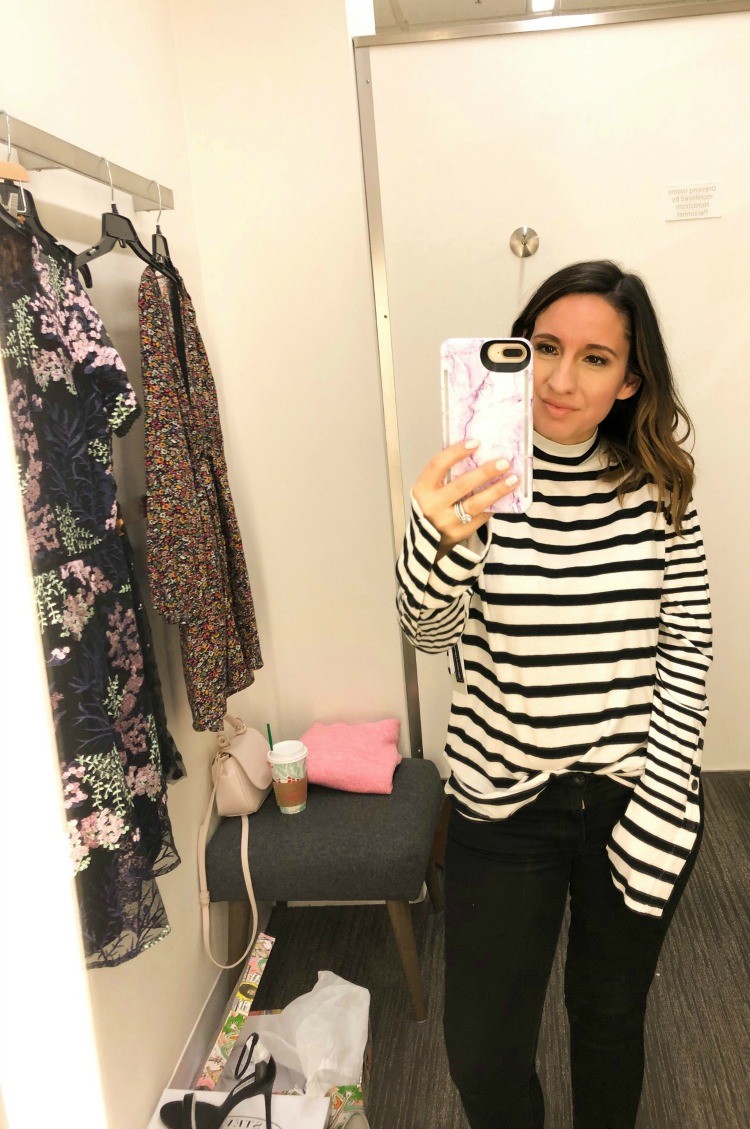 Top:Nordstrom ( It's $35 and really good quality! Runs big size down one size!) | Booties:Nordstrom (Not pictured but in my stories! They seriously elongate the legs!)
This smock neck striped turtleneck is so cute. I love that the stripes are a little bigger on the shirt and they are smaller on the sleeves. It is really super flattering on anyone's arms since the stripes are thinner. I love the button detail as well. It comes in a really pretty red and blue color combo as well. I'm seriously debating getting that one too. This top would be cute as is or with a really nice pair of dark wash jeans. This would be great for layering too.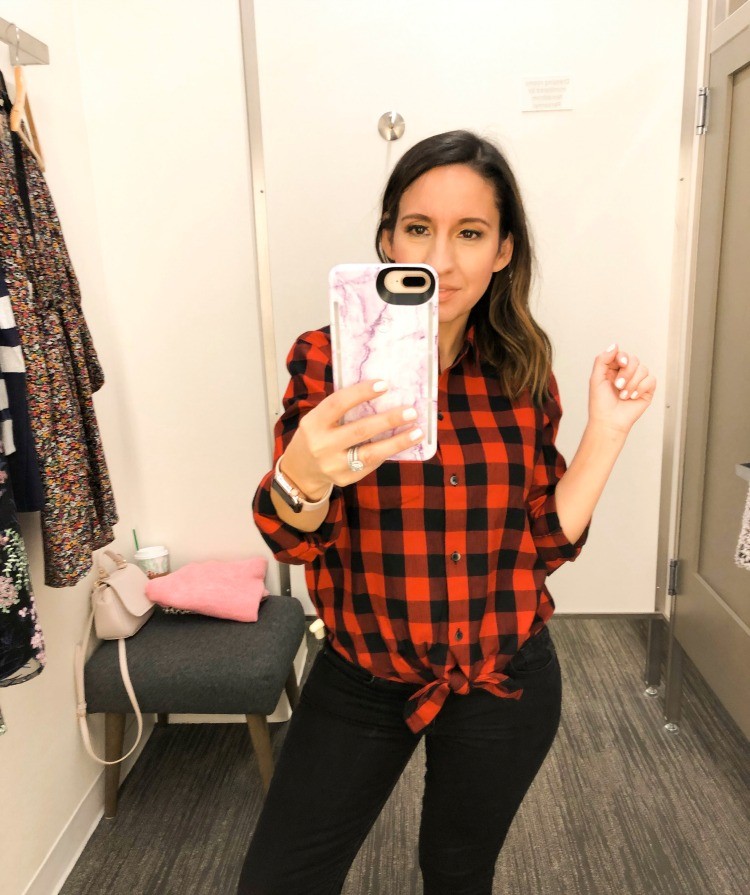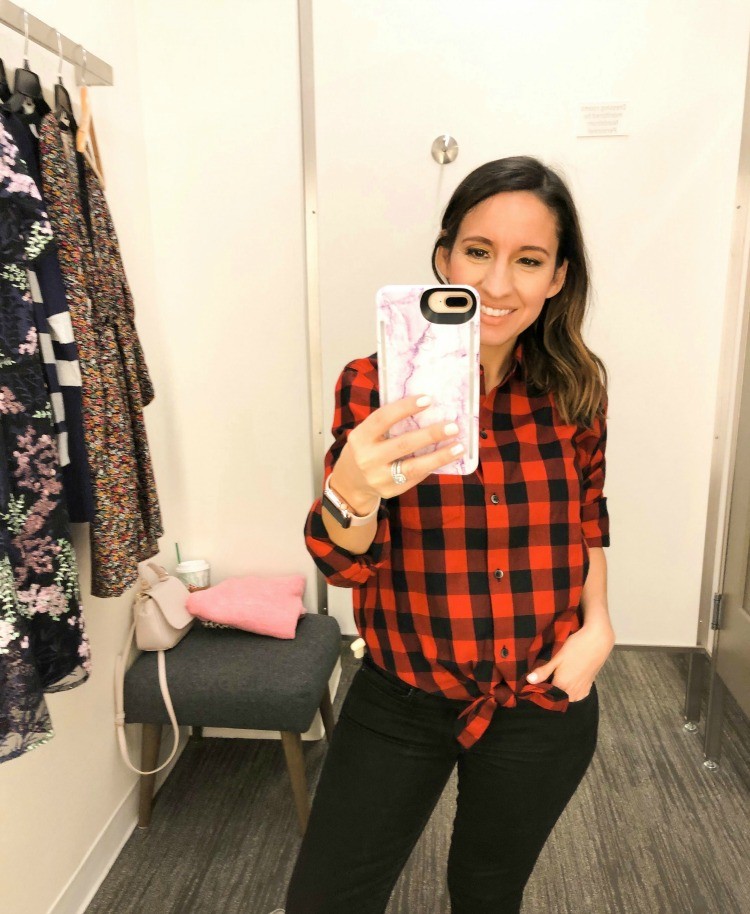 Button-Down:Nordstrom (This top is on sale! It's currently $56 and Nordstrom does price match!)
This buffalo plaid flannel is so cute and really soft. It runs tts which are really nice. Usually Madewell top runs big on me. This would be cute with just about anything. I have my eye on this with my new favorite jeans. They are under $90 and fit so good.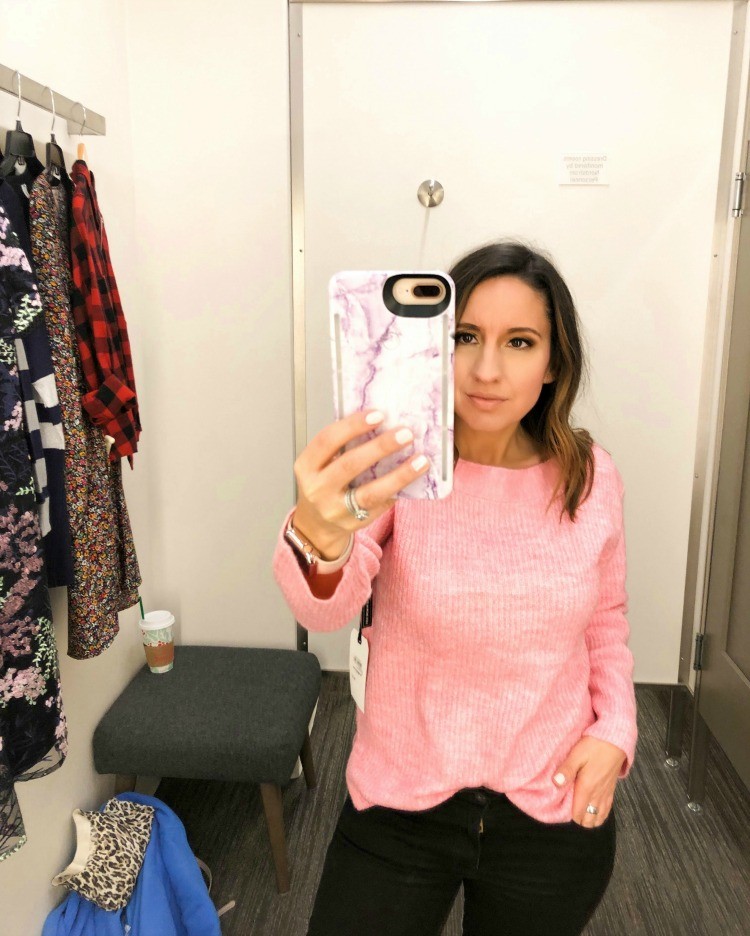 Sweater:Nordstrom (Runs big size down one size. Wearing an XS. If you want it to fit a little baggy go with your regular size.)
I basically love this sweater. I love that it's super soft without being itchy. Finding that combination is really hard. It's on sale from almost $60 to $23. This is a really good deal. It comes in 7 other colors.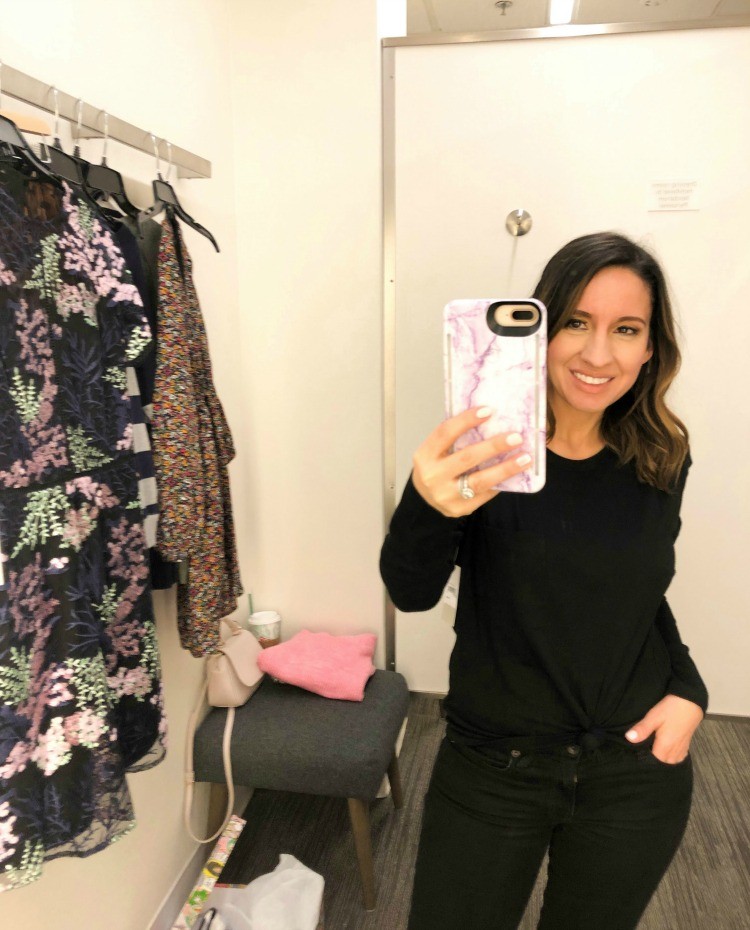 T-Shirt:Nordstrom (On sale for $7! Runs tts!)
Y'all Christmas came early because this cute basic tee is on sale. Yes, you read that right this tee is on sale for $7.60. It is basically about a $1 more than most peoples Starbucks orders. It comes in a few colors and in stripes. I love this tee so much!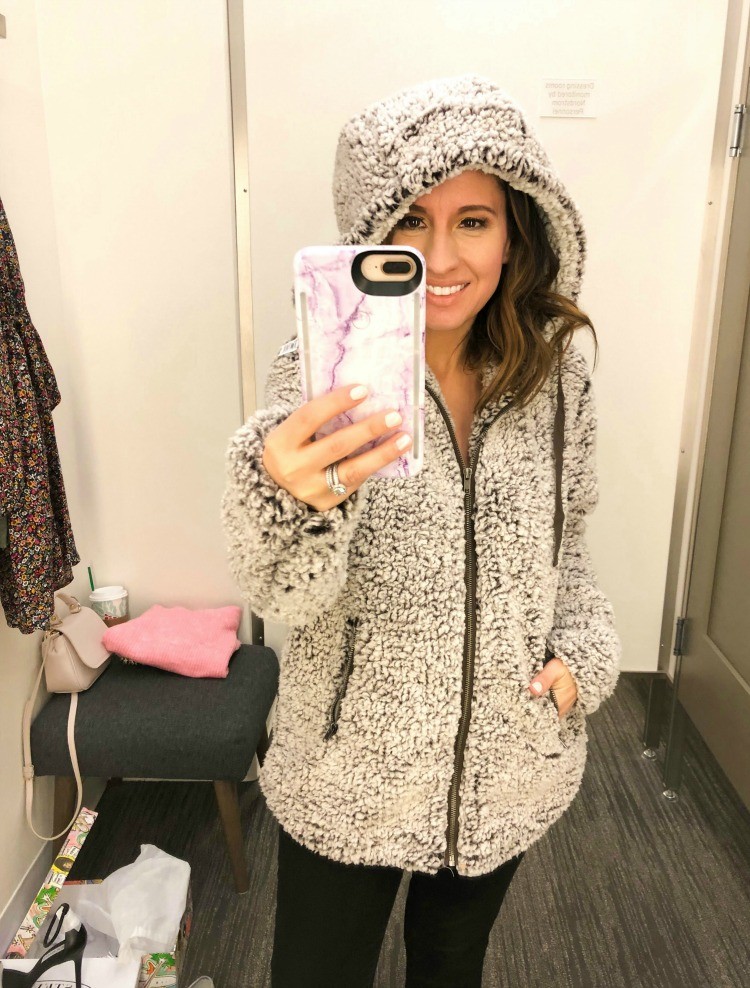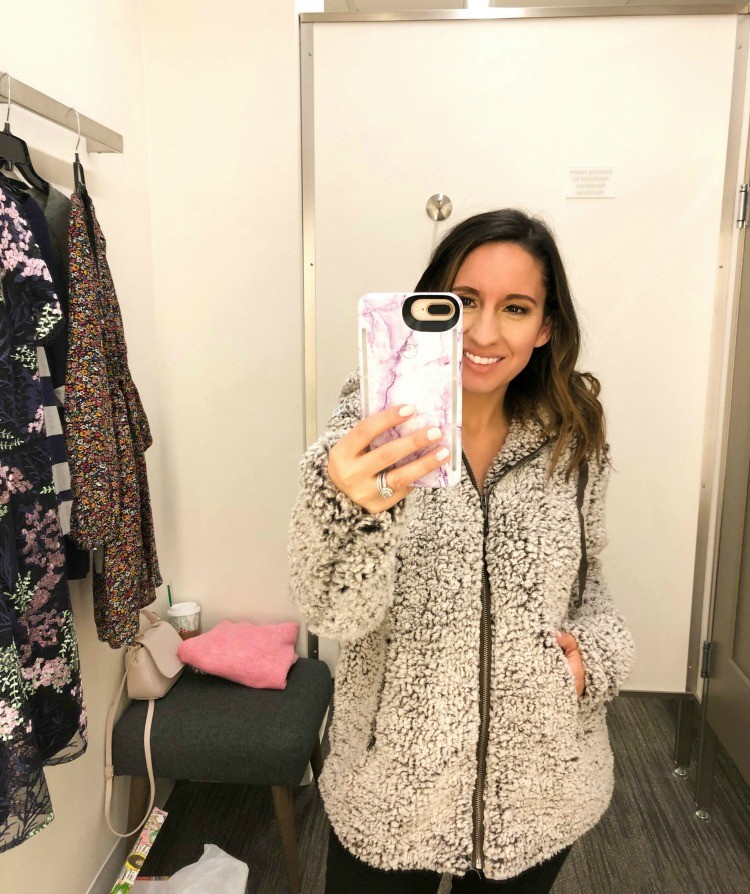 Jacket:Nordstrom
Sadly this jacket sold out so quickly. This one is super similar and only $50.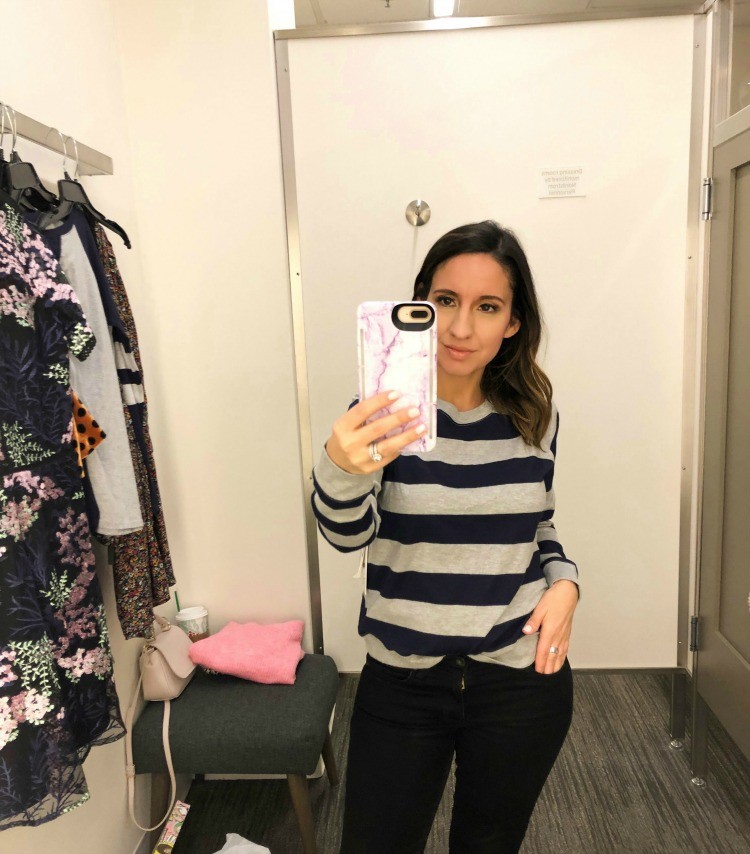 Top:Nordstrom (Runs tts and it is $39!)
This rugby-inspired shirt runs tts and comes in a grey and white version as well. This shirt is great for girls with short torso's or perfect for my longer torsoed ladies. It would be perfect for them to layer with. I love the quality and how soft it is. Raglan is one of my favorite fabrics.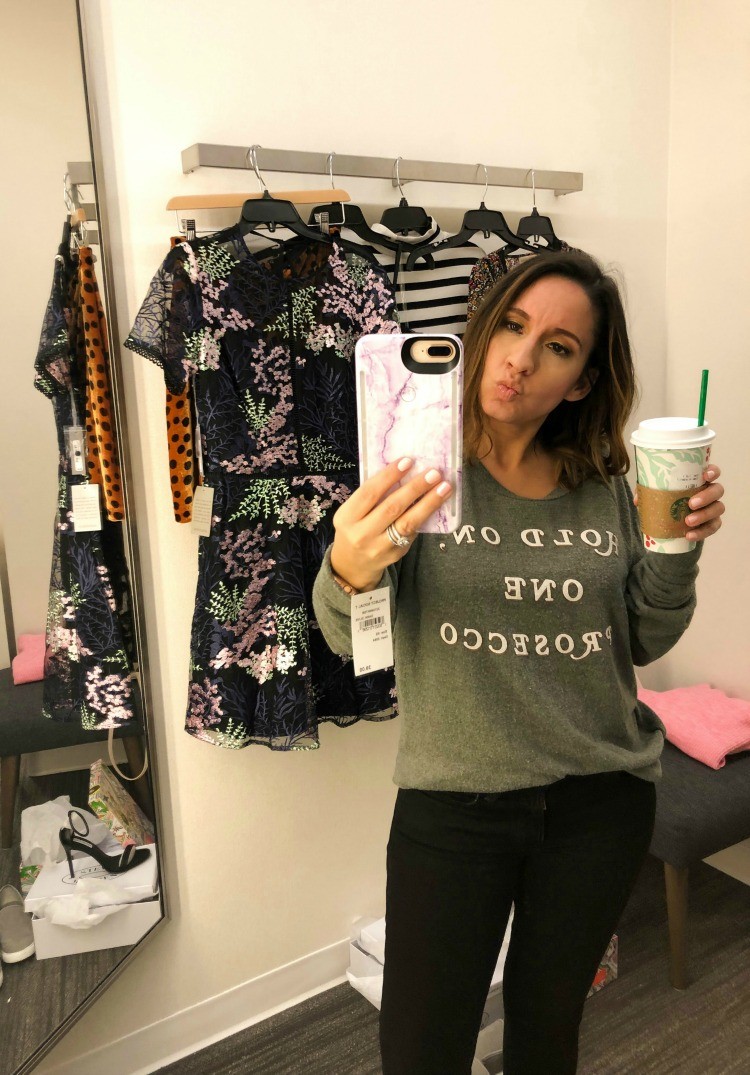 Sweatshirt:Nordstrom (It's only $39 and runs big. Size down one size.)
This sweatshirt is really soft and I love the cute message. I'm a girl that loves prosecco so this one is right up my alley. It runs big so size down one size. If you plan on wearing like a slouchy drop shoulder sweater I would suggest going up one size.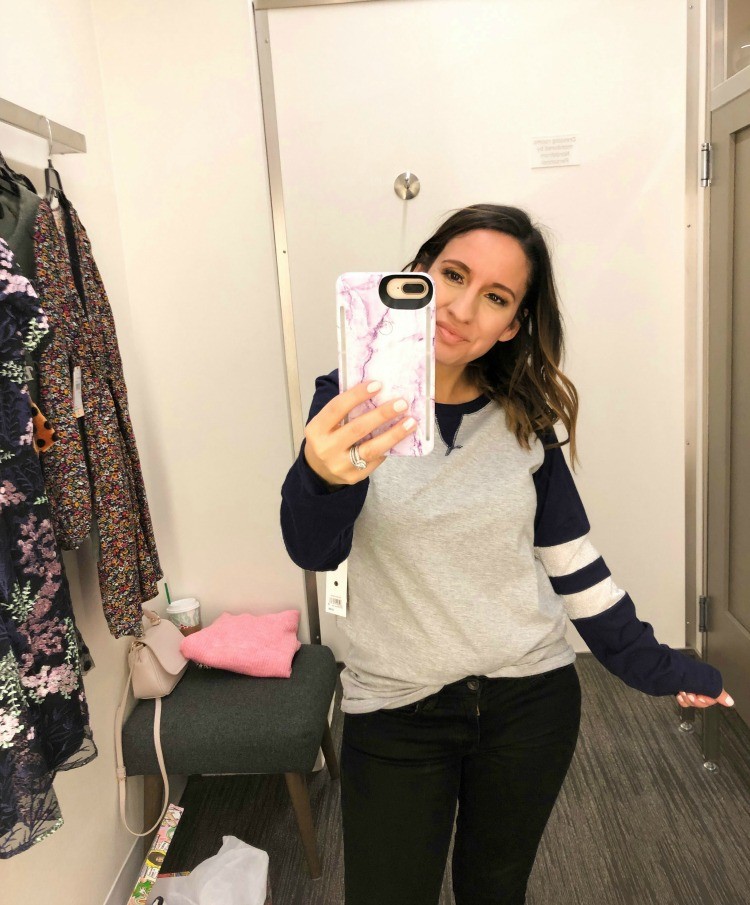 Shirt:Nordstrom (Runs tts and is $45!)
This shirt is really nice. It's a little hard to see but the stripes on the sleeve have a little shimmer which is really nice and unexpected. It comes in a grey and green combination as well.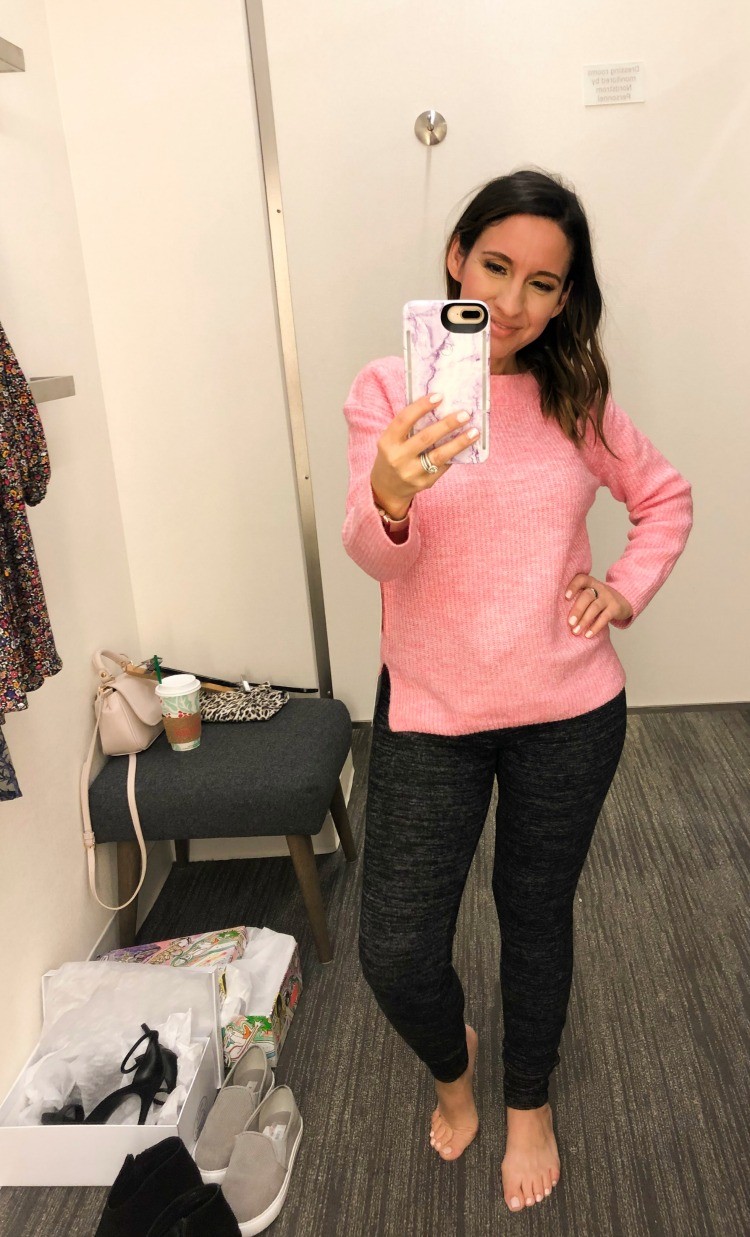 Sweater:Nordstrom | Pants:Nordstrom
These cozy sweatpant leggings are amazing. They run tts and don't cost some insane amount. They are $39 and seriously some of the comfiest pants I have ever worn. I will be living in these with a cup of coffee in my hand.
That's a wrap! Thank you so much for following along. Don't forget to head over to my Instagram to see the try-on session in my try-on session highlight. You'll see a little more insight into what I thought of everything I got.