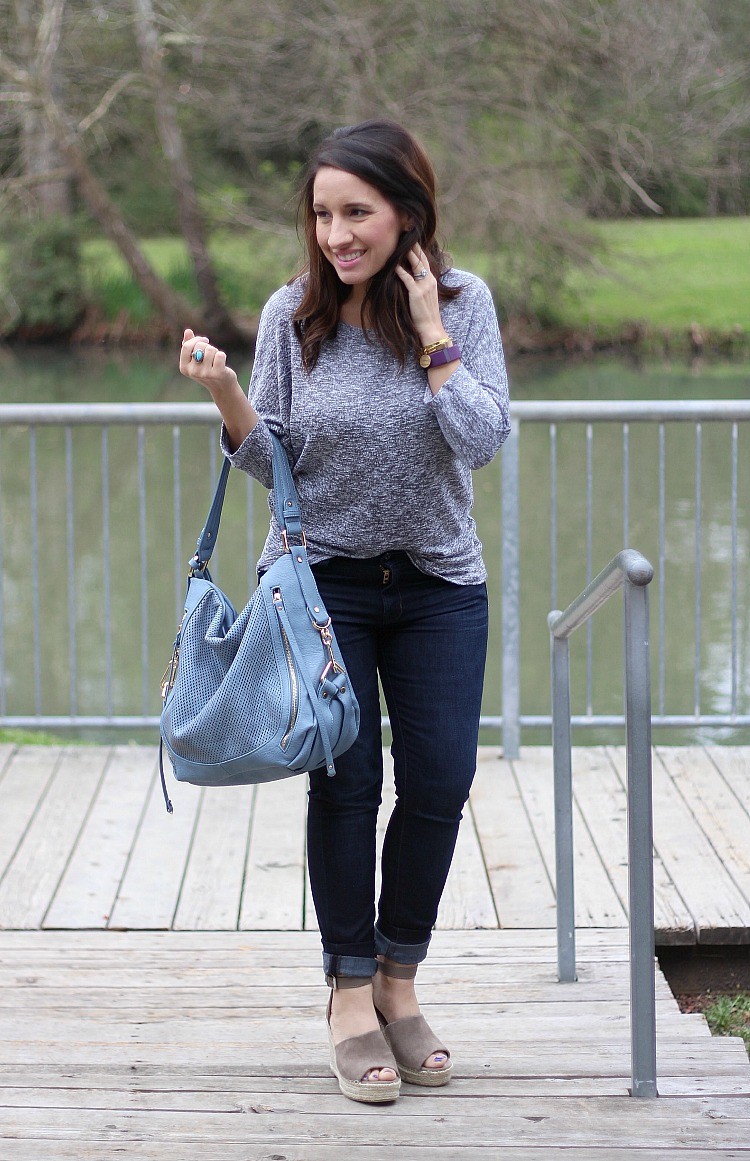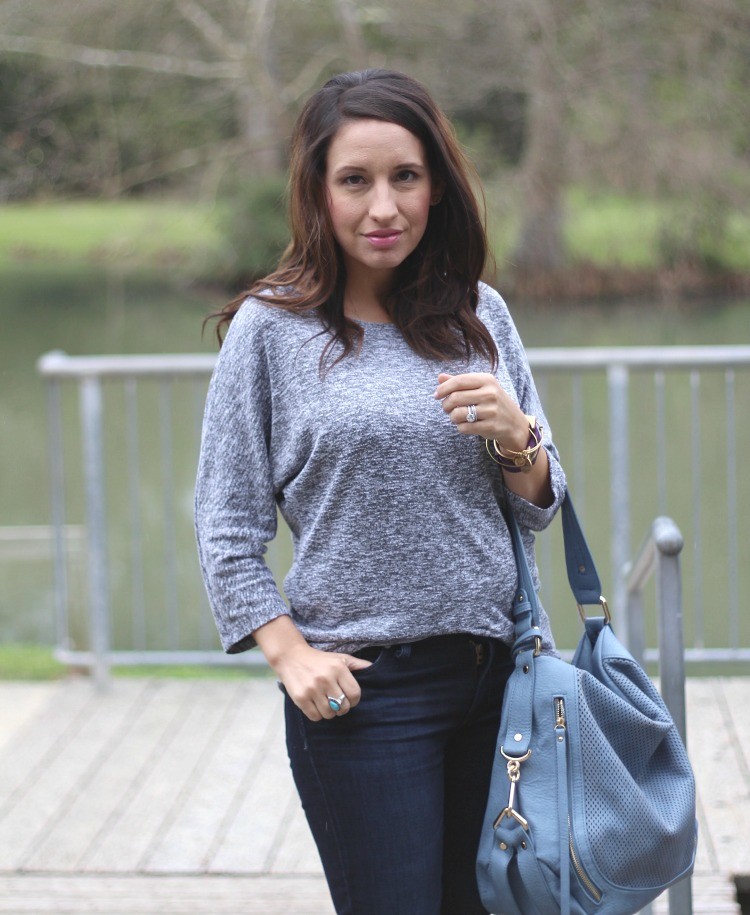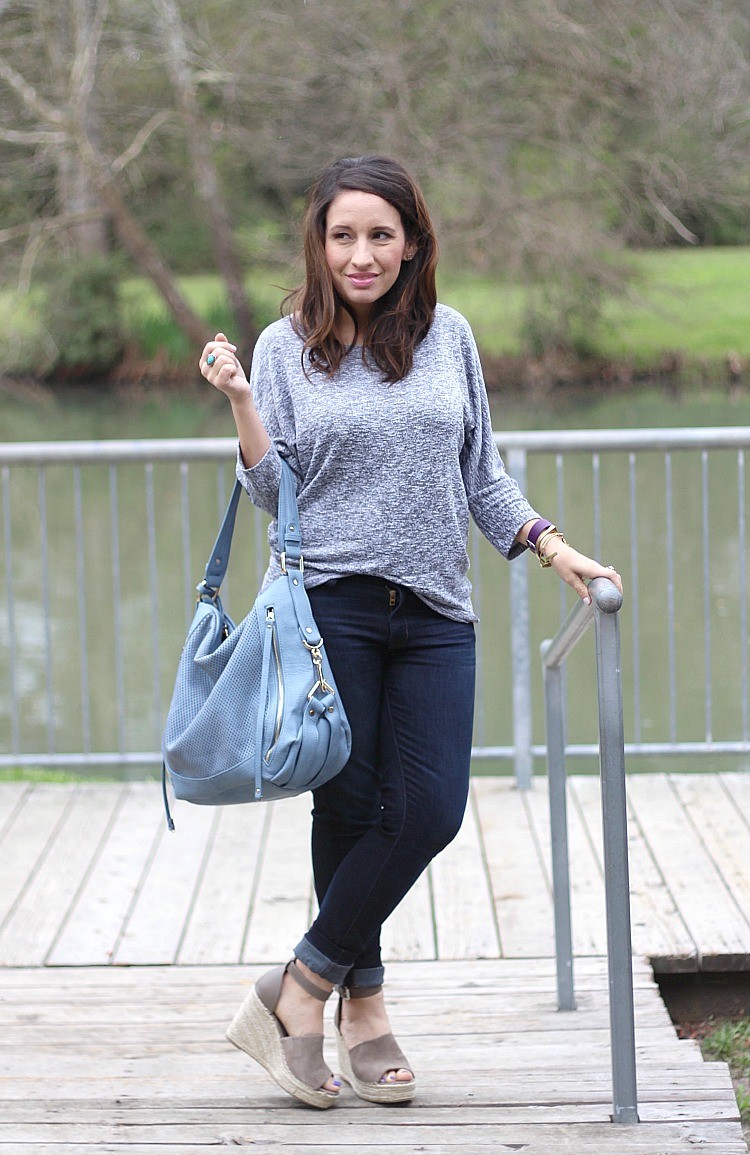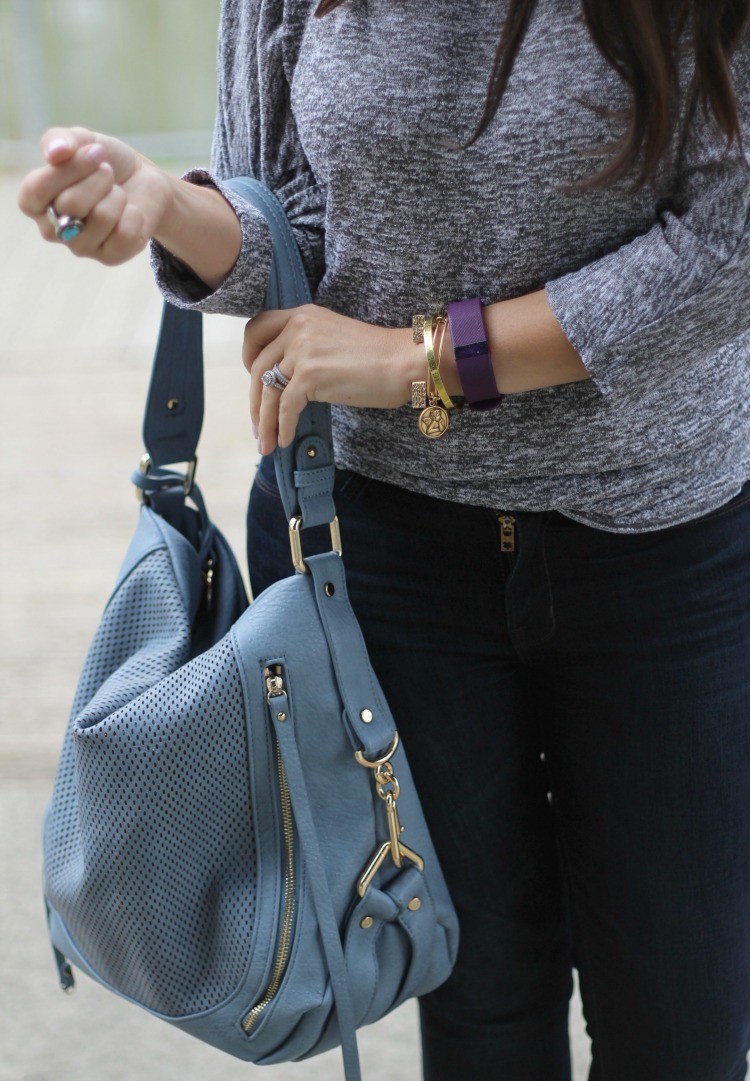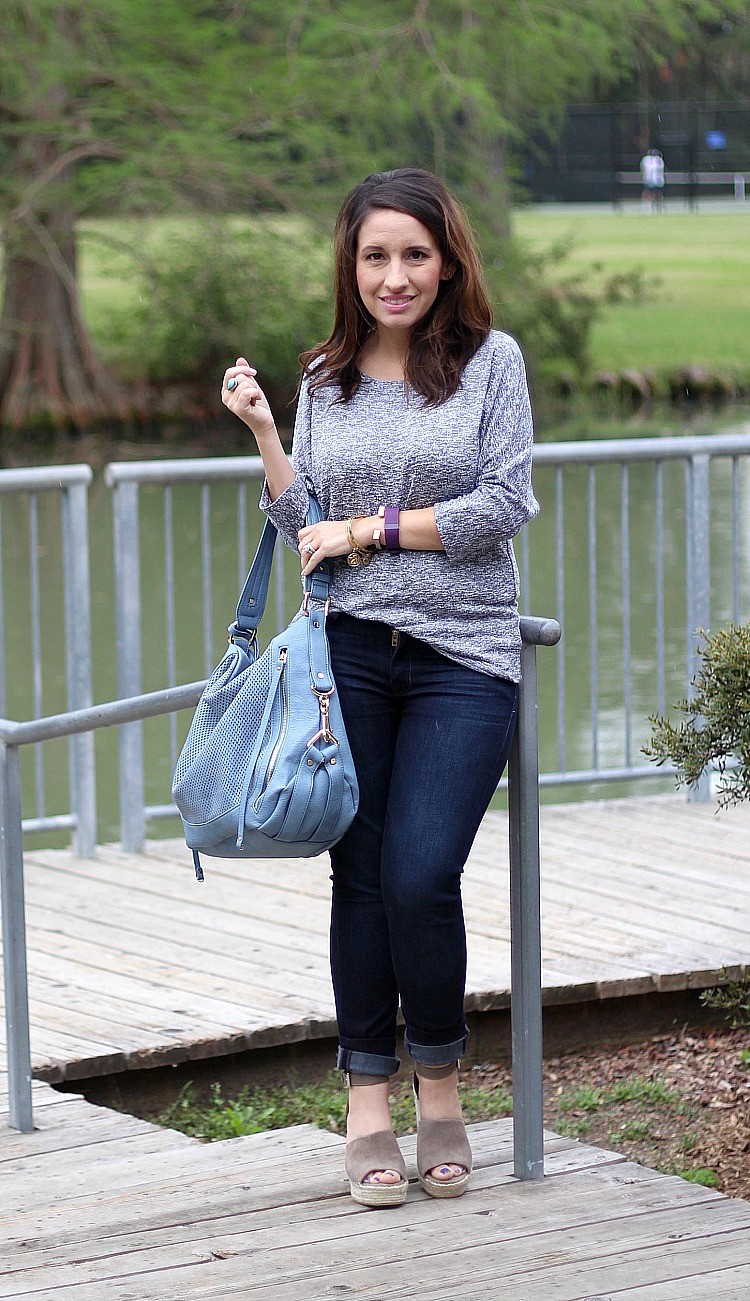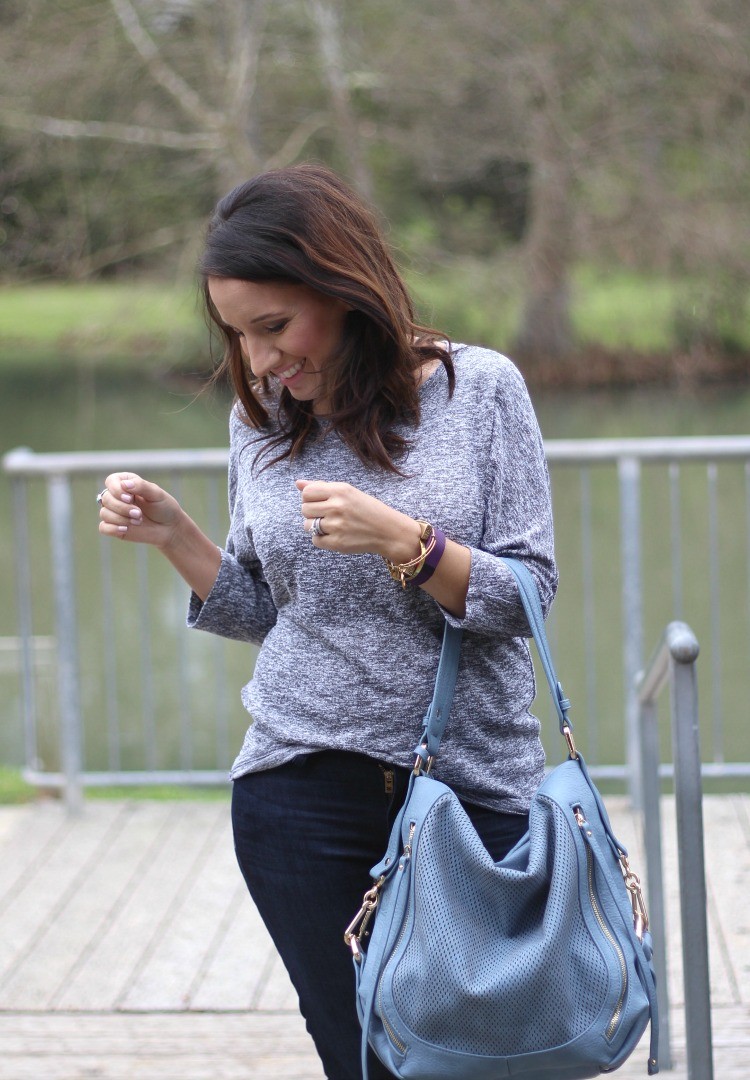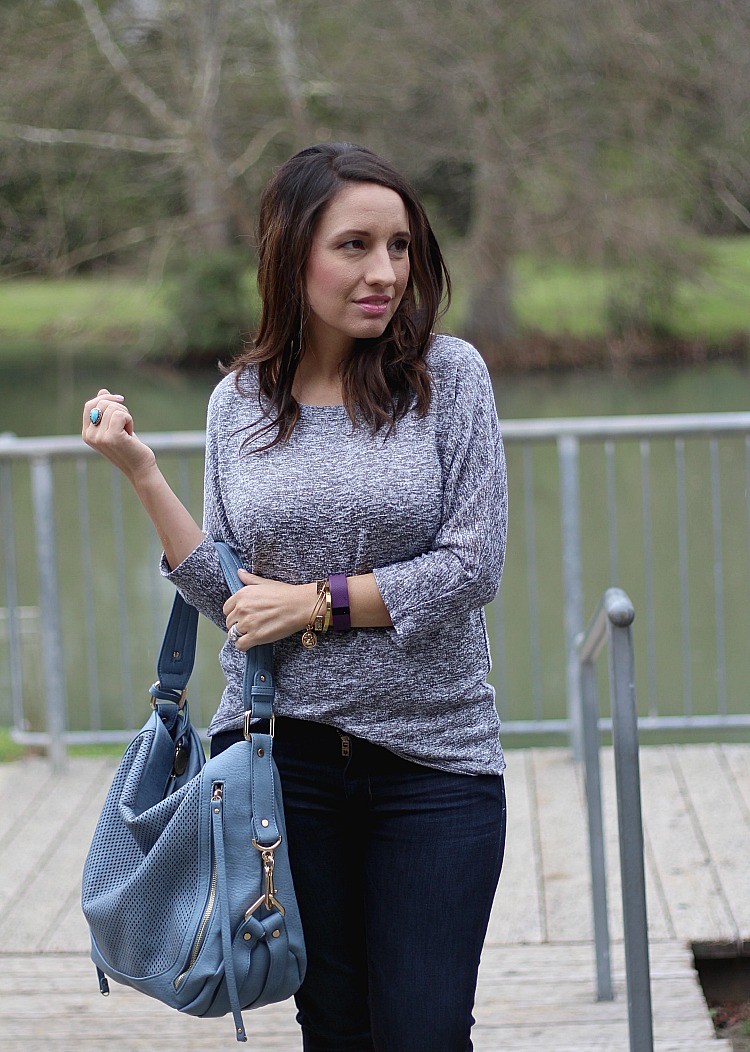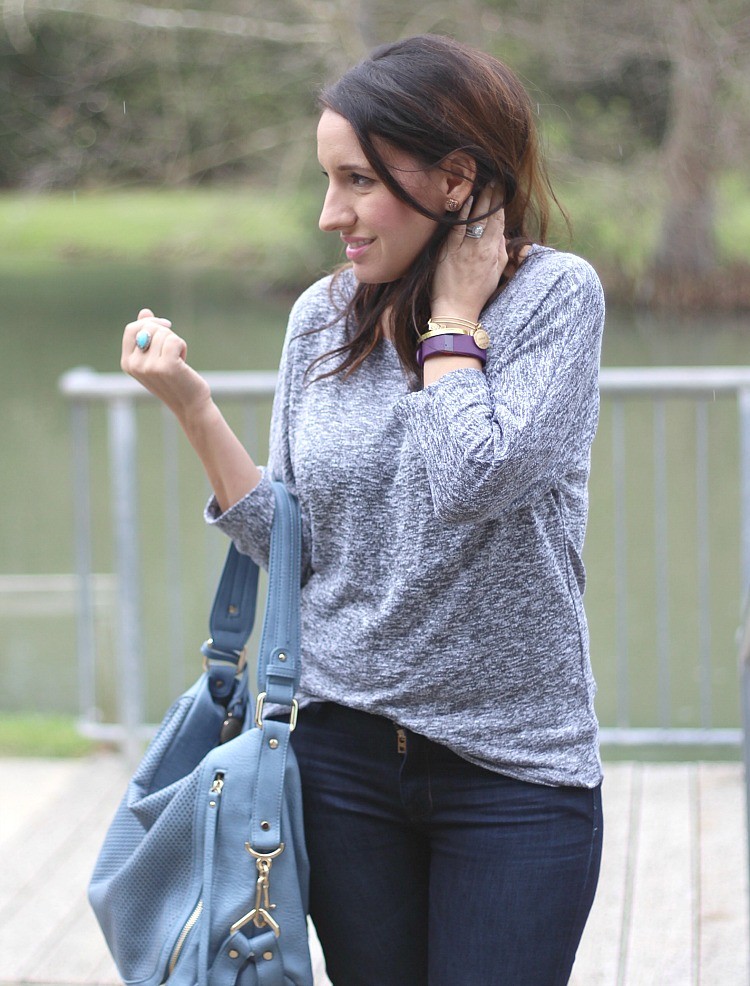 Sweater:H&M old (similar style) | Denim:Lucky Brand Under $70!! | Shoes:DSW | Handbag:Urban Expressions c/o  sold out (similar style)| Earrings:Kendra Scott | Bracelet:Alex and Ani, Madewell old (similar style) | Watch:FitBit | Lips:Creme Cup
It has been such a rainy weekend, and I apologize that these photos aren't as good as I wish they were. I really wanted to share one of the outfits I wore to Thrive Conference. I wore this for the last day of the conference. It was a short day with one break out session class. I wanted my outfit to be comfortable, and cute since this was the more hands on portion of the conference. It was a really good session with lots of ideas on how to grow social media followings without buying followers. Which is something I am completely against.
Okay, so I want to share why you should go to a conference for whatever industry you're in, and especially if you're a blogger. So, I'm going to share my top three reasons why you should invest in yourself, and go to a work conference for you.
Meeting other bloggers in your field is awesome, especially when you meet bloggers that you've been following that are attending the same conference. Yes, I've gotten to have that fan girl moment which was awesome!! Also, it's really nice to make friends who are passionate about the same thing. Blogging is one of those things where we document so much, and it's really cool to be around people who understand the need for a zillion photos at different angles so you can get just the right photo.
Learning more about what you're passionate about is important, and a lot of times leading brands are at conferences. They can give invaluable advice and insight.
The last one I can't promise, but a lot of the time you can meet brands that you wouldn't otherwise have the opportunity to have face to face time with. Which is great for any blogger, but it can be really helpful for newer bloggers. The reason being newer bloggers aren't always as seasoned at finding the PR contacts for companies, and that possible face to face time is really helpful.
Thank you so much for stopping by, and I hope ya'll have a great start to your week!!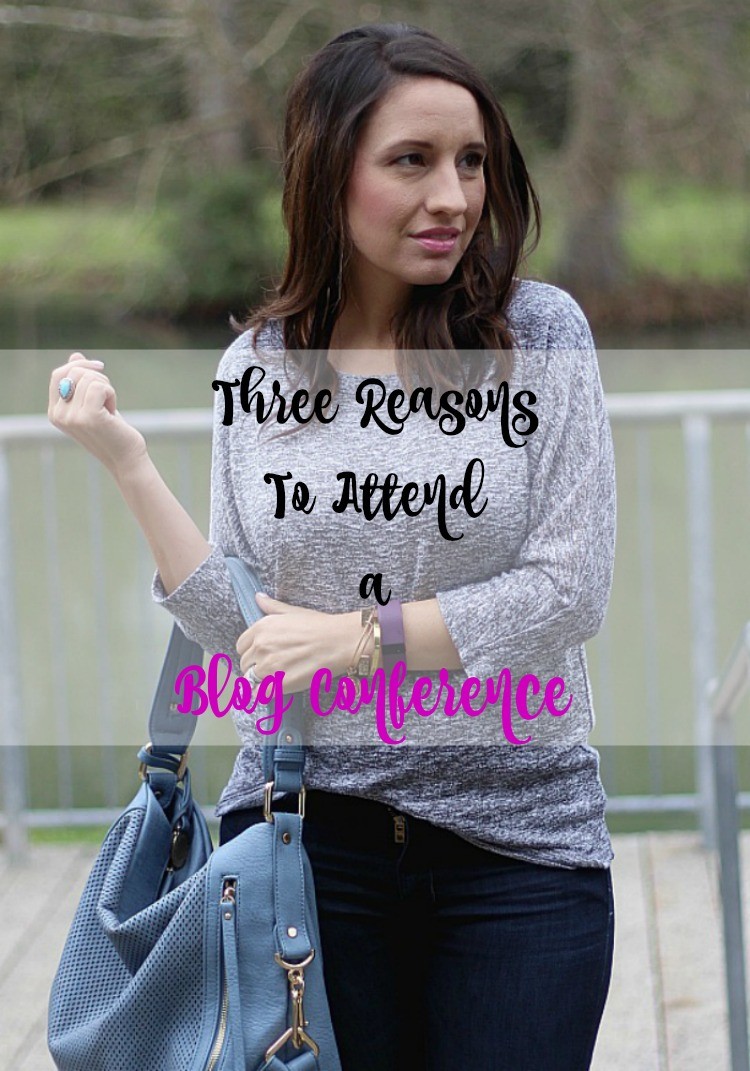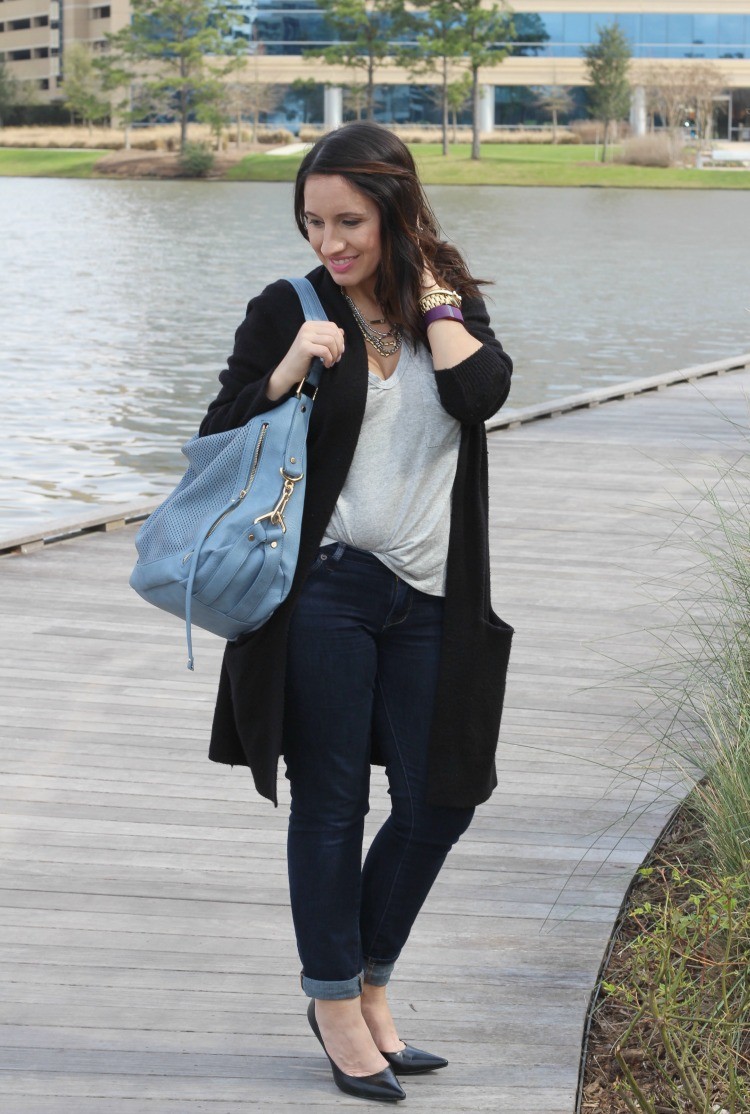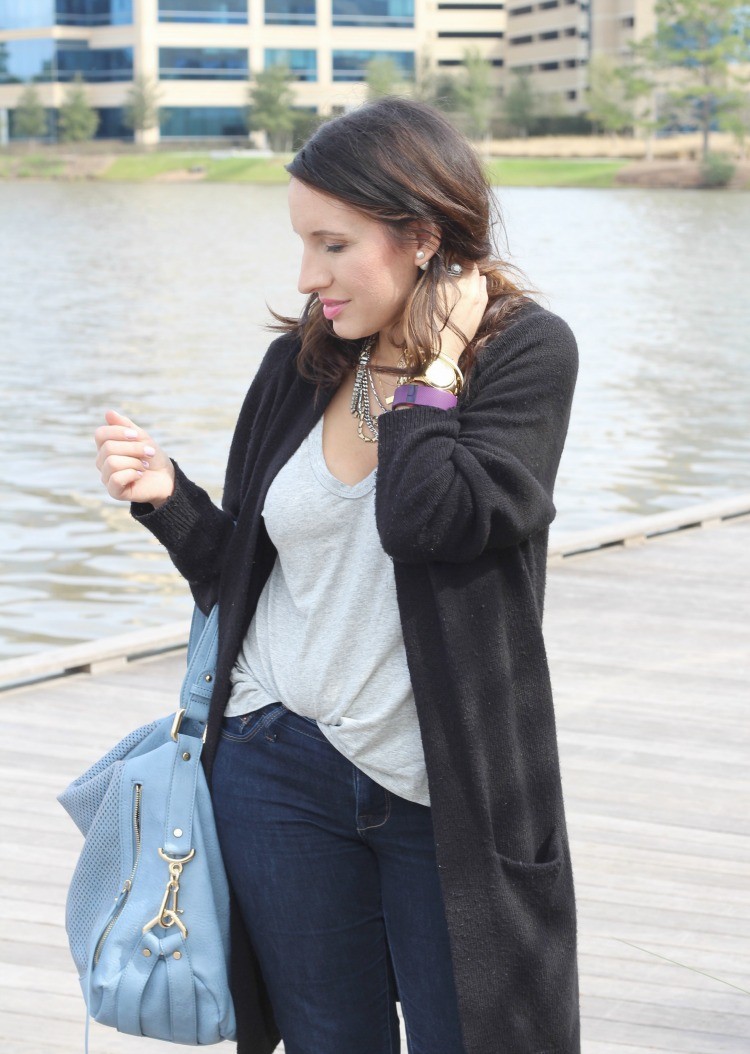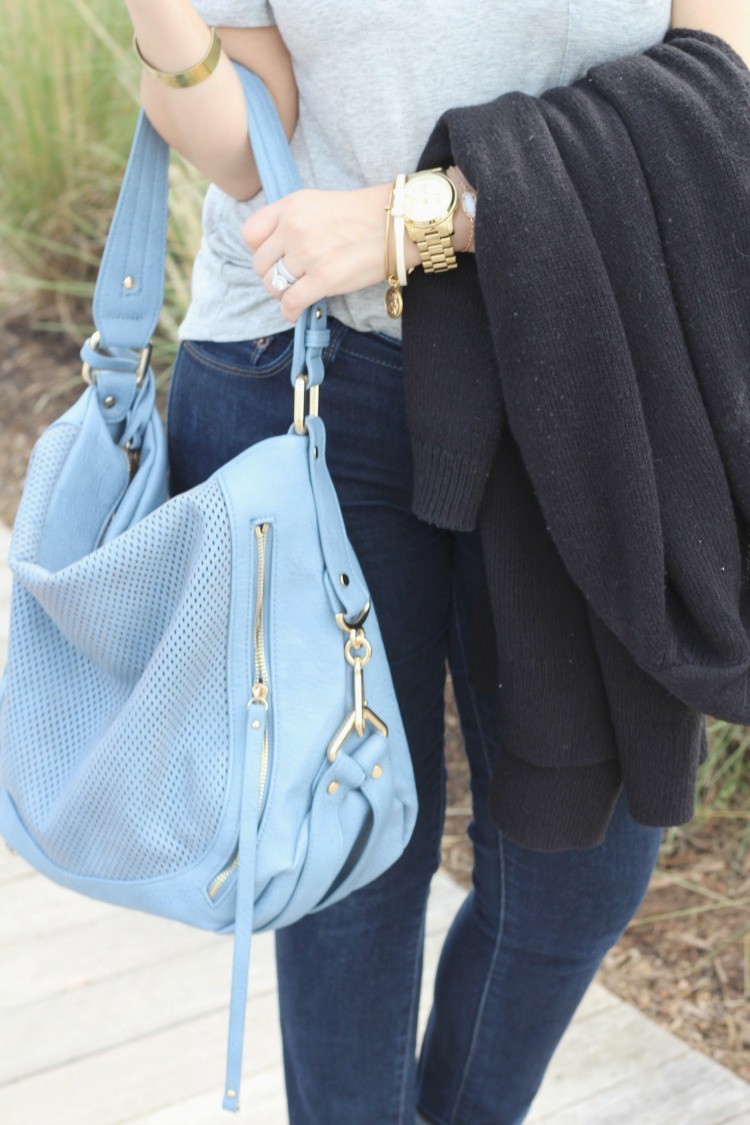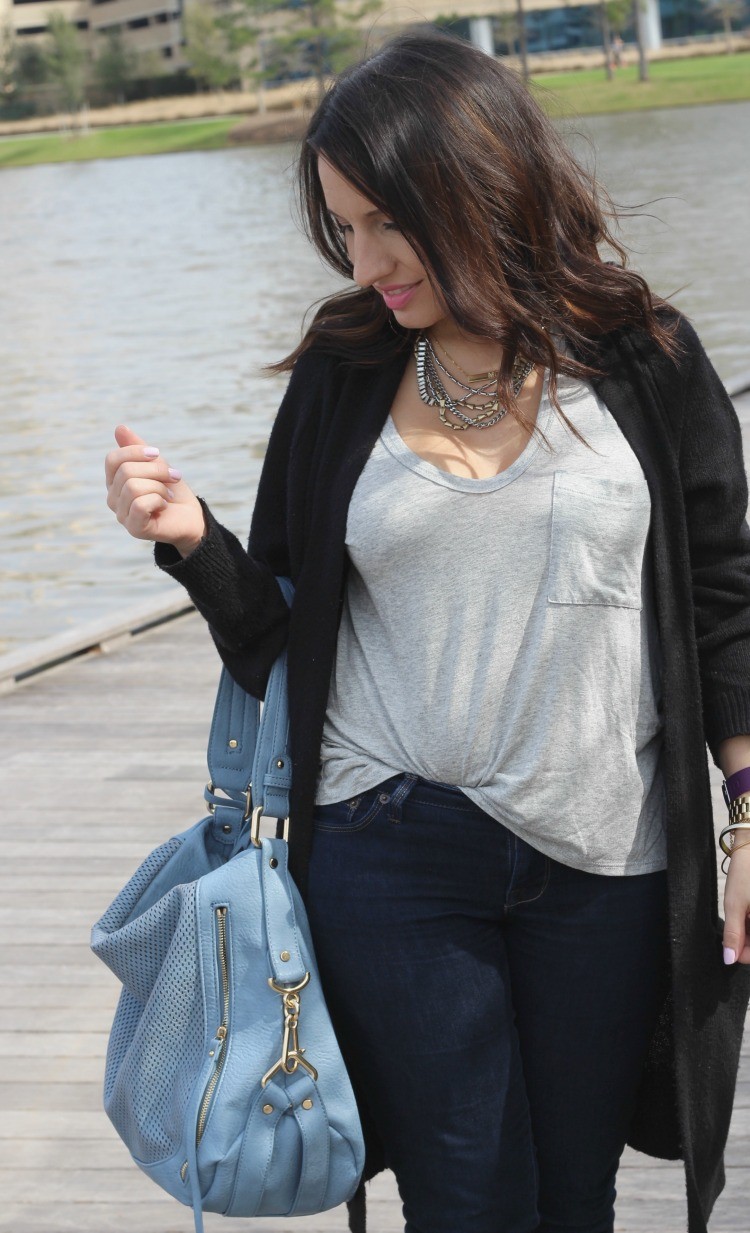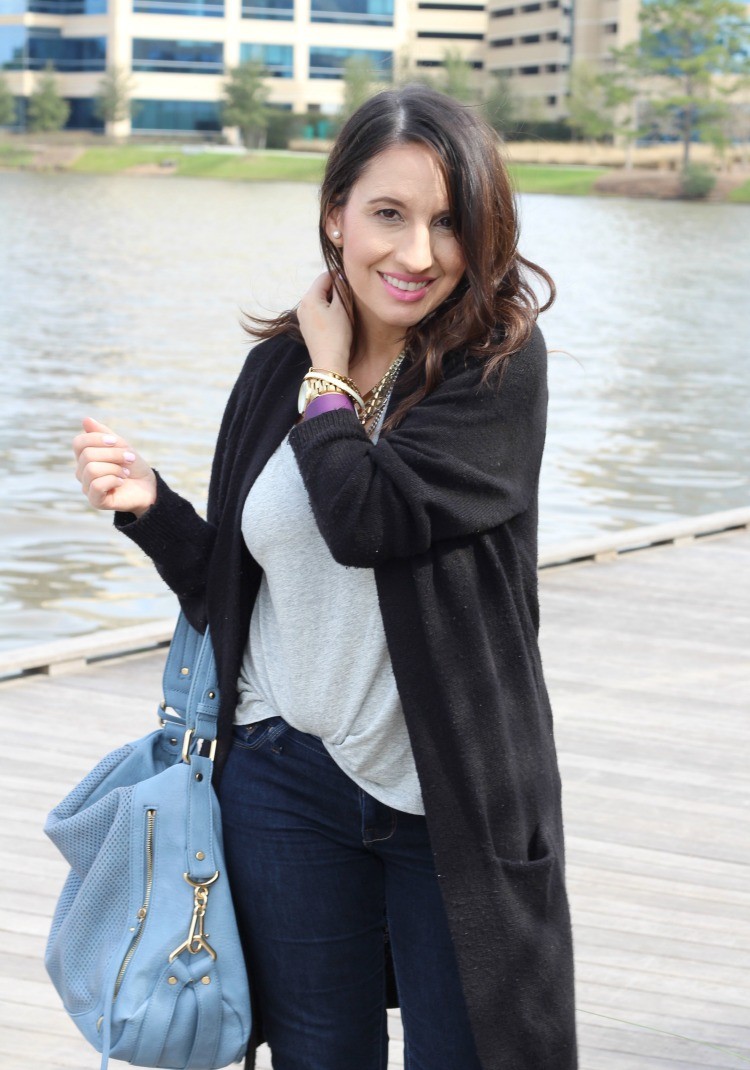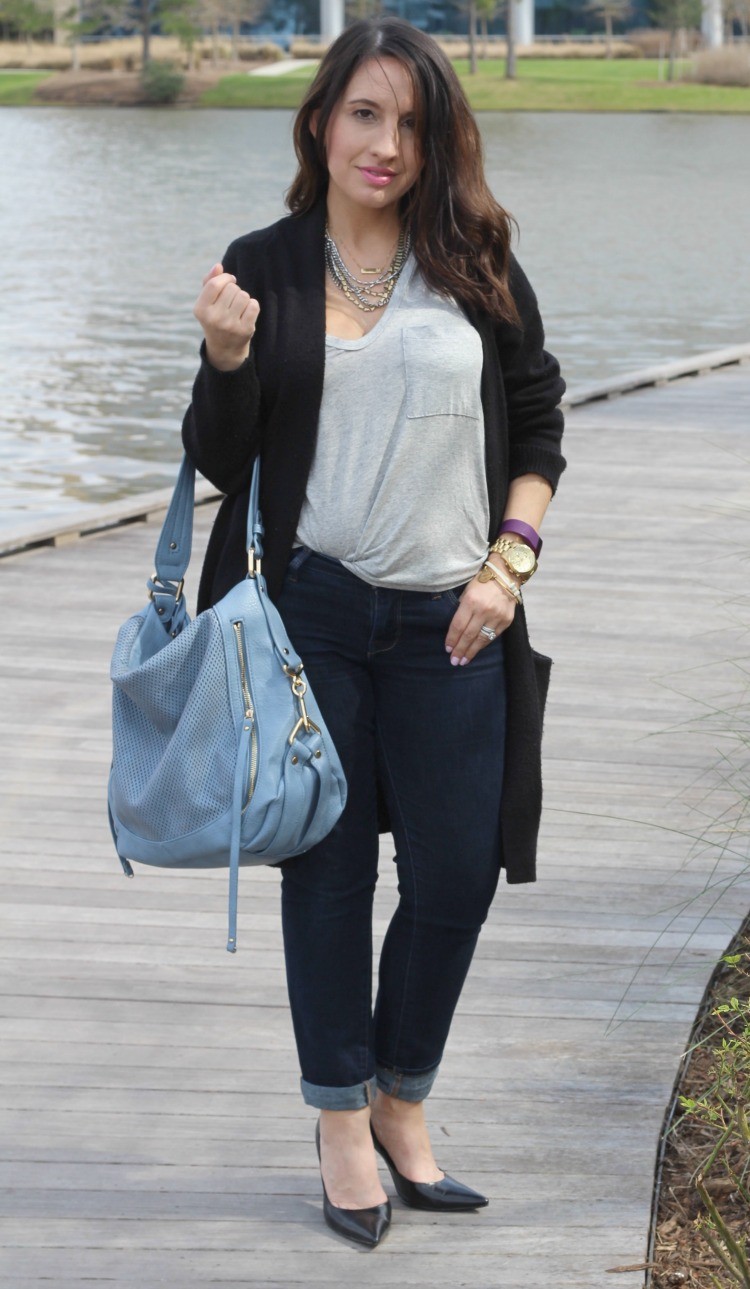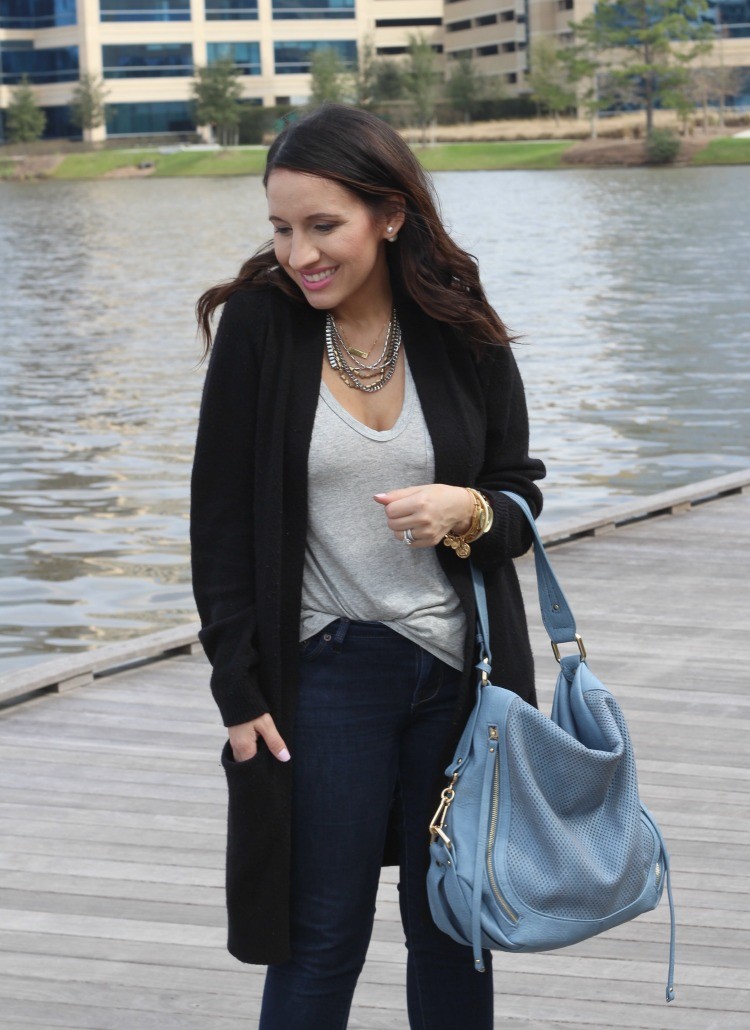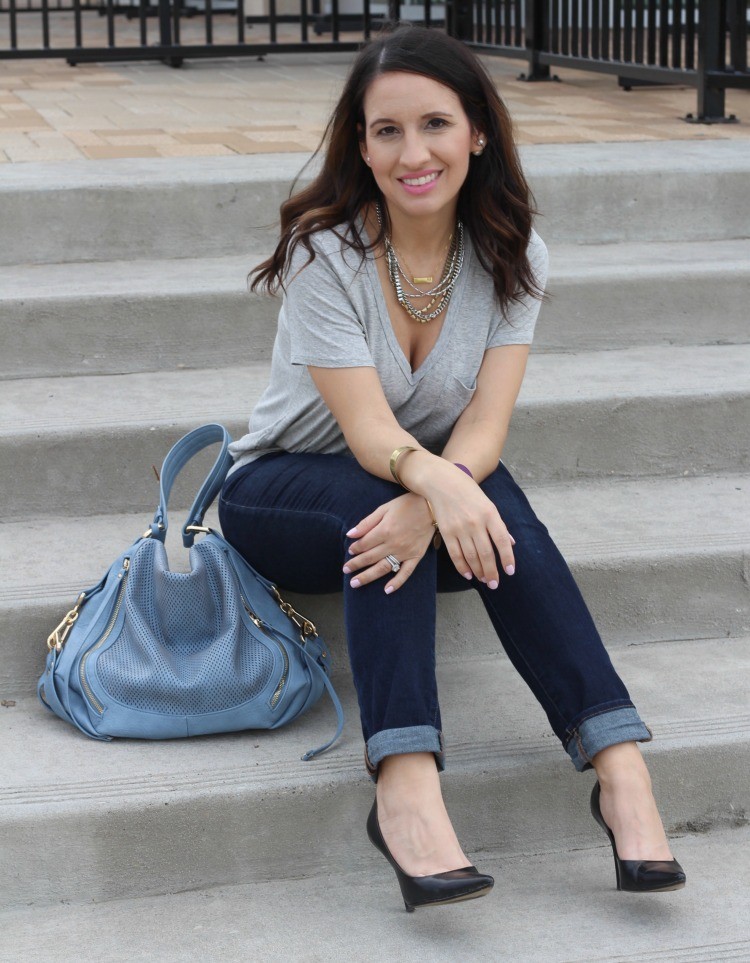 Cardigan:Nordstrom | Top:Nordstrom | Denim:Lucky Brand | Shoes:Guess via Macy's | Purse:Urban Expressions c/o sold out (similar style in grey) | Earrings:Bauble Bar sold out (similar style) | Necklace:Bauble Bar sold out (similar style), Stella and Dot | Bracelet:Alex and Ani, Kate Spade (similar style), Etsy, Kendra Scott c/o | Watch:Michael Kors sold out (similar style), FitBit | Lips:Nyx Sydney and Istanbul
I wear T-Shirts 90% of the time because they are really easy to dress up, or down depending what my day looks like. These Lush T-Shirts are my favorite T-Shirts because they are so soft, the cut is amazing, and I love that these T-Shirts embrace the high low trend. Meaning these Lush T-Shirts fall higher in the front, and lower in the back. Which is great for all of us ladies with booties that want a little extra coverage.
How to dress up the perfect T-Shirt in 10 easy ways
Wear jeans in a darker wash.
Pair it with a pencil skirt, or textured skirt.
Add an extra layer of color and pattern with a scarf. This can be tied around the neck, or draped over the shoulders.
Wear a vest with some embellishment.
Wear a blazer or bolero jacket. Embrace a jacket with a little extra shine or sequins.
Add a pump or stiletto.
Wear a statement necklace, or layer two necklaces. I love doing this with a delicate necklace, and a statement necklace. I did this with the Bauble Bar necklace, and Stella and Dot necklace I'm wearing today.
Wear dressy shorts in a fabric that's shiny, or has some added texture. Brocade shorts are one my favorites to take a simple T-Shirt up a notch.
 Ditch the natural look, and add a smokey eye, or bold red lip.
Either wear super sleek straight hair, or add some volume with loose curls.
In other news, we had such a great weekend!! We went to a fun event on Saturday for the Super Bowl with the kiddos, and then went to the park. Thankfully the park was across the street from the event. Little man had a blast running around with his daddy. He had so much fun kicking his soccer ball (Christmas gift that he's finally starting to love!!), and running around. If you follow me on Instagram you probably saw my Instastory with him running with a big smile on his face. I love how excited he is about everything. He was mind blown when he was on the elevator over the weekend. He's been on an elevator before, but since he's getting older he's so much more aware of what's going on. This is one of my favorite stages so far!! I can't believe he will turn two on February 21!! Hope y'all had a great weekend!!