This post contains affiliate links, which means I receive a commission if you click on a link, or make a purchase using the links in this post.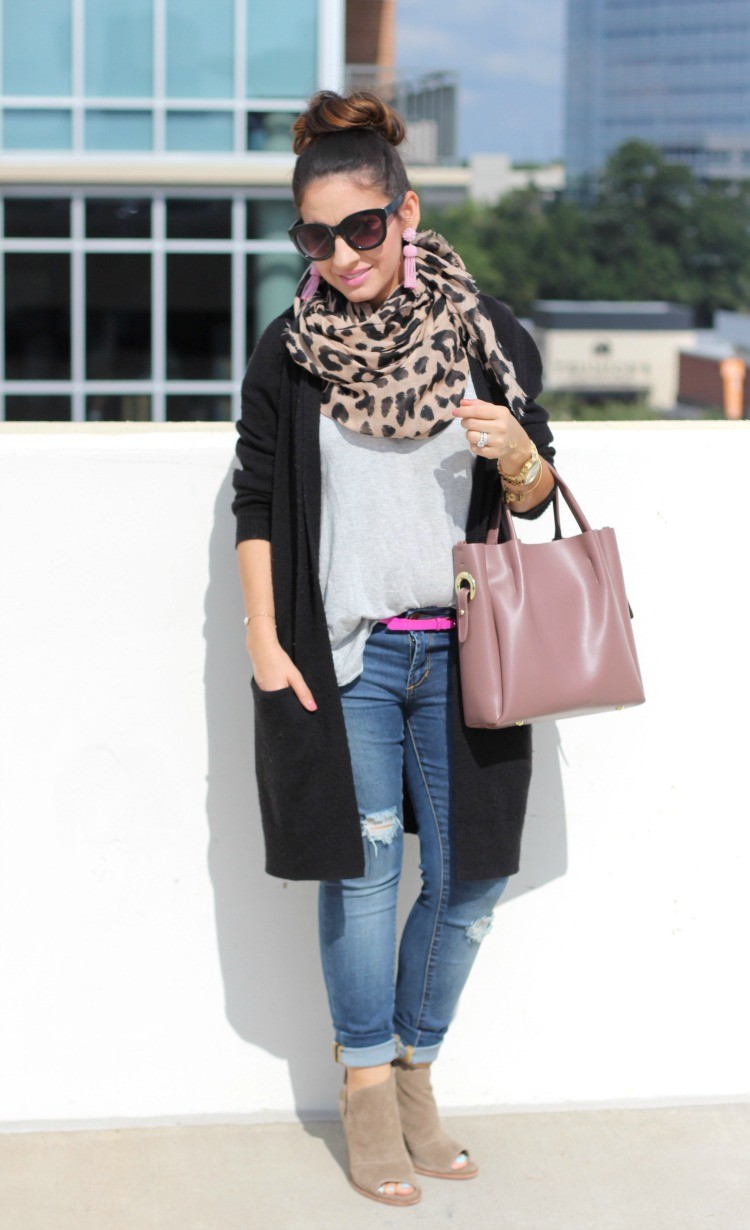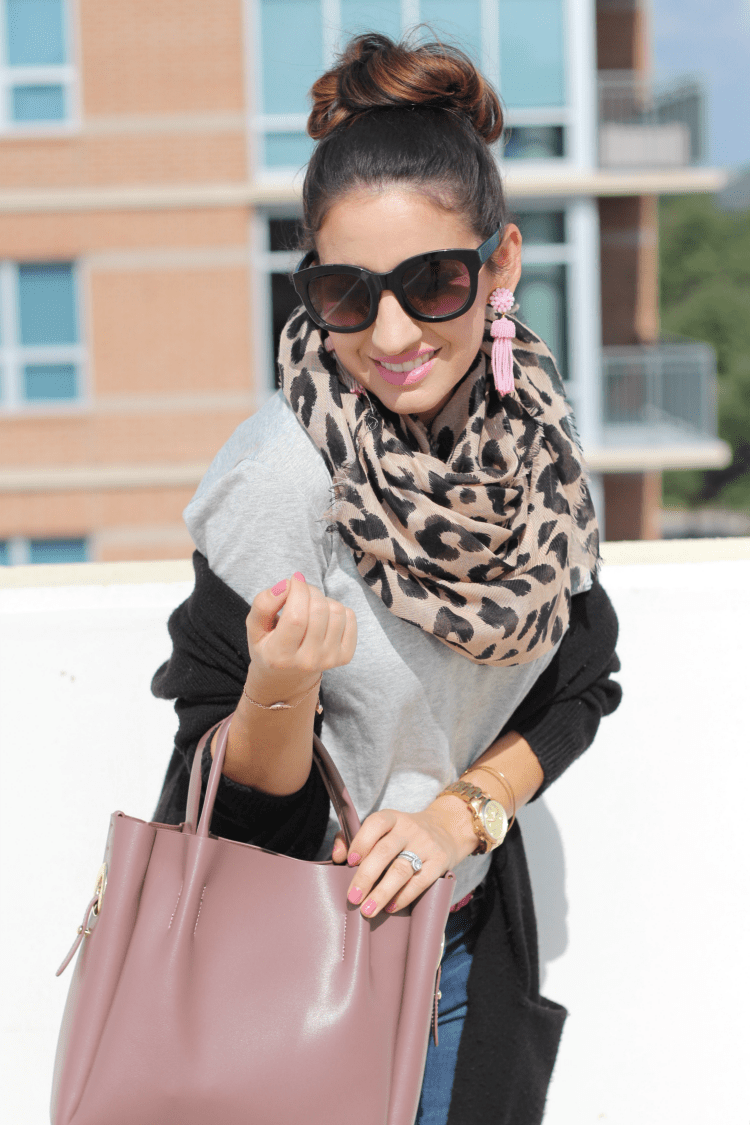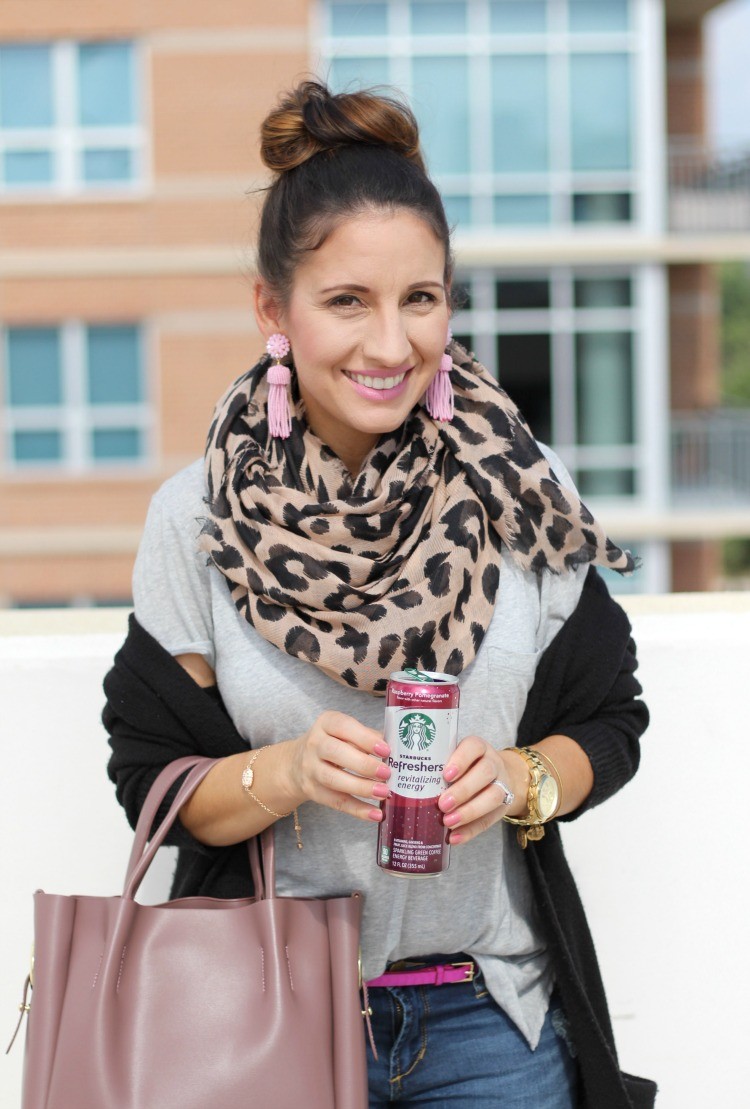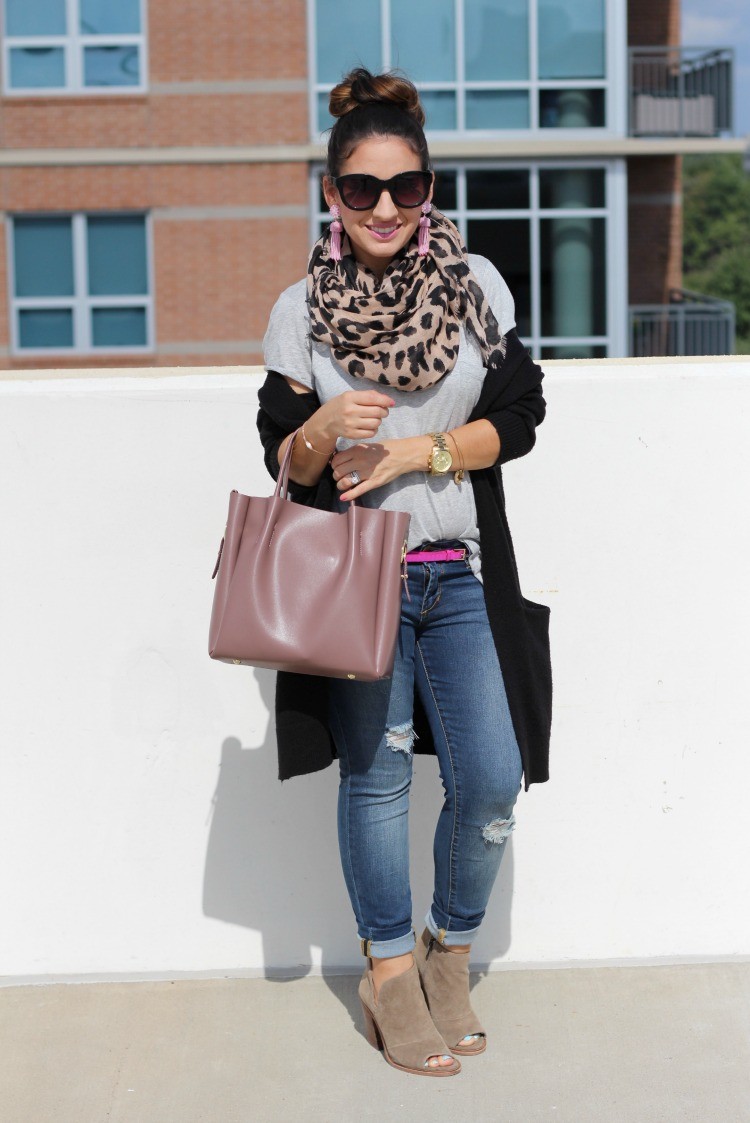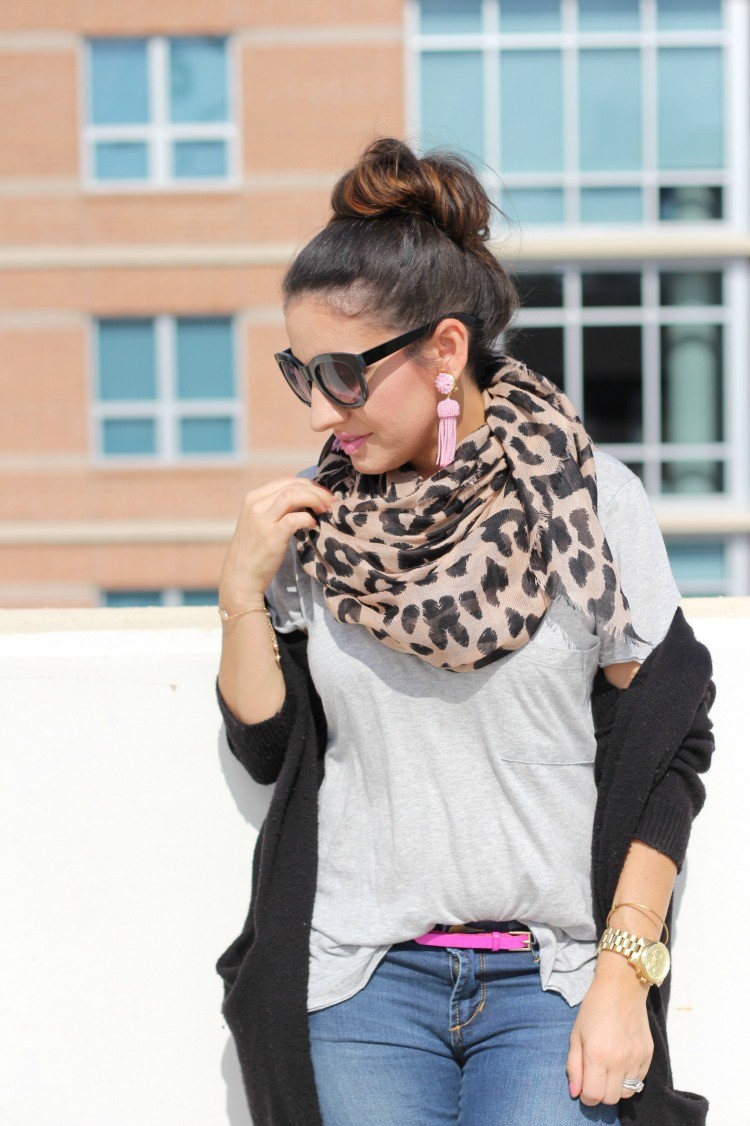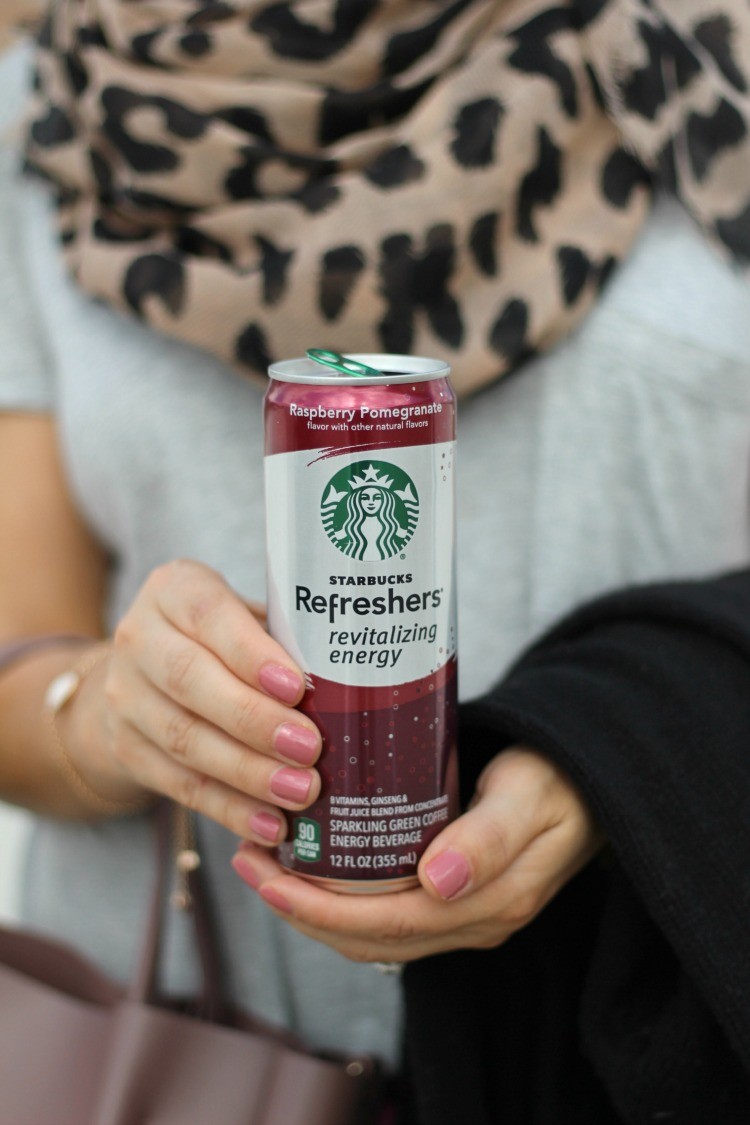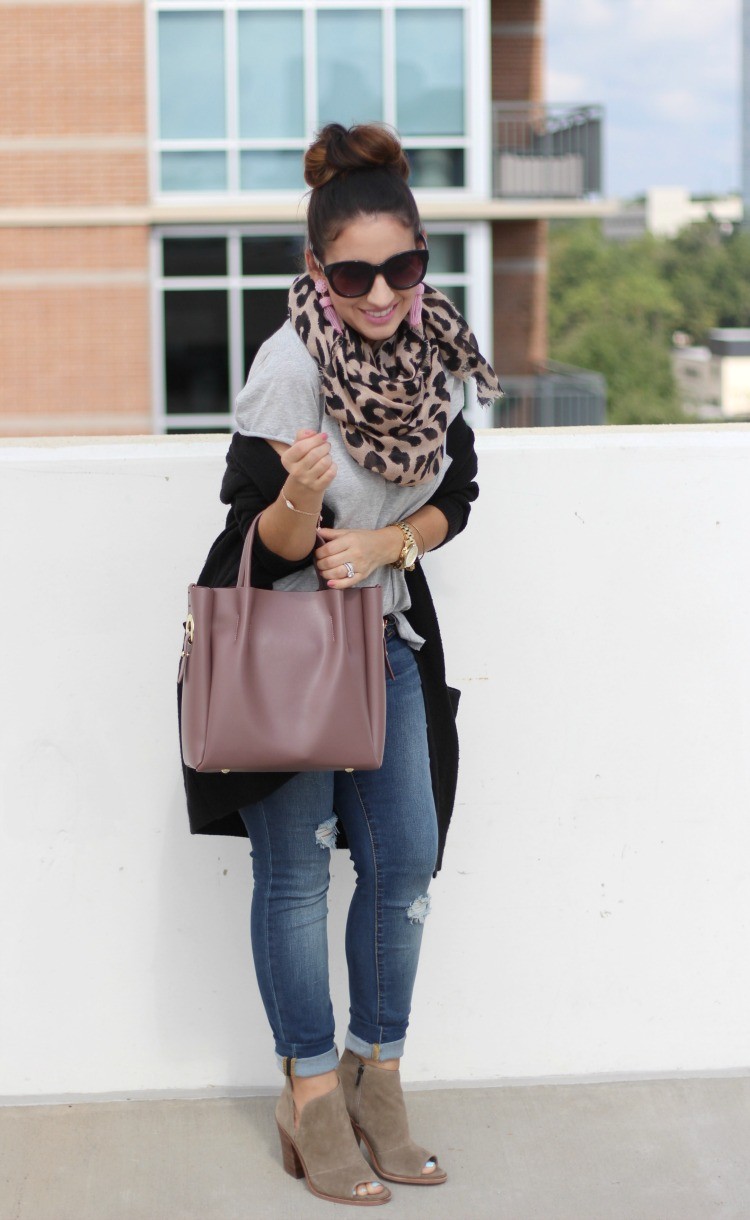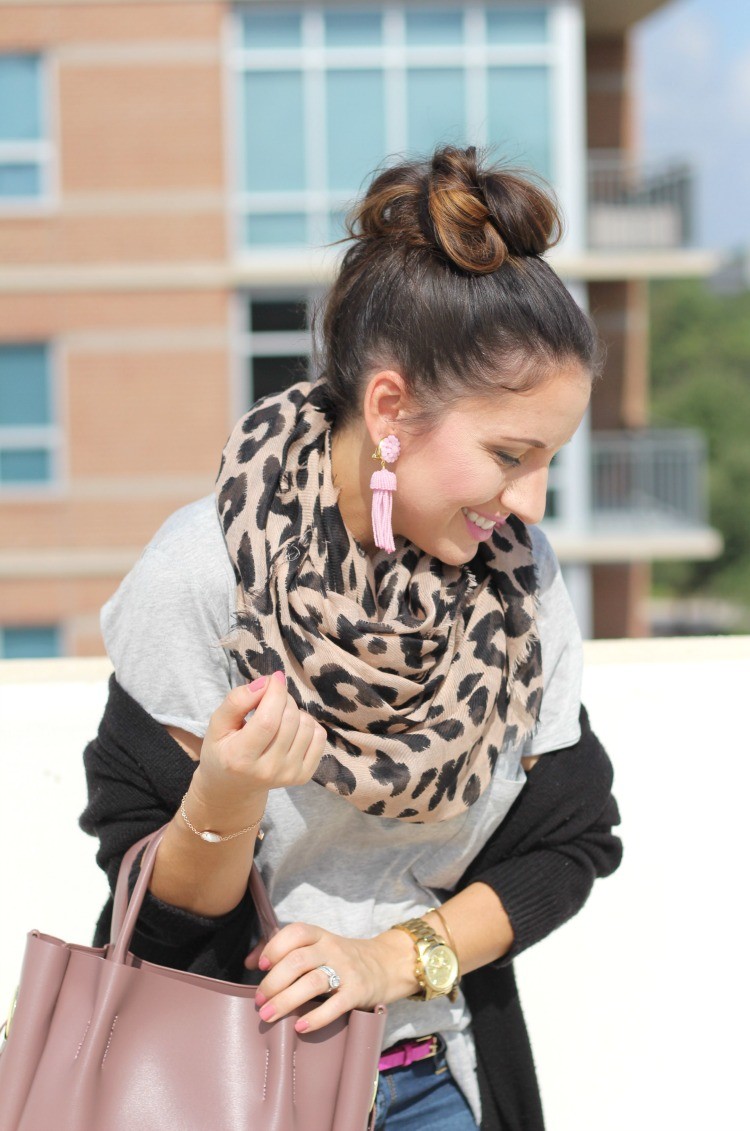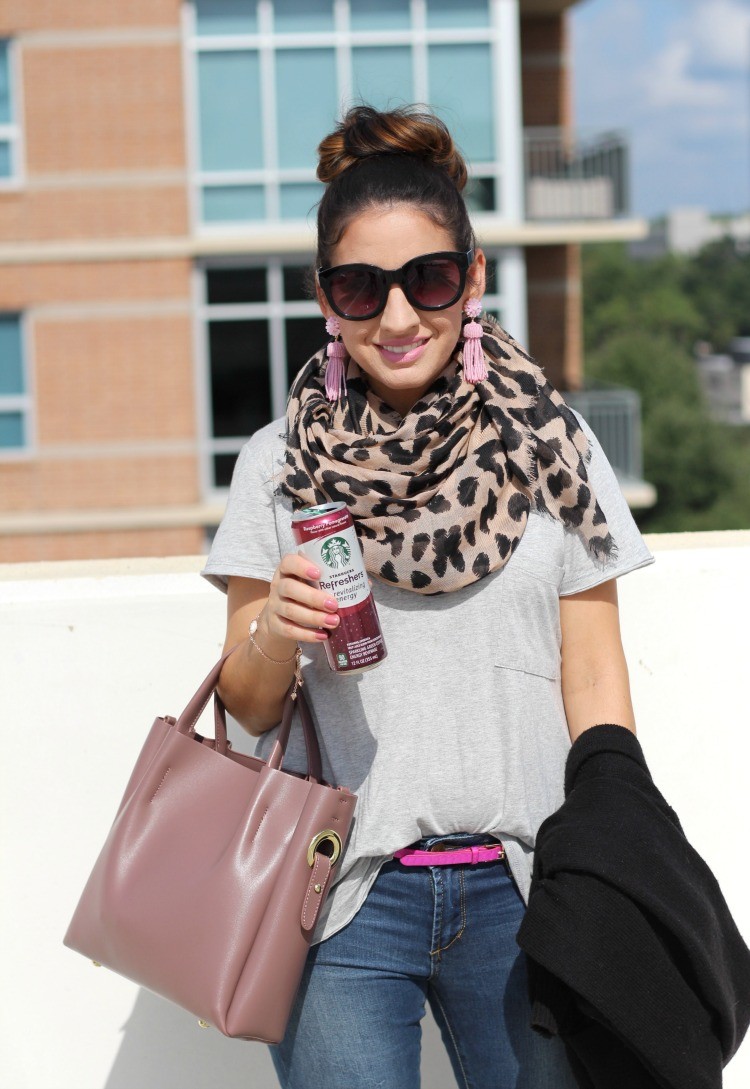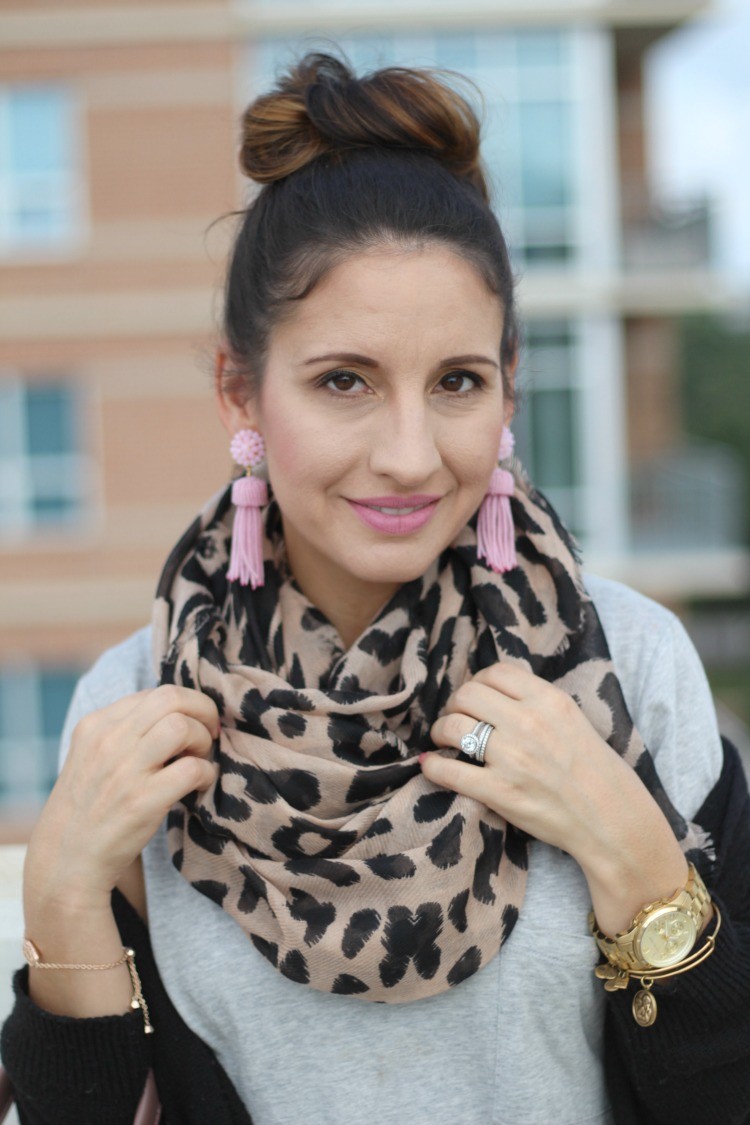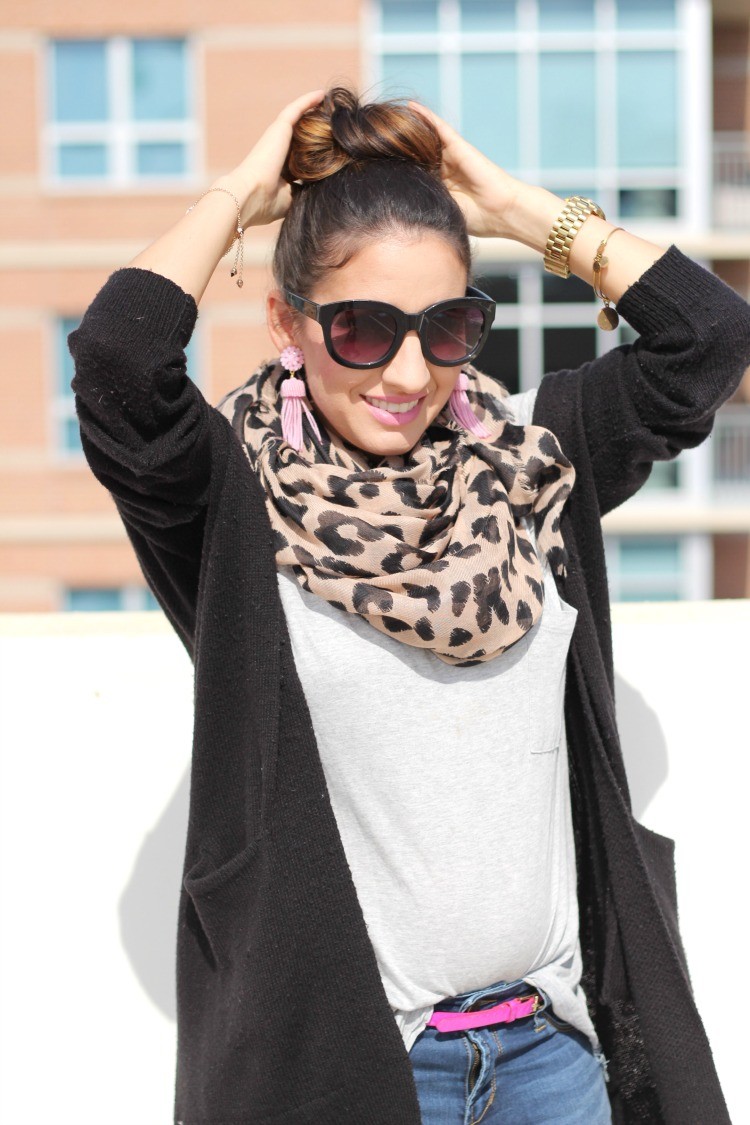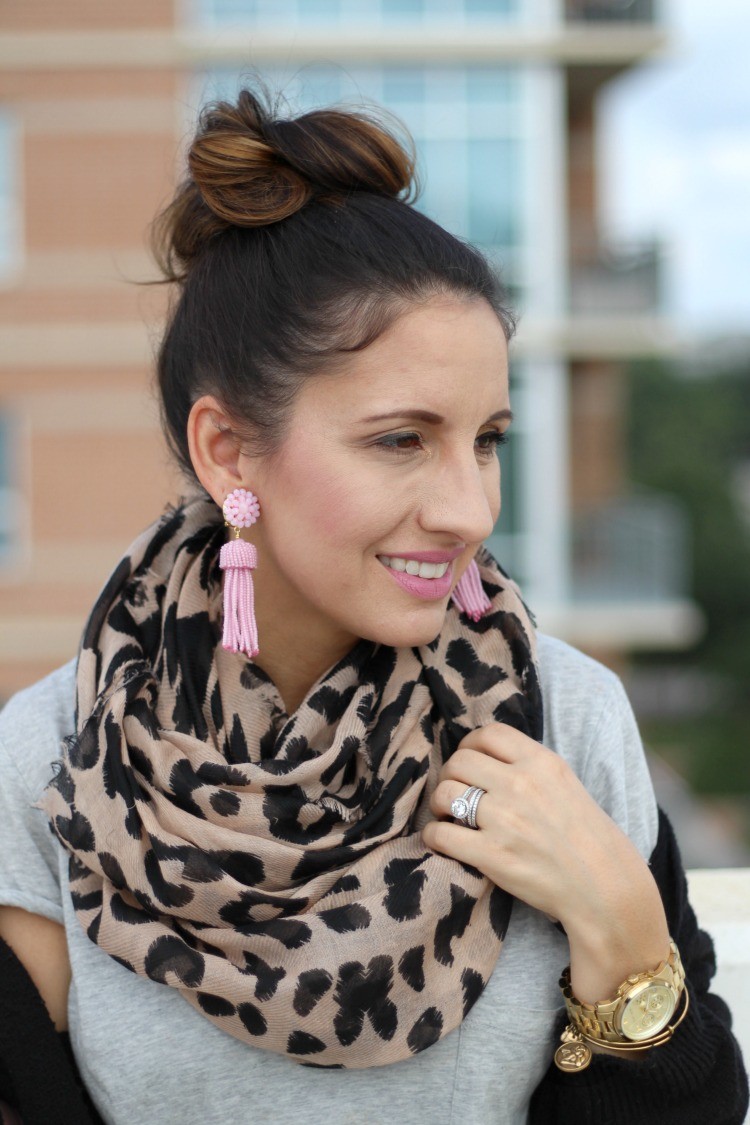 Scarf:Nordstrom | Cardigan:Nordstrom | T-Shirt:Nordstrom (comes in maroon too!!) | Denim:Sold Out (similar style) | Belt:Old (similar style) | Shoes:Sold Out (similar style) | Handbag:Urban Expressions c/o | Earrings:Lisi Lerch c/o | Bracelet:Kendra Scott, Alex and Ani | Watch:Michael Kors | Lips:Blushing Pout (Another awesome drugstore find!!)
I had my eye on this leopard print scarf last year, but before I could check out it was already sold out. This year, I had my eye on it because every time I wanted to wear a scarf the one that got away was always on my mind. I wore it with one of my favorite basic tees that is super soft, and figure flattering. It's longer in the back so it covers your bum a little. I love this!!
Back to this cute scarf. I really like that it's really lightweight. It's perfect loosely draped around your neck, or worn the way I wore it today. The frayed edge detail gives it a more luxurious feel. If you live somewhere that's already pretty chilly this scarf is a really good option.
Y'all my hubby and I have been trying some new Amazon Prime goodies, and we came across these Starbucks Refreshers. We, of course, had to try them because y'all know I love me some Starbucks. From day one I really like that they are easy to take on the go with the kiddos Monday through Thursday. Friday is usually our free day where we hang out, and play at the house. I'm a firm believer my babies need one day without lots of time in the car, and appointments. Okay back to the Starbucks Refreshers. We ordered them, and they came with 4 different flavors (Blueberry Acai, Raspberry Pomegranate, Strawberry Lemonade and Orange Mango). They were all really tasty, but my two favorites are Raspberry Pomegranate and Orange Mango. They were all so tasty, easy to take on the go, and only 90 calories. What's your favorite Amazon Prime item to order from Amazon?
I almost forgot I changed up my top knot thanks to a tutorial on Emily Gemma from the Sweetest Thing blog. I'm really liking this new way of doing a top knot. I think it's a lot prettier, and easier to do. Oh and I also wanted to let y'all know I'll start testing out the Rodan Fields Lash Boost starting tomorrow. Let me know what questions y'all have. I really want this to be a super helpful review. Can't wait to hear from y'all!!
Thanks so much for stopping by, and I hope ya'll have a great Monday!!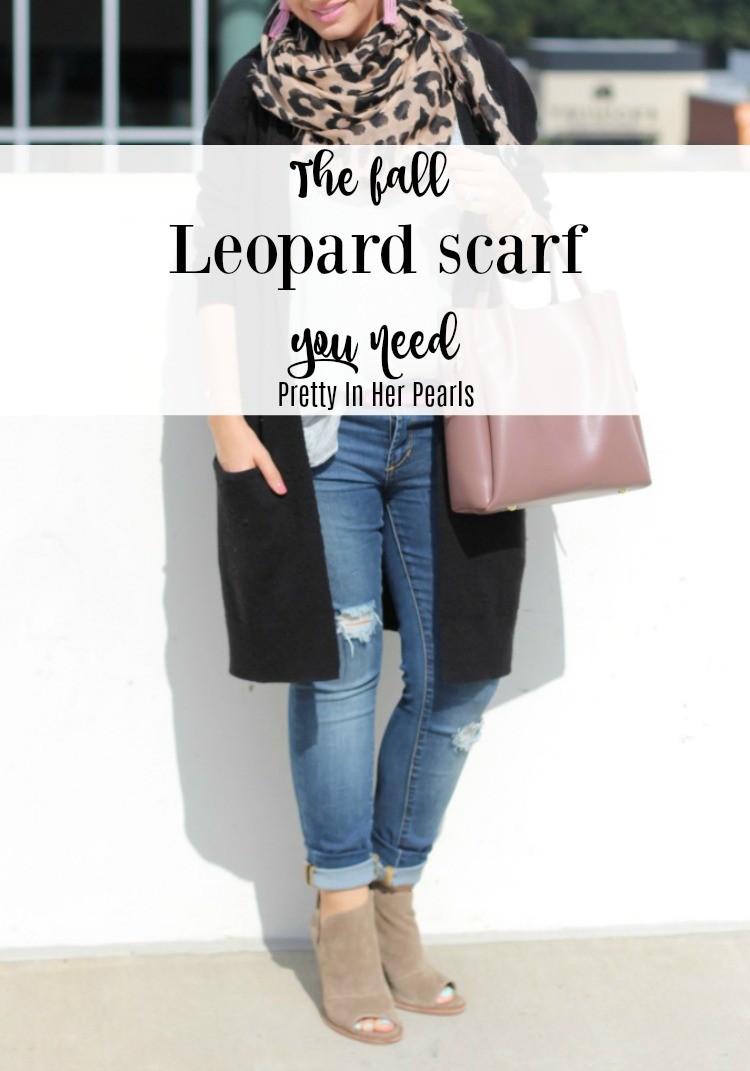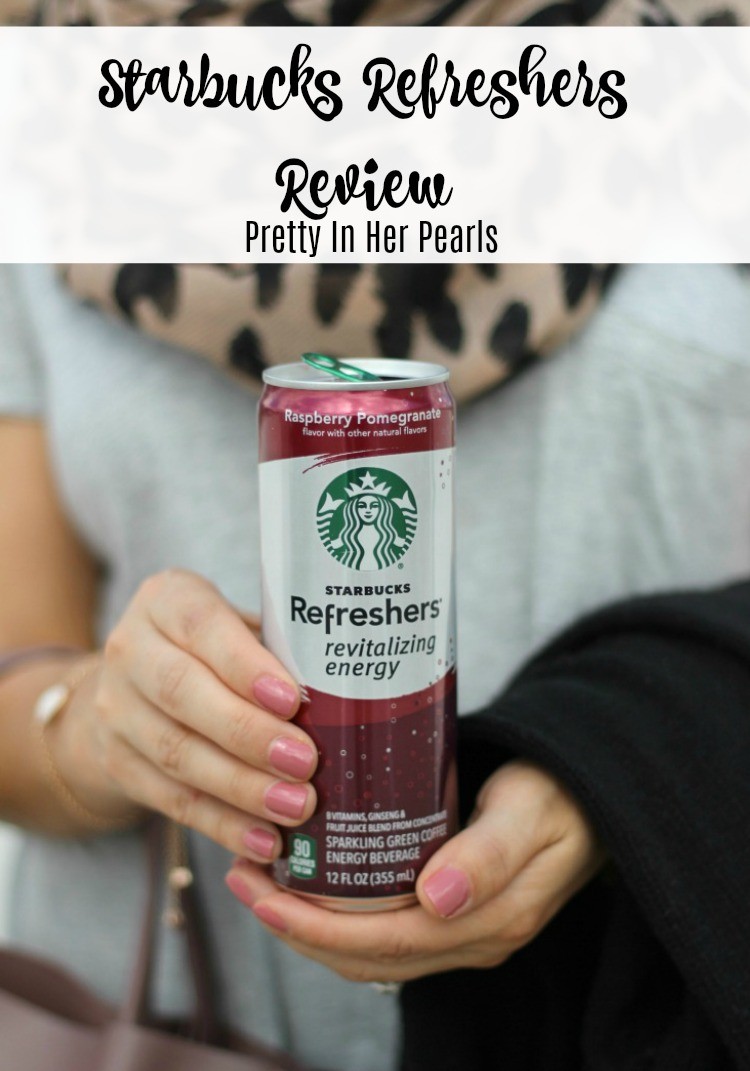 Coat:Bebe old (similar style) | Top:Gap | Denim:Lucky Brand sold out (similar style) | Booties:Shoemint (similar style) | Clutch:Old (similar style) | Sunnies:Forever 21 sold out (similar style) | Earrings:Stella and Dot | Necklace:Stella and Dot | Bracelets:Knox Thomas Designs, Accessory Concierge sold out (similar style), Fit bit | Watch:Michael Kors | Lips:Spice, and Nymphette
Peplums are absolutely one of my favorites, and this one has been in high rotation. I love the eyelet detail, and the zipper detail. Sorry it's not able to be viewed in the picture. It was a little chillier than I thought it was going to be yesterday. It was the perfect excuse for a hot coffee though after taking blog pictures. Hooray!!! It's the little things!! What is your favorite warm treat when the temps drop? Thanks so much for stopping by!!! Hope y'all had a great weekend!!